Contrary to popular belief you can smoke more than just brisket and spare ribs.
Getting creative with your smoker is a natural progression. We often get curious about what different foods would taste like smoked.
I'm sure you have all seen smoked sausage, cheese, fish, and a plethora of different meats, but what else can you smoke?
And more importantly, what else can you smoke that tastes good?
In this post, we will explore the different meats, vegetables, dairy products, and other foods you can smoke!
The Best Things to Smoke at Home
You can break down the different types of foods you can smoke and place them into the following 6 categories:
Meats You Can Smoke
Black pig
Cecina
Chaudin
Duck – duck can have a gamey flavor.
We have a delicious smoked cherry duck you can try here
Elenski but
Grjúpán
Ham – Ammerländer Schinken, Black Forest ham, Christmas ham, Country ham, Ham hock, Eisbein, Stuffed ham, Tasso ham, & Westphalia ham,
Horse meat
Kassler
Kangaroo – Smoked
Montreal-style smoked meat
Pastrami
Pigs feet
Pork jowl
Pork tail
Rib Eye Steak
Smoked Sausage – Ahle Wurst, Alheira, Amsterdam ossenworst, Andouille, Bierwurst, Bockwurst, Bologna sausage, Boudin, Breakfast sausage, Cabanossi, Chinese sausage, Chorizo, Ciauscolo, Debrecener, Embutido, Farinheira, Frankfurter Würstchen, Hungarian sausages, Isterband, Kielbasa, Knackwurst, Knipp, Kochwurst, Kohlwurst, Krakowska, Kulen, Lebanon bologna, Linguiça, Liverwurst, Braunschweiger, Loukaniko, Lukanka, Lucanica, Mettwurst, Morteau sausage, Nădlac sausage, Pinkel, Rookworst, Salami, Saveloys, Skilandis, Sremska kobasica, Summer sausage, Teewurst, Vienna sausage, Winter salami
Sopocka
Suho meso
Szalonna
Turkey bacon
Fish and Seafood to Smoke
African longfin eel
Arbroath smokie
Atlantic mackerel
Bokkoms
Bonga shad
Buckling
Cakalang fufu
Catfish
Clams
Cod
Finnan haddie
Goldeye
Gwamegi
Haddock
Herring
Katsuobushi
Kipper
Lobster
Mullet
Pudpod
Saramură
Sardine
Scad
Scallops
Shrimp
hot and cold smoked salmon
Smörgåskaviar
Sprat
Tinapa
Tuna
Vegetables to Smoke
Artichokes
Bell Peppers
Cauliflower
Chili Peppers
Eggplant
Squash
Fruit To Smoke
Apples
Avocado
Bananas
Coconut
Grapes
Lemon
Lime
Mango
Pears
Plums
Dairy and Other Foods to Smoke
Butter
Cheese – Brie, Chechil, Cheddar, Colby Jack, Cream Cheese, Dubliner Cheese, Gamonéu cheese, Gouda cheese, Gubbeen Farmhouse Cheese, Gruyere Cheese, Havarti, Idiazabal cheese, Korbáčik, Kwaito, Lincolnshire Poacher, Monterey Jack, Smoked queso, Smoked String Cheese, Metsovone, Smoked Mozzarella, Oscypek, Oštiepok, Palmero cheese, Parenica, Provolone, Pule cheese, San Simón cheese, Rauchkäse, Ricotta, Rygeost, Scamorza, Tesyn, Wensleydale cheese
Eggs
Ice cream
Oil
Cocktails. Bloody Marys and Espresso Martinis
Seeds & Nuts – Almonds, cashews, chestnuts, hazelnuts, peanuts, pecans, pumpkin seeds, walnuts
Tofu
Water / Ice
Spices to Smoke
Black pepper
Cinnamon
Cumin
Merkén
Paprika
Rosemerry
Salt
Thyme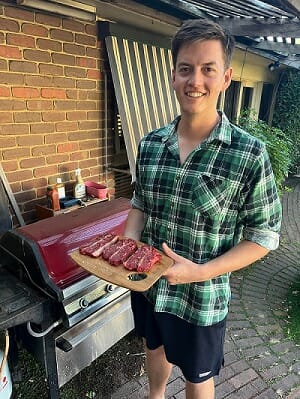 Author: Charlie Reeves
Hi, I'm Charlie, I am head taste tester at Simply Meat Smoking! I love it grilling, smoking, and getting out in the yard with the kids! The family also love to test all my recipes (especially my EXTRA CRISPY pulled pork, smoky pork loin, and ANY SEAFOOD I grill)
You will usually find me playing with the kids, perfecting my brisket bark, or sipping beers with boys around the fire. Can't wait to share all my delicious smoking and grilling adventures with you!

You can read more on our About Us page.
Hungry For More?