Looking for some recipes for your Pit Boss? It can be overwhelming to know what to cook next.
Don't worry. We've put together some of our favorite recipes for your Pit Boss pellet grill!
Have a read of the article below and check out some delicious Pit Boss recipes.
Smoked Brats
How doesn't love sausages? But have you had them smoked? These smoked brats are a family favorite
See the recipe for smoked brats here
Want a guarantee that your turkey will be evenly cooked and have crispy skin?
You need to spatchcock it! This is super simple and all you need to do is flatten your turkey.
Get the recipe for spatchcock turkey here
A family favorite that will please even the fussiest of eaters.
The combination of maple rub and bacon makes for a sweet and delicious flavor.
Smoking a brisket can be tricky!
However, our 8 simple steps, will ensure your brisket is pit master worthy, each and every time!
See the simple steps to a smoked brisket here.
Smoked Ham on a Pit Boss
Want to smoke a ham for your Thanksgiving or Christmas feast?
This super simple yet delicious will have your guests begging to take the leftovers.
Get the Pit Boss Smoked Ham recipe here
Pork Shoulder Burnt Ends on a Pit Boss
Want to try these EPIC pork shoulder burnt ends?
They are smoky, saucy and caramelized pieces of meat candy
Get the Pit Boss pork shoulder burnt ends recipe here
Chicken Quarters in a Pit Boss
These chicken quarters are simple yet delicous.
All you need is an easy rub and you let the smoker do all the work
Pit Boss Beef Ribs Recipe
These smoked beef ribs are juicy and tender
See how to smoke beef ribs on your Pit Boss here.
Pit Boss Baby Back Pork Ribs
Prefer pork ribs? Then you have to try my baby back ribs!
See how to smoke beef ribs on your Pit Boss here.
Tri-tip is a cheap and delicious cut of meat and cooking it on the Pit Boss ensure you end up with a juicy and tender result.
See The Recipe Here: Smoked Tri Tip
Smoked Prime Rib
There is nothing more impressive than a prime rib
But have you smoked one?
See the recipe for Smoked Prime Rib on a Pit Boss here.
Smoked Tomahawk on a Pit Boss
Want to impress EVERYONE at the cookout?
You gotta try this smoked tomahawk steak!
See the recipe for smoked tomahawk here.
Pulled Pork on a Pit Boss
Smoked pulled pork is a crowd-pleaser, simple to cook, and tasty addition to any meal. This is the perfect dish for beginners or if you haven't used your Pit Boss in a while.
This recipe can also be used with any pellet grill if you don't have a Pit Boss
Smoked Pork Butt Pit Boss Recipe
Smoked Tuna
There is nothing like juicy hot smoked tuna. With a light glaze this tuna will have your guest lining up for seconds!
See the recipe for hot smoked tuna on a Pit Boss here.
Smoked Venison
Make sure your venison always comes juicy and tender my following my tried and tested recipe.
Smoked Turkey with Maple BBQ Rub
Ideal for the holiday season, but smoked turkey can be made all year round! The maple BBQ rub and smoky flavor a delicious unique flavor.
Unlike oven-roasting, this recipe keeps the meat moist without having to constantly baste it. Cooking time will depend on the size of your turkey, so be sure to keep an eye on your meat for the last hour or so.
Pit Boss Macaroni and Cheese
A delicious spin on classic comfort food. By cooking this dish with a Pit Boss you get a unique smoky flavor.
Take your mac and cheese to the next level by adding bacon, green onions, white onion, chorizo, or pulled pork.
Recipe for Smoky Mac and Cheese
Pork Loin on a Pit Boss
There is nothing like a juicy pork loin smoked low and slow!
You don't want your to turn out dry. So make sure you follow my recipe.
Juicy Smoked Chicken Breasts
Want a meal that will impress but is super simple? Try smoking your chicken breasts!
Follow My Simple Recipe for Smoked Chicken Breasts Here
Smoked Carne Asada On A Pit Boss
There is nothing like juicy, zesty carne asada! You can serve up carne asada in so many ways, try tacos, sliders or nachos.
Smoked Carne Asada Tacos Recipe
Whole Smoked Chicken
A whole chicken stays super juicy when smoked in a Pit Boss!
See how to smoke your whole chicken here
Smoked Sweet Potatoes
Add some extra flavor to your vegetables by smoking them!
Recipe: Smoked Sweet Potatoes Pit Boss
Smoked Pizza
Amp up the flavor of your pizza and smoke it!
See how to smoke a pizza here.
Cedar Plank Salmon
Want a new way to cook your salmon? You have to try cooking your salmon on a cedar plank!
See the recipe for cedar plank salmon here
Pit Boss Baked Beans
If you haven't made beans in your smoker, your missing out!
See how to make your beans in a smoker here.
Juicy Steaks on The Pit Boss
You gotta try these steaks!
There are smoked and reverse seared!
Try the Pellet Grill Steaks now!
Smoked Baby Back Ribs
These baby back pork ribs are EVERYTHING you EVER wanted.
Juicy, moist, and has an incredible crust.
Recipe: Smoked Baby Back Ribs On Pit Boss Pellet Grill
Smoked Corn With Garlic Butter
Forget grilled corn. You NEED to smoke your corn
It adds an incredible flavor
See how to smoke your corn here.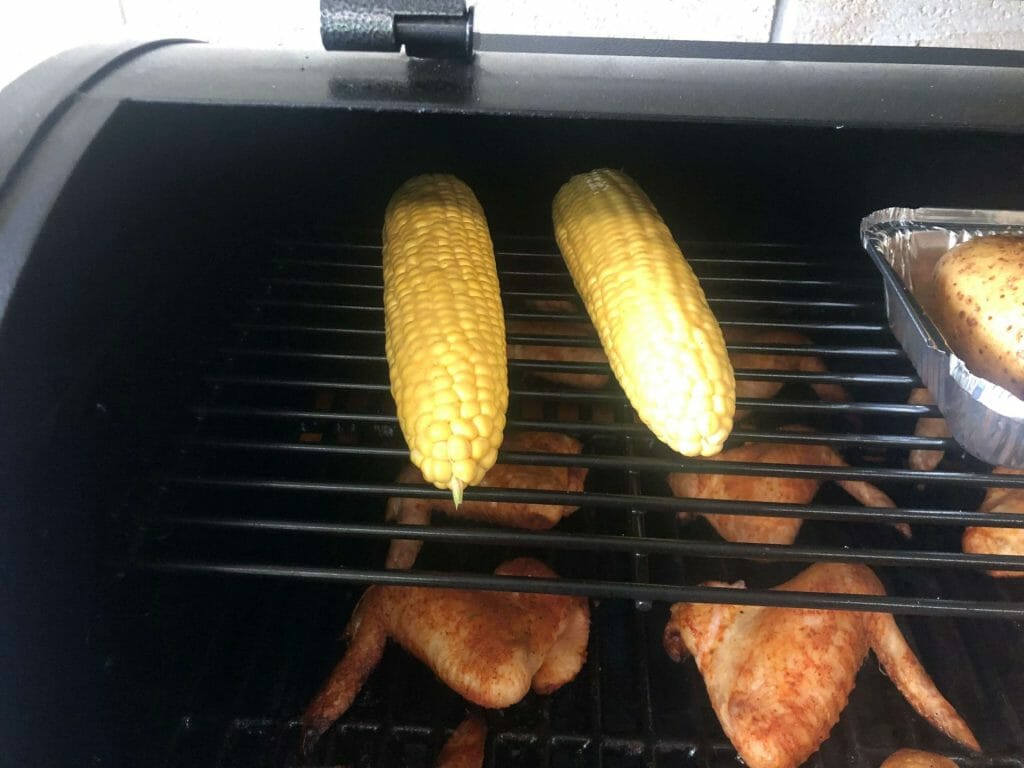 Homemade Beef Jerky
Making your own beef jerky is 100% worth it! It allow you to control the flavor and salt!
Plus you get to sample as much as you want!
See how to make beef jerky on your Pit Boss
Simple Spatchcock Chicken
It's easier to spatchcock your chicken!
See the 5 simple steps plus how to smoke the chicken so it comes out juicy and tender
How To Cook A Spatchcock Chicken On A Pit Boss Pellet Grill
Smoked Cream Cheese
This unique recipe is for those who have tried every dish on their Pit Boss and are looking for more. This smoked cream cheese is cheap, has a great smokey flavor, and is perfect for an appetizer.
You can also smoke the cream cheese alongside meat if you're cooking multiple things at once.
Smoking cream cheese takes about 2-3 hours, so make sure to put it into your cooking chamber early.
Smoked Dry Rub Chicken Wings
This is a really simple wing recipe and one that results in a mouth-watering dish. You can use store-bought seasoning or make up your own from what you have at home.
For extra crispy wings, increase the cooking temperature for the last 20-30 minutes.
Recipe for Smoked Chicken Wings
Smoked Meatloaf
Meatloaf is a classic, hearty dish that smokes well on a Pit Boss. Be sure to let the meatloaf cool for 10-15 minutes before serving so that it doesn't fall apart.
We recommend serving this meatloaf with green vegetables or mashed potatoes. The smoke flavor will increase the day after cooking, so be sure to save some of this dish for leftovers!
Deciding what to cook doesn't have to be overwhelming. There are plenty of Pit Boss recipes out there for you to try.
Whether you're a beginner or a regular Pit Boss cooker, there's something for every household. We love the versatility of the Pit Boss and the many different foods you can cook with it!
Do you have a favorite Pit Boss dish?
Smoke On!

Charlie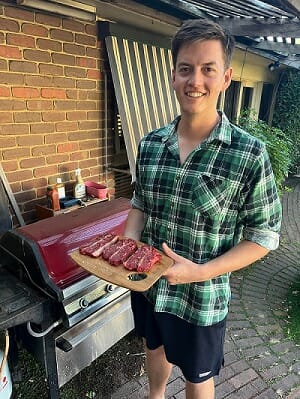 Author: Charlie Reeves
Hi, I'm Charlie, I am head taste tester at Simply Meat Smoking! I love it grilling, smoking, and getting out in the yard with the kids! The family also love to test all my recipes (especially my EXTRA CRISPY pulled pork, smoky pork loin, and ANY SEAFOOD I grill)
You will usually find me playing with the kids, perfecting my brisket bark, or sipping beers with boys around the fire. Can't wait to share all my delicious smoking and grilling adventures with you!

You can read more on our About Us page.
Hungry For More?