Barbecued smoked sausages shouldn't just be for those summer cookouts! There's nothing wrong with eating then any night of the week.
If you're making homemade smoked sausage from scratch, you can even include any spices and herbs you like! We personally recommend cayenne, coriander for that extra kick of flavor!
No Need to Stick With One Sausage!
(The great thing about these recipes is that you don't have to stick with using a specific type of smoked sausage.
We found that these recipes will work any choice of sausage. You can use beef sausage, andouille sausage, bologna, Polish sausage, saveloy, chicken sausage or pork sausage!

We have put together some delicious recipes that use smoked sausage (including pizza). So make sure you give one of 7 fantastic smoked sausage recipes a try!
1. Smoked Sausage and Potato Skillet
Nothing beats sausage with potatoes! It's tasty and hits the spot! Even if you're short of time, this smoked sausage recipe is sure to impress!

With this recipe, you won't have to preheat the oven, and there isn't a lot of prep work that needs to be done. All you need is a single skillet pan, and you're good to go!
The end product is delightfully delectable. You also won't need to wash a separate skillet at the end of your cooking session, as everything's all in one pan.
What You'll Need
1 ½ lb white baby potatoes
1 yellow onion
1 red capsicum or 1 green bell pepper
1 smoked sausage (cut them up into sausage slices)
4 tablespoon olive oil
2 tsp of your favorite blend of ground herbs or Italian seasoning
½ tsp chili pepper flakes
½ tsp minced clove garlic
¼ cup chicken stock
Click here for the full smoked sausage and potato skillet recipe.

Feel free to substitute the olive oil for a tablespoon of butter or ghee. We would also recommend including garnishing, chop up some fresh parsley and grate Parmesan to put on top. (You could even add a bay leaf on top to make it extra fancy.)

Given how quick and easy this dish is to whip up, you can even make it for a weeknight meal after work. You also don't have to stick to using baby potatoes. Any type of white potato will work just fine.

Note: Don't forget smoked sausage lasts up to 3-4 days in the fridge once it has opened.
2. Spicy Smoked Sausage Alfredo Bake
If you like leaving things to cook in the oven then we've got the perfect smoked sausage recipe for you. This recipe is also great if you're a fan of spice, pasta, and cheesy goodness. This Alfredo bake is excellent for family dinners. And it also includes a decent amount of protein from the smoked sausage.

Here's the list of the recipe ingredients you'll need:
16 ounces dry pasta
3 tbsp butter
2-3 cloves garlic (minced)
3 tbsp flour
1 cup chicken broth
1 cup whole milk
1 cup heavy cream
½ tsp salt
¼ teaspoon pepper
¼ tsp cayenne pepper
¼ tsp red pepper flakes
½ parmesan cheese (grated)
2 cups mozzarella cheese (grated)
1 to 2 tbsp fresh parsley (chopped)
1 smoked sausage (fully cooked)
If you don't have a dutch oven in your kitchen, don't worry. You can easily make this dish in any ceramic dish that's large enough.
If you'd really like that toasted and brown look and texture, we'd recommend using a broiler. Also Don't be afraid to substitute the actual ingredients with something else that suits your taste better..

Here is the link to the full Alfredo sausage bake recipe.
3. Smoked Sausage and Rice:
If you're not a fan of potatoes — but love the combination of carbs and smoked sausage. Then you might want to try this smoked sausage and rice recipe we love! If you love fried rice, then this is very similar; except for the absence of any egg.

It's a one-pot meal that's easy to prepare, cook, and serve!

(Trust us, it's so easy to make that you could easily recreate this dish and have it on the dinner table, on a busy weeknight. The actual cooking time will only take about 10-15 minutes!)

Here are the ingredients you'll need for this rice dish:
1 tablespoon extra-virgin olive oil or tablespoon butter
1 cup diced white onion
1 cup capsicum (sliced)
2 garlic cloves (minced)
1 teaspoon cayenne pepper powder or ½ tablespoon Cajun seasoning
1 tsp salt
1 tsp fresh ground pepper
14 ounce smoked sausage (sliced into sausage rounds)
1½ cups long-grain white rice
2 cups chicken broth or 2 cups chicken stock
1 cup tomato sauce or tomato paste

We hope you'll try out this great chicken smoked sausage with rice recipe.
4. Barbecue Smoked Sausage Pizza
Do you love a tasty sausage pizza? Then you have to try out this beef smoked sausage recipe we found! Believe us. You won't be ordering pizza outside for a while after learning how to make this.

Here's what you'll need:
1 Hillshire Farm beef smoked sausage
2 12-inch-size Italian pizza crusts
1 cup barbecue sauce
¾ cup plum tomatoes (chopped)
1 cup red onion (thinly sliced)
1 green capsicum
3 cups mozzarella cheese (shredded)
¼ cup Parmesan cheese (shredded)

Click here for the complete barbecue smoked sausage pizza recipe.
5. One-Pot Cheesy Smoked Sausage Pasta Skillet
Forget the processed box of microwave mac and cheese. If you feel like eating some cheesy goodness. Try quick and simple one-pan smoked sausage pasta. It has plenty of cheese in it! We followed this recipe to a T, and it came out great! Don't worry if you don't have smoked turkey sausage. Please feel free to substitute it with any other type of smoked sausage.
Here are the ingredients you'll need
1 tbsp extra virgin olive oil
1 pound smoked turkey sausage (sliced)
1 cup onion (diced)
1 tbsp garlic (minced)
2 cups chicken broth
10-ounce tomato (diced)
½ cup milk
8 ounces dry pasta (any kind)
Salt
Pepper
1 cup Cheddar-Jack cheese (shredded)
⅓ cup scallions (sliced)

Visit Yellow Bliss Road's website for the complete cheesy smoked sausage pasta recipe.
6. One-Pot Smoked Sausage and Beans
If you're a fan of English breakfast containing baked beans and sausages, you'll love this. Unlike an English breakfast, you can cook each component altogether in a single pot. We particularly recommend cooking this hearty dish on a chilly night. Who doesn't love breakfast for dinner.

Here are the ingredients you'll need
1 tbsp olive oil
1 pound smoked sausage (sliced)
1 whole onion (chopped)
½ cup dark beer
½ cup chicken broth
½ cup barbecue sauce
2 tbsp molasses
1 tsp liquid smoke
2 tbsp sriracha or hot sauce
1 tbsp smoked paprika
2 cans of mixed beans
Parsley (chopped)
You can also substitute the chicken broth with vegetable broth if you'd like. We'd highly recommend having some fresh bread on this side.

Here is the link to the full one-pot smoked sausage and beans recipe.
7. Oven-Roasted Smoked Sausage and Potatoes
Everybody loves potatoes! So we'd like to wrap things up with another smoked sausage and potatoes recipe. However, unlike our first potato recipe, this one does require the use of an oven. We found that this dish hit the spot for those times when you feel like eating a roast but didn't want to do a lot of prep work.

Here are the ingredients you'll need
1 smoked sausage (sliced)
1 large onion (chopped)
5 large potatoes (cubed)
2 tbsp olive oil
Salt
Pepper
2 tsp paprika
1 tsp dried thyme
1 cup cheddar cheese (shredded)
The main recipe does not include vegetables. But you can easily chop up some carrots, zucchini or any other type of veggies and throw them into the tray to cook.

Click here to view the complete oven-roasted smoked sausage and potatoes recipe.
Get Cooking!
We hope that you enjoyed our tried and tested list of meals you can make with smoked sausages. Remember, it doesn't matter which type of smoked sausage you use. So, feel free to include your favorite kind!

Please try out one of the recipes above, and let us know which one you loved best!
Smoke On!

Charlie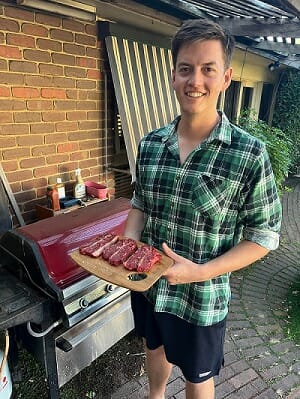 Author: Charlie Reeves
Hi, I'm Charlie, I have been meat-smoking and grilling for the past 15 years. I have an array of different smokers, thermometers, and have a love for finding the right wood and charcoal combo My favourite recipes are my EXTRA CRISPY smoked pork belly, juicy pulled pork, smoked brisket, duck poppers, and ANY SEAFOOD I grill).
I loves sharing his tips with beginners, helping them navigate the world of smoking. I find it's not just about cooking; it's a quest for that perfect smoky flavor.
You will usually find me playing with the kids, perfecting my brisket bark, or sipping beers with boys around the fire. Can't wait to share all my delicious smoking and grilling recipes with you!

You can read more about me on our About Us page.
Hungry For More?