Yes, you read that right….smoked pineapple.

Prepare to have your taste buds blown AWAY!
Forget pineapple on pizza – this will be your new pineapple obsession!
Once you've tried this you'll be coming back again and again.
Why Smoke A Pineapple?
Smoking anything gives it a depth of flavor that is hard to beat.

Fresh smoked pineapple is no exception.
As the fruit cooks, the natural sugars caramelize and intensify. Add a smoky flavor element and you've got a delicious dish to complement almost anything.
The best part is, it takes no prep time at all. You can cut it in half and throw it on the grill exactly as it is.
What To Serve It With
You can serve smoked pineapple with savory or sweet dishes. It is delicious as a topping pulled pork tacos.

Or the sweetness of pineapple goes perfectly with smoky pork loin, there is something magical about pork and pineapple.
Choosing The Perfect Pineapple
Choose a pineapple that's fresh and ripe. The more natural sugar it has developed, the better the result.
Preparing the Pineapple
There are several ways to grill a pineapple.
Whole Pineapple
Leave the top on, or remove it.
Slice lengthwise down the center and grill flesh side down.
Or remove the outer skin and grill the entire ripe fresh pineapple.
From here you can slice and dice any way you like.
Pineapple Wedges
If you'd prefer more surface area soaking up the smokey goodness, cut into wedges.
Cut the whole fruit into quarters lengthwise. Remove the fibrous centers, then cut into smaller wedges, and lay on the grill.
Pineapple Slices
Remove the skin from the ripe pineapple and cut it into whole slices. Slice as thick or thin as you desire.
Pineapple Rings
Cut the skinned pineapple into whole slices and remove the core. A biscuit cutter or pineapple corer will make this job much easier.
Adding Flavors To The Pineapple (Sugar Is Key)
Now, grilled pineapple is divine as it is. But if you have the urge to spice it up, there are several ways to achieve this with a few basic ingredients.
If you prefer to draw out the sweet, go for brown sugar, honey syrup, bourbon, or maple syrup.
A kosher salt and brown sugar mixture makes a nice sweet and salty glaze.
For a more savory option, you can test out traditional BBQ rubs or barbecue sauces. Throw a little cayenne pepper or black pepper in for some zing.
How to Smoke
Fire up your smoker setup 10-15 minutes before smoking.
Set it to a temperature of between 225-250°F. Anything higher will burn the sugars in the fruit.
It will only take about an hour to smoke half a pineapple, even less for smaller pieces.
Place the halves face down on the grill grates. You'll get gorgeous grill marks over the flesh, and allow it to absorb the smokey flavors.
Use a cast-iron skillet for smaller pineapple chunks or pineapple quarters. This will save them from falling through.
Wood Chip Ideas
Light fruity flavors like apple, oak, and cherry wood are perfect for fruit. They bring out the natural sweetness while adding some smoky elements.
You could push the envelope with hickory. But the stronger mesquite chips will overpower the fruit.
Times and Temperatures
Keep the temperatures low, so the natural sugars don't burn.
Smoked pineapple will need about an hour of cooking time on medium heat, around 225-250°F.
Flip over about 30-40 minutes into the cook.
You'll know it's ready when the fruit has begun to caramelize and golden brown around the edges.
As the fruit is safe to eat raw, it's not necessary to check the internal temperatures with a temp probe.
Brown Sugar Smoked Pineapple Recipe
This delicious recipe combines fresh pineapple with a delicious brown sugar rub.
Ingredients:
Whole Pineapple
1/2 Cup Brown Sugar
1 tsp Honey
2 tbsp Cinnamon
Method:
Remove the pineapple skin.
Cut the pineapple any way you desire – wedges, halved, rings.
Mix the sugar and honey.
Coat over the entire pineapple.
Place on the grill at 225-250°F
Grill for 30-60 minutes
Remove and serve as desired.

Want More Dessert Recipes?
Do you love dessert as much as me? I have lots of delicious dessert recipes below.
Smoked Pineapple in Brown Sugar
Smoked Peaches Cinnamon and Brown Sugar Drizzle
Prosciutto-Wrapped Smoked Brie Recipe 
Smoked Pineapple
Smoking pineapple brings out the glorious natural sweetness. This meaty fruit takes on a whole new life after a bit of time on the grill!
Ingredients
1

whole

Whole Pineapple

.5

cup

Brown Sugar

1

tsp

Honey

2

tbsp

Cinnamon
Instructions
Mix the sugar and honey.

Coat over the entire pineapple.

Place on the grill at 225-250°F

Grill for 30-60 minutes

Remove and serve as desired.
Smoking pineapple brings out the glorious natural sweetness. Combined with a distinctive smoke flavor, it's well worth the effort.
This meaty fruit takes on a whole new life after a bit of time on the grill!
Smoke On!

Charlie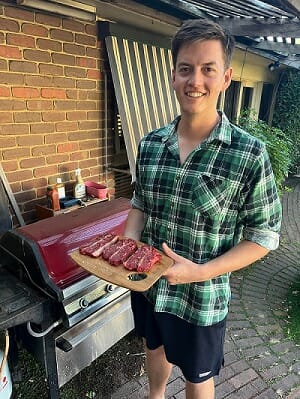 Author: Charlie Reeves
Hi, I'm Charlie, I am head taste tester at Simply Meat Smoking! I love it grilling, smoking, and getting out in the yard with the kids! The family also love to test all my recipes (especially my EXTRA CRISPY pulled pork, smoky pork loin, and ANY SEAFOOD I grill)
You will usually find me playing with the kids, perfecting my brisket bark, or sipping beers with boys around the fire. Can't wait to share all my delicious smoking and grilling adventures with you!

You can read more on our About Us page.
Hungry For More?