Are you looking for a smoked brussel sprouts recipe? Your in the right place.
Brussel sprouts – you either love them or detest them! But I'm here to tell you, you haven't tasted anything like brussel sprouts cooked in a Traeger!
This delicious recipe will turn a childhood nightmare into an adult dream.
Why Smoked Brussels Sprouts Are Deliciously Different
This bacon-topped Traeger Brussel sprout recipe will change any die-hard critics' minds! They take on the smoky flavors perfectly plus the addition of bacon and onion will make them extra tasty
And unlike boiling, they won't end up all mushy and tasteless. A little bit of crunch, with a smoky hit.
What You Need To Make Smoked Brussels Sprouts on the Traeger
Brussel Sprouts
Bacon
Onion
Garlic 
BBQ Rub (The BBQ Pit Boys SPG is the rub I used)
How To Cook Brussels Sprouts On A Traeger Grill
Below is my five simple steps for cooking brussel sprouts
1. Preheat The Grill
Preheat the Traeger grill to 425°F. Place the cast iron skillet on the grill grates to heat up.
2. How to Prep And Clean The Brussel Sprouts
Start by chopping off the harder core end of the sprouts.  
Pull off any loose leaves. Brussel sprouts are just like mini cabbages. The outer leaves cover a densely packed center.Bugs love sprouts, so keep an eye out for black or grey flecks indicating bugs.
Cut more away, or discard the sprout if it's too bad. Cut the sprouts in half, so they are all evenly sized. This makes for a much more even cook.
Add the avocado oil & balsamic vinegar and mix thoroughly then add salt pepper and garlic & let sit for 20 minutes.
2. Fry The Bacon, Onion and Garlic
Chop the bacon, garlic and onion into bite size pieces Pan fry the onion, garlic and bacon for 3-4 minutes, or until it crisps up.
Remove the bacon bits, garlic and onion, and keep the bacon fat in the pan.
3. Brown The Brussels Sprouts
Toss the sprouts and whatever else you want to add, into the pan of bacon fat.  Coat with the bacon fat. If you prefer not to use the bacon grease, some olive oil will be just as good.
Give them a quick fry-up, enough to brown the outside. Drain off the excess oil. Season with a bit of salt and pepper.
Now, if you prefer, you can either put your cast iron pan straight in the grill or transfer the sprouts to a grill basket or onto a baking sheet. 
You'll need to keep the sprouts into something though. Otherwise, they'll end up rolling around on your grill grates and making a mess. Even a recyclable foil pan will work. 
As long as the smoke can circulate and you have room to move the sprouts around while smoking.
Step 4 Smoke the Sprouts
Place in the Traeger for 25 minutes until tender. Check them a couple of times throughout the cooking time. Shake the pan now and again to allow them to cook through evenly.
Once smoked, remove from the grill, and top with the bacon, onion and garlic.
What Temperature Is Best To Smoke Brussels Sprouts?
Brussel sprouts are best cooked at a temperature of 350°F 20 to 25 minutes in the Traeger.
Keep the texture tender, but still firm. You don't want the sprouts so cooked they become mushy. The time and temperature may differ, depending on your type of grill, so amend as necessary.
How Long to Cook Brussel Sprouts on Traeger
On a Traeger grill, brussels sprouts typically take about 30 minutes to cook. It takes 5 minutes to brown the bacon and brussel sprouts in the cast iron pan, then 25 minutes in the Traeger.
What Flavor Pellets Should You Use to Smoke Brussels Sprouts?
Brussel sprouts work well with just about any type of pellets. It depends on the strength of flavor you want.
Mesquite and hickory pellets are strong, with a bacon-type undertone. The flavor can be overwhelming if you've not used it before, so exercise caution.
Fruit and wood flavors like oak, pecan, and cherry are more subtle. Applewood is a personal favorite. The sweet, freshness works well with the chopped bacon. It also helps mellow the strong flavor of the sprouts.
What To Serve With Smoked Brussels Sprouts
Brussel sprouts are a great robust side for most meat dishes. They make a great accompaniment to holiday meals and Sunday roasts.
Chicken Legs
Tri Tip
Or keep it simple with a piece of pan-fried salmon or chicken breast.
Smoked and Grilled Brussels Sprouts with Bacon
These smoked and grilled brussel sprouts recipe will make a great side for any meal!
Ingredients
4

strips of bacon

1

whole

onion

finely chopped

2

cloves

garlic

minced

1

lb

of Brussel sprouts

1

tbsp

BBQ Spice Blend
Instructions
Step 1 – Prepare The Grill
Preheat the Traeger grill to 350°F.

Place the cast iron skillet on the grill grates to heat up.
Step 2 – Prepare the Sprouts
Trim the stems and cut them in half. Then add the sprouts to a bowl.

Add the avocado oil & balsamic vinegar and mix thoroughly then add salt pepper and garlic & let sit for 20 minutes.
Step 3 – Cook the Bacon 
Add the bacon to the pan, and cook until just crisp.

Remove, leaving the bacon drippings in the pan.
Step 4 – Cook the Sprouts
Place the onions, garlic, and sprouts in a cast iron pan.

Toss to coat with the bacon fat.

Place in the grill for about 25 minutes or until tender.

Once smoked, remove from the grill, and top with the bacon, onion and garlic.
Smoke On!

Charlie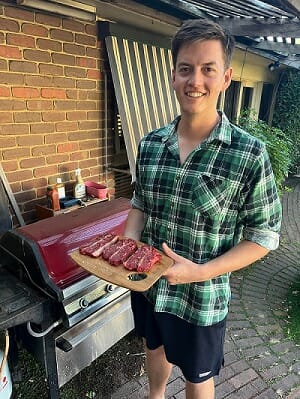 Author: Charlie Reeves
Hi, I'm Charlie, I am head taste tester at Simply Meat Smoking! I love it grilling, smoking, and getting out in the yard with the kids! The family also love to test all my recipes (especially my EXTRA CRISPY pulled pork, smoky pork loin, and ANY SEAFOOD I grill)
You will usually find me playing with the kids, perfecting my brisket bark, or sipping beers with boys around the fire. Can't wait to share all my delicious smoking and grilling adventures with you!

You can read more on our About Us page.
Hungry For More?