Everyone likes a baked potato, that's a fact!
But what if I told you that there was another way of cooking potatoes that is even better?
You would call me crazy, right?
I have recently tried this double-smoked potatoes recipe.

It is one of the most addictive ways to eat potatoes.

They are a great side to have with smoked brisket, ribs, smoked beef roast or even just by themselves!

I'm sorry in advance for giving you this recipe, you will be carb-loading until the cows come home with these ones!
Another great side to have with these smoked potato's is smoked mushrooms! They are just divine!
Double Smoked Potatoes Recipe
Everyone likes a baked potato.. but they can get a little umm boring. This is a very simple way to jazz up your trusty old baked potato and turn it into a new family favourite.
Ingredients
Smoked or sweet paprika

Coarse salt

to taste

Freshly ground black pepper

to taste

½

cup

sour cream

1 ½

tablespoons

bacon fat

or butter, melted, or extra virgin olive oil

2

scallions finely chopped

both the white and green parts

2

cups

grated smoked cheese

or your favorite cheese

4

baking potatoes

10 to 15 ounces each

4

strips of smoked bacon cut into 1/4-in squares

6

tablespoons

cold unsalted butter
Instructions
Preheat your smoker to 400°F degrees according to your specific smokers manufacturing instructions. You will need to load it up with enough wood for slightly over 1 hours smoking.

With a vegetable brush (or a new dish sponge) scrub the potatoes all over to remove any dirt. Once cleaned dab dry with kitchen towel. With a fork, prick each potato all over. This will ensure the potatoes don't explode and the potatoes absorbed as much smoke as possible.

Brush the potato all over with bacon fat and season to taste with both salt & pepper.

Place the potatoes on your smoker rack. Be sure to space the potatoes evenly to get maximum flavor and a faster cook time.

Smoke until the skins are crispy and the center is tender. This should take around 1 hour. You will know when they are tender because you will be able to pierce the potato easily with a skewer.

While the potatoes are smoking, fry the bacon in a cold skillet over a medium heat until brown and crispy. Usually around 3 – 4 minutes. Drain the fat and save for your next batch of potatoes!

Once the potatoes are cooked, transfer to a cutting board to let cool. One cool cut in half length lengthwise. With a tablespoon scoop out most of the fluffy inside (leaving enough so the potato doesn't tear through the skin) and place into a mixing bowl.

Add the scallions, diced bacon, 4 tablespoons of butter and the cheese to the bowl and mix gently to combine. Once well mixed stir in the sour cream and salt & pepper to taste. Stir gently to mix.

Spoon a generous helping of the mixture into each potato skin. Be sure to add in enough to have a nice healthy mound ontop! Top each potato with a sprinkling of cheese, paprika, and the remaining butter.

The potatoes can be made up to 24 hours in advance, store covered in the refrigerator until you are ready to cook.

When you are ready to cook, preheat your smoker to 400°F. You will need enough wood for a further 30 minutes of smoking once preheated. Smoke your potatoes for a further 15 – 25 minutes until golden brown and bubbling. Make sure to re-smoke them on a tray because the cheese will melt and cause a mess!

If you don't want to re-smoke them in your smoker, a preheated oven at 400°F will do the trick (but won't be as flavorsome)

Note: Some smokers won't get hotter than 275°F. In this case, increase the smoking time to 2 to 3 hours and the re-smoking time to 40 to 60 minutes.
Charlies Hot Tip
I usually use my BGE for these deeeelcious smoked potatoes! Make sure you check out all the big green eggs accessories for it!
Tell Me What You Think About My Smoked Potatoes!
Do you have any variations of this smoked potatoes recipe? I would love to hear from you in the comments below!

I am always looking for ways to improve my recipes and learn from others!
Charlie 🙂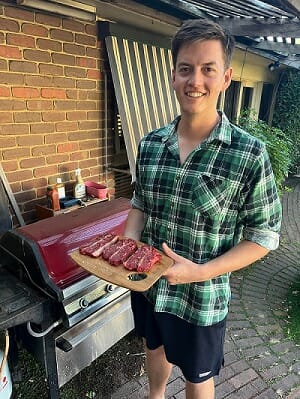 Author: Charlie Reeves
Hi, I'm Charlie, I am head taste tester at Simply Meat Smoking! I love it grilling, smoking, and getting out in the yard with the kids! The family also love to test all my recipes (especially my EXTRA CRISPY pulled pork, smoky pork loin, and ANY SEAFOOD I grill)
You will usually find me playing with the kids, perfecting my brisket bark, or sipping beers with boys around the fire. Can't wait to share all my delicious smoking and grilling adventures with you!

You can read more on our About Us page.