The 4th of July should be a time to sit back with friends and family and indulge in some delicious food.
However, when you haven't worked out what you're eating, cooking can be stressful.
We've tried to ease your worries by putting together some great meat smoking recipes for you to try.
There's something here for everyone to enjoy no matter what their preferences are.
Have a read of the guide below to find out what you'll be cooking next 4th of July.
Smoked Beef Ribs
Looking for something super simple?
These smoked beef ribs are perfect for you.
This recipe requires minimal ingredients, effort and is packed full of flavor.
Smoked Beef Brisket
There is nothing like a smoked beef brisket!
Everyone loves it and it feed a big crowd!
They can be tricky to master so make sure you follow my recipe!
Smoked Shotgun Shells
What could be better than cheesy ground beef stuffed into pasta tubes then wrapped in bacon and smoked?
Nothing I say!
These shotgun shells are 100% worth the hype! You have to try them!
Plus they are easy finger food to serve during the game and they are simple prepare ahead of time.
See the smoked shotgun shells recipe here.
Smoked Rack of Lamb
Rack of lamb ALWAYS impresses at a big cookout!
But if you want to make it even better you need to try it smoked! Your guests will be begging for the recipe!
See the smoked lamb rack recipe here.
Smoked Mash Potatoes With Bacon and Cheese
What could be better than smoked mashed potatoes?
Only one thing! Topping them with cheese and bacon!
Your guests will be drooling over this side!
See the smoked mash potatoes recipe here.
Smoked Garlic Bread
Who doesn't love garlic bread?
But imagine how much better it is when smoked!
Not only do people go wild when I serve this on game day it has to be one of the simplest recipes you'll ever find.
See the smoked garlic bread recipe here.
Smoked Mac and Cheese
Looking for a delicious side dish?
Mac and cheese is perfect!
Kids will love it as well as the adults.
Plus it's super simple to put together, then you just throw it in the smoker!
Smoked Pig Shots
These declious bacon cups filled with cheese are the perfect app.
Make sure you double your batch!
They will be gone before you know it.
Smoked Stuffed Mushrooms
After a scrumptious appetizer before the main event?
We recommend giving these smoked stuffed mushrooms a go.
This dish works well with portobello or button varieties.
If you're vegan or not a fan of cream cheese, feel free to leave it out. These mushrooms are just as good on their own!
Smoked Pork Chops
This dish is great not only for the 4th of July but for any fuss-free meal.
This recipe is simple, easy, and only takes 90 minutes to cook.
For the wood chips, we recommend using apple or maple so that the meat is not overwhelmed.
Smoked Chicken Wings
This smoked chicken wing recipe is an awesome crowd-pleaser ideal for the 4th of July festivities.
The use of smoked honey gives it an extra kick and an out-of-this-world flavor.
This is a slower chicken wing recipe than most, but you are rewarded with the meat being extra smoky.
This is a tasty spin on a classic. The mix of spices, herbs, and sauces in this recipe gives it unbelievable flavor.
For an extra creamy sauce prepare the sauce the night before and let it thicken in the fridge.
Smoked Potato Skins
Looking for something kid-friendly?
These smoked potato skins let everyone customize their potatoes to their liking.
We love the idea of using leftover pulled pork as a topping, but feel free to add some more vegetables for nutrition.
Smoked Pork Loin with Apple and Cinnamon
Smoking your pork loin is a perfect way to ensure it stay juicy and tender.
The combination of pork loin, apple, and smoking is delicious.
Be careful when smoking the pork that it doesn't become tough and dry.
Make sure to follow the instructions carefully so that your meat is deliciously smoked.
Smoked Pork Belly (With Super Crispy Skin)
Now, this in two recipes in one!
First, smoke your pork belly. See the recipes below
Then with the leftovers make smoked pork belly burnt ends!
Recipes for Smoked Pork Belly Burnt Ends
The soup is also divided into individual proportions making it easy to cater to your guests.
Smoked Lamb Chops
Why not try something different!
You might notice that 4th July staples like hot dogs and brisket will be triple the price!
These lamb chops will not only impress your guest but go easy on your wallet.
See the smoked lamb chops recipe here.
Smoked French Onion Soup
This is not your traditional 4th of July dish but we still reckon it's worth a try!
This dish feeds plenty and the caramelized onions make this soup divine.
The soup is also divided into individual proportions making it easy to cater to your guests.
Hot Smoked Salmon
This is a wonderful 4th of July recipe that is incredibly tasty.
This recipe is ideal for beginners or for those that haven't used their smoker in a while.
The advantage of hot smoking salmon (as opposed to cold) is that it cooks the fish all the way through.
Try serving this dish with pasta, salad, sandwiches, or on its own.
Smoked Lobster
This recipe only takes an hour to cook on the smoker. It's fresh, yummy, and perfect for a 4th of July barbecue.
When cooking, use a meat thermometer to make sure your lobster is perfectly smoked.
We recommend serving it with the Grilled Corn on the Cob with Coconut Lime Sauce.
Need More Holiday Recipes?
Cinco De Mayo Recipes For Grill Or Smoker
Sometimes it's best to stick with a classic and other times it is exciting to try something new.
We hope these recipe ideas find their way into your kitchen next 4th of July.
What do you like to cook on the 4th of July?
Smoke On!

Charlie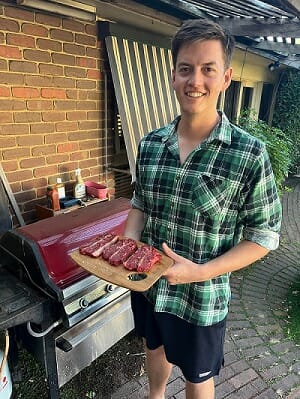 Author: Charlie Reeves
Hi, I'm Charlie, I am head taste tester at Simply Meat Smoking! I love it grilling, smoking, and getting out in the yard with the kids! The family also love to test all my recipes (especially my EXTRA CRISPY pulled pork, smoky pork loin, and ANY SEAFOOD I grill)
You will usually find me playing with the kids, perfecting my brisket bark, or sipping beers with boys around the fire. Can't wait to share all my delicious smoking and grilling adventures with you!

You can read more on our About Us page.
Hungry For More?