Smoked salmon is one of the great joys of life!

What beats that delicious smoky flavor and texture? In my opinion, its my homemade cold smoked salmon.

Smoked salmon is perfect on a platter, with eggs benedict or even just on a cracker with cream cheese.

The process of cold smoking salmon is actually easy. My whole family is obsessed with the homemade version!

I love cold smoked salmon, but it does take time, a little bit of know-how, and a couple of pieces of equipment.

I often get asked a lot of questions about how to cold smoke salmon so I will cover the basics for you here.

At the end of this post, there is also a recipe using fresh salmon.
Can You Eat Cold Smoked Salmon?
Yes, you can eat cold smoked salmon. Cold smoked salmon is perfectly safe to eat straight out of the smoker, or the packet.
What is Cold Smoked Salmon?
Cold smoked salmon is salmon that has been cured in salt and then 'cooked' using cold smoke. Cold smoking is when you smoke food at a temperature of between 68 to 86°F. Smoking salmon at a low temperature gives it an incredible smoky flavor.
Looking to buy cold smoked salmon? Pinnacle Cold Smoked Scottish Salmon is one of my favorites!
The Basics of Cold Smoked Salmon
There are a few things about cold smoking salmon that you should know before you start:
Closely Watch Your Temperatures: Don't let your smoker reach temperatures over 80 degrees Fahrenheit. This will end up cooking the salmon and you will come away with a different result than desired.
Is Cold Smoked Salmon Raw? Yep, it is still raw fish. Cold smoked salmon is technically still raw, however, curing allows you to eat it. This is because the highly saturated cure causes the proteins in the salmon to denature.
The Necessary Equipment: For cold smoking (salmon or any other fresh fish/meat) you need a smoker that can be set up for cold smoking. Cold smoking can't be done with any grill or smoker. If you want a simple DIY cold smoker we have a great tutorial here
Do I Need to Cook Cold Smoked Salmon?
Although technically cold smoked salmon is not cooked, you don't need to cook it before eating. There are some risks associated with making your own cold smoked salmon. For some more information, you can read it here.
Don't have time to get to the store? How about ordering seafood online, check out our guide to the best online seafood stores to ensure you are getting the best product and service.
Should Use Fresh Salmon or Frozen Salmon for Smoked Salmon?
It may come as a surprise to you but frozen salmon is better to smoke with than fresh. This is because the freezing process does two things:
Kills Any Parasites: Salmon can have harmful parasites throughout the fillets. The best way to kill the parasites is to deep freeze them at -4 for 7 days
Ruptures the Cell Membranes: During the freezing process, the liquid inside the cell membrane expands. This puts more pressure on the cell walls and causes ruptures. Once the walls have been ruptured and the salmon starts to thaw, the liquid from inside the fillets drains from the flesh. This means there is less water for the cure to remove. The result is a much better texture.
What Type Salmon Should I Use For Cold Smoking Salmon?
Now you know you should be using frozen salmon, what breed of salmon should you use? Choosing what salmon is very important. There are plenty of different breeds of salmon out there, but what one is right for smoking?

Each different type of salmon has different oil levels. You will get a better smoke out of salmon with higher oil content.
What is The Best Type of Salmon For Smoking
The best breed of salmon for smoking is sockeye salmon or King salmon (Chinook salmon).

It is not imperative that you use one of these cuts in my cold smoked salmon recipes, however, for you seafood lovers out there it will be well worth it!
Why Smoke Salmon
Smoked salmon has a tonne of nutrients. Salmon is a great source of protein, omega-3, vitamin D, vitamin B, magnesium and selenium. Although smoked salmon does not help lower cholesterol it does help increase your intake of good cholesterol.
Other Ways to Cook Slmon
Not only is salmon delicious smoked, but they are also many other delicious ways to cook it. For salt block salmon to using sous vide. You don't just have to stick to oven-baked salmon they are great recipes out there.
How To Cold Smoke Salmon
Print Recipe
Cold Smoked Salmon Recipe
This is a basic recipe for cold smoked salmon or Lox. It is a great recipe to use a base to work on your own secret recipe to make the fish taste perfect for your preference. Please feel free to swap out the cure ingredients with your own herbs and spices.
Equipment
Smoker with the ability to cold smoke

glass dish or baking dish

paper towels

wire rack and sheet pan
Ingredients
2 – 3

pounds

salmon fillet

fresh and from the head end if possible

cold water
Cure
2

tablespoons

crushed black pepper

3

cups

brown sugar

3

cups

Kosher salt or sea salt

or enough to cover you salmon

4

cloves

of crushed garlic

1

tsp

crushed fennel seeds
Garnishes (optional but recommended)
brined capers

Drained

brioche toast points or crackers

Toasted or grilled

fresh dill

Chopped

lemon

Sliced

red onion

Thinly sliced
Instructions
Place the salmon fillet on a flat surface flesh side up. If the salmon is not at room temperature, let sit for an hour or so for it to come to room temperature. Run your fingers overtop of the skin side of the salmon fillet and feel for the ends of any pin bones. Pull out any pin bones with a pair of tweezers by pulling the ends of the pin bones. Once all the pin bones have been removed, run your fingers over one more time to double check all pin bones have been removed. Clean the salmon fillet and make sure there is no muck on them

In a mixing bowl mix together the Kosher salt (or sea salt), black pepper, brown sugar crushed fennel seeds and garlic.

Place the salmon in a glass baking dish flesh side up. Ensure you place the salmon inside the dish so it has plenty of room and no filets are touching. Spread out 1/3 of the cure. Place the salmon fillets on top of the cure making sure that the cure extends around ½ inch from each side of the salmon. Spread the remaining cure on the top side of the salmon, coating each salmon fillet completely with no gaps or holes.

Cover the dish completely with plastic wrap and place the salmon in the coolest part of your refrigerator for 24 – 48 hours to cure. For best results place a weight on top of your salmon while in the cure. I recommend something like a pie dish or a baking tray with a couple of cans of food. You are looking for around 1 – 1.5 pounds of weight to help draw out moisture. The key with the cure is the longer, the better.

Place the salmon In a large bowl filled with 3 inches of cold water soak the fillets for 30 minutes. After 30 minutes drain well with lots of fresh cold water to remove any salt and muck.

Pat the salmon dry on both sides with paper towels then place the salmon skin side down, uncovered on a wire rack on top of a sheet pan to air dry. Place in the refrigerator and let air dry for around 4 hours. The fillets should feel a little sticky at this point. This is when the pellicle forms. Don't worry the salmon fillets will not stick to the wire rack.

Prepare your smoker for cold smoking as per your manufacturer's instructions. For this recipe I use a Masterbuilt gas grill. Remember cold smoking temperatures are important so ensure your temperatures never exceed 86 degrees Fahrenheit.

Place the salmon in your smoker flesh side up. Let the salmon go through the smoking process until it feels leathery, firm and has a nice bronze color. This should take a minimum of 12 hours right up to 20 hours.

Before serving wrap the salmon in butcher/ baking paper and rest in the refrigerator for a minimum of 4 hours. Ideally leave overnight.

Diagonally cut thin (or thick depending on your preference) slices with a very sharp knife and garnish with lots of fresh dill, lemon slices, black pepper, capers, red onion, crusty bread and a squeeze of lemon juice. If you are feeling fancy a garnish of teaspoon of lemon zest will also
What To Do Next?
Read: Where to Buy Your Seafood Online
Read: Delicious Grilled Mussels Recipe

Its as simple as that. Cold smoked salmon or 'Lox' I know your family and friends are going to absolutely love you for this one!

Do you have any some life changing cold or hot smoked salmon recipes I need to try? Id love to hear them! We recently tried sous vide salmon and loved it!

Happy Smoking everyone,

Charlie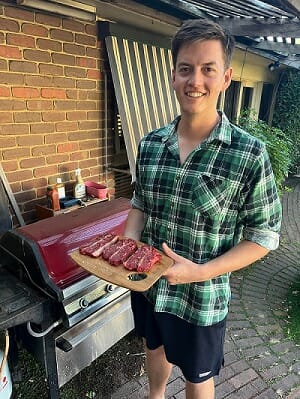 Author: Charlie Reeves
Hi, I'm Charlie, I am head taste tester at Simply Meat Smoking! I love it grilling, smoking, and getting out in the yard with the kids! The family also love to test all my recipes (especially my EXTRA CRISPY pulled pork, smoky pork loin, and ANY SEAFOOD I grill)
You will usually find me playing with the kids, perfecting my brisket bark, or sipping beers with boys around the fire. Can't wait to share all my delicious smoking and grilling adventures with you!

You can read more on our About Us page.