The fusion of smoke and spirits is delicious!
Smoking cocktails aren't just for bartenders, It much easier than you think! You just need the right equipment!
Now there are a few different ways to make this type of cocktail. From smoking guns to smoked ice cubes!
Here are 7 unique smoked cocktail recipes to impress your next guests with!
Instructions To Using A Cocktail Smoking Gun:
If you haven't used a cocktail smoking kit, here are the steps to getting it set up.
On a flat surface, place the glass stand.
Place a wood pellet into the stand and light the pellet (for new pellets, allow 30 seconds to burn).
Acting quickly, blow out the wood and place the carafe upside down on top of the glass stand.
While the smoke collects, to the side, prepare the cocktail ingredients.
After one minute has passed by collecting smoke, remove the carafe and use the silicone stopper.
When the cocktail is prepared, remove the silicone stopper and cocktail into the carafe.
Replacing the silicone stopper to the carafe, swirl the cocktail for 30 seconds to one minute (the longer you swirl, the smokier the infusion).
Remove the silicone stopper to pour and relish in your smoked cocktails!
1 Smoked Gin Martini
The smoke adds to the smooth classic gin martini, a complimenting crisp texture, and flavor.
Ingredients
5 parts gin
1 part dry vermouth
The recipe can be found at here
What to Serve With It?
2 Smoked Manhattan
This timeless classic, its bracing mixture can stand up to the smoke to be infused as another depth of flavor.
Ingredients
2 parts rye
1 part sweet vermouth
2 dashes cocktail bitters
This is another great recipe that can be found here
What to Serve With It?
3 Smoked Bloody Mary
This classic, typically breakfast cocktail can be revolutionized through smoking.
Ingredients
1.5 oz vodka (44 ml)
Hot sauce (such as tabasco)
Smoked bacon rash
Celery stick
Smoked salt
Cracked black pepper
Worcestershire sauce
Tomato juice
This bloody mary recipe can be found at Camp Chef
What to Serve With It?
4 Smoked Espresso Martini
A more contemporary cocktail with an air of sophistication, the combination of espresso, spirits, and smoke is unparalleled.
Ingredients
1 part vodka
1 part coffee liqueur – such as Kahlua
Get the full recipe at Nyam and Trod
What to Serve With It?
Prefer Beer or Wine?
If you prefer wine with brisket I would suggest a merlot or malbec. If you're having chicken we would suggest beer, go for something light and refreshing like a pale ale.
5 Smoky Spiced Minty Margarita Cocktail
The spicy and smoky take on the classic mint margarita is sure to delight your taste buds.
Ingredients
Serrano chile
3 oz lime juice
1 tsp salt
1 tsp sumac (optional)
2 tsp refined sugar
2 tsp fresh mint leaves
6 oz 100% agave silver tequila
3 ounces orange liquor
Read the steps for building this cocktail at Homia.us.
What to Serve With It?
6 Smoked Pimms Cup
If you enjoy a classic glass of Pimms, this recipe is for you!
Ingredients
2 oz Pimms No. 1
3 oz lemon-lime soda and ginger beer (or ginger ale)
Cucumber slices
Mint leaves
Strawberries
Half an orange
(Preferably smoke with applewood chips)
To delight your palate, read up on the preparation at Homia.us.
What to Serve With It?
7 Smoked White Tropical Sangria
This sweet and fruity classic cocktail is a fun addition to this smoked cocktail recipe list.
Ingredients
25 ounces white wine
⅔ cup white sugar
3 oranges (cut into wedges) or 1 cup orange juice
1 lemon (cut into wedges)
1 lime (cut into wedges)
2 ounces brandy
2 cups ginger ale (or club soda)
We're loving this recipe from Homia.us.
What to Serve With It?
Prosciutto Wrapped Smoked Brie
We hope this article has opened your mind to the extensive world of smoked cocktails and you found at least one recipe you plan to indulge in!
Whether you're a coffee-lover, have a sweet tooth, prefer sour flavors, or prefer traditional cocktails, there should be a smoked cocktail listed here for you.
That wraps up this article, enjoy the journey on the sea of smoke and spirits.
Bon, voyage!
Smoke On!

Charlie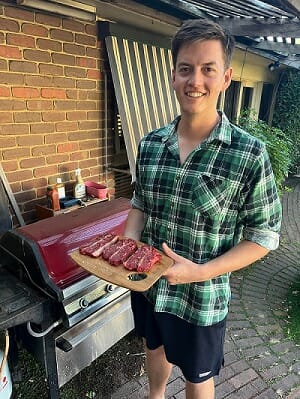 Author: Charlie Reeves
Hi, I'm Charlie, I am head taste tester at Simply Meat Smoking! I love it grilling, smoking, and getting out in the yard with the kids! The family also love to test all my recipes (especially my EXTRA CRISPY pulled pork, smoky pork loin, and ANY SEAFOOD I grill)
You will usually find me playing with the kids, perfecting my brisket bark, or sipping beers with boys around the fire. Can't wait to share all my delicious smoking and grilling adventures with you!

You can read more on our About Us page.
Hungry For More?