Smoked Burnt ends, or as I like to call them 'Meat Candy'!
They're a perfect little snack that was created in Kansas City.
For some reason, they never really made a huge impact outside of Kansas City.
However, I am on a mission to change that.
Every time I smoke a brisket I feel as though it is my duty to treat my guests to burnt ends.
If you want to learn how to make the burnt ends make sure you see my recipe at the end!
I hope you enjoy these burnt ends as much as I do!
" Burnt ends are like popcorn, only , juicy, smokey and a little crispy." – One of my kids!
Why You'll LoveThis Smoked Burnt Ends Recipe
The burnt ends come from the marbled point of a whole brisket.
You can find my recipe for a 4 lb brisket in electric smoker if you need one.
The 'ends' are smoked slowly until they're tender to the touch and covered in deliiiiish BBQ sauce.
You have two options when it's making burnt ends. If you are smoking brisket you can use the ends of it.
However if time/ money doesn't permit you to smoke a whole brisket, you can use chuck steak.
It gives an amazing flavor on a budget and it's much quicker and a good substitute for brisket! I
f you don't have any brisket handy you can try spam burnt ends, trust me these are epic!
Should You Use The Flat or The Point?
Most people use the point for burnt ends. It has more fat and connective tissue.
However, you can use the flat for burnt ends. Make sure you follow my recipe for it here.

"Every cut of meat is different and will finish at a different time". This means you will need a meat thermometer to monitor internal temperature.

I have put together a grilling time and temperature chart for all different cuts of meat.

Justin
Love Burnt Ends? Here Are Some More Recipes
Love burnt ends as much as us?
Then you need some more recipes.
How to Make Burnt Ends
Print Recipe
Smoked Burnt Ends Recipe
After you cook these burnt ends you will discover why the folks in Kansas go so crazy over them.
They have everything you need in a good snack. They are salty, crispy, juicy, tender and bursting with flavour! 
Ingredients
1

Smoked brisket

BBQ or hot sauce

Salt to taste
Instructions
Once you have your smoked brisket and you have let it rest, you need to cut the point off, make sure you do this against the grain.

Place your squares into a foil pan and generously coat with your favorite BBQ sauce. I like to use a slightly spicy homemade smokey BBQ sauce that has a little bit of a spicy kick.

Place the foil pan back into the smoker at around 275°F for a further 1.5 – 2.5 hours until the cubes have become nice and charred. You are looking for the end to be nice and burnt.

As much as you want to eat the burnt ends fresh off the smoker, you do need to let them rest for a good 10 – 15 minutes. Lightly salt and cover with foil. This will allow the burnt ends to really crispen up and become more delicious.

Serve with lashings of BBQ or hot sauce.
There we go, they are as simple as that. You are going to be popular with these ones, I guarantee.

Meat candy truly is the perfect accompaniment to the big game, a good beer, and good friends (or by themselves out of the refrigerator)

I love mine with lashings of homemade BBQ sauce.

Do you have a burnt ends recipe?

Happy Smoking

Charlie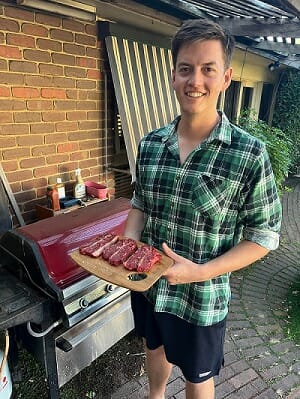 Author: Charlie Reeves
Hi, I'm Charlie, I am head taste tester at Simply Meat Smoking! I love it grilling, smoking, and getting out in the yard with the kids! The family also love to test all my recipes (especially my EXTRA CRISPY pulled pork, smoky pork loin, and ANY SEAFOOD I grill)
You will usually find me playing with the kids, perfecting my brisket bark, or sipping beers with boys around the fire. Can't wait to share all my delicious smoking and grilling adventures with you!

You can read more on our About Us page.
Still Hungry For More?