Smoking your trout is a delicious way to cook your fish.
It doesn't need too much to bring out its natural flavors and texture.
I have a couple of friends who are avid fishermen.
They love stopping by with their catch at the end of a fishing weekend.
My little homemade smoker is perfect for this smoked trout recipe.
If you don't have a little smoker, that's ok you can use whatever you have.
This smoked trout recipe is extremely easy and you don't need many ingredients
If you like this recipe you will also love my cold smoked salmon recipe if you are lucky enough to get your hands on some fresh salmon!

Right let's get into it!
Charlies Simple Smoked Trout Recipe
In this smoked trout recipe, I am using 2 fresh trout (I have used tilapia for this recipe in the past and it worked well.
This is enough for 2 people as a main or 4 people as a little snack or starter.
If you want to try something a little more unusual, you can try smoking carp, it takes a bit longer, but worth the effort!
I won't be explaining how to fillet the trout in this recipe, however, watch this space for a post in the future!
Don't Have a Smoker?
If you don't have a dedicated smoker you can also use a pellet grill to cook your fish or use your gas grill as a smoker.
Step 1: Soak Your Wood Chips
For this recipe, I am using small chunks of Oak and Jack Daniels.
You can use whatever wood and Whiskey you prefer – this is just what I had lying around and generally what I use when smoking trout.
The key is to not overpower the trout with other flavors – we just want to add in a little flavor and let the natural flavor of the wood and the trout shine!
Step 2: Add The Wood Chips to The Smoker Tray
Once your wood chips are well soaked (1 – 2 hours) add them to your smoker's wood chip tray.
Now I am using a little custom smoker I made for smoking fish in.
Your smoker will probably be different to this, however, you will still have a wood chip tray and the basic method should be the same or very similar in your specific smoker.
Step 3: Wrap Your Rack in Foil
I have wrapped my smoking rack in foil – this is for two main reasons:
So the trout does not burn on the wood chips.

So too much smoke doesn't penetrate the trout fillets and overpower the final taste.
Step 4: Add Fish to the Smoker
This is the little homemade smoker I made specifically for smoking fish.
It's very small and doesn't take too long to cook fish. You are looking at 15 – 20 minutes for most fish.
Keep in mind your smoker will be a little bit different and will more than likely be bigger and smoke at a higher temperature than this – to be safe you are best to check out your smoker manufacturer's guidelines for smoking fish.
After reading the below-smoked trout recipe to make any minor adjustments to time, temperature and method.
The final result should be tender, juicy, and fall apart smoked trout fillets.
You can eat it right out of the smoker, however, if you let it rest for 5 – 0 minutes you will get a much better bite!
What to Serve With Smoked Trout?
Looking for some delicious sides for your smoked trout?
Here are some of our favorites
See more sides for smoked trout here.
How To Smoke Trout
Print Recipe
Smoked Trout Recipe
Trout is a fish that can very easily be overpowered. You really don't need to add many ingredients to come away with a delicious meal, this simple smoked trout recipe adds just the right amount of flavour to enhance the beautiful natural flavour of the fish.
Ingredients
4

Fillets

Trout

To Taste

Sea Salt

To Taste

Freshly Cracked Black Pepper

500

ml

Jack Daniels

or your favourite whiskey
Instructions
The first thing you need to do is get your wood chips soaking in whiskey. For this recipe I am using little pieces of Oak and Jack Daniels, however, feel free to use your favorite whiskey and wood chips. You need enough whiskey to fully submerge your wood chips.

If you have fresh whole trout, you will need to clean and fillet.

Lay your fillets on your smoking rack and lightly season with sea salt and freshly cracked black pepper. Cover and refrigerate until your wood chips have finished soaking.

Once your wood chips are well soaked ( 1- 2 hours), drain and add to your smokers wood chip tray. Light and start creating smoke until you get a nice clean smoke. My little home made smoker will be slightly different from yours so please follow your own smokers manufacturers instructions.

When you achieve a nice clear consistent smoke its time to add in your fillets. Ad your smoking rack into your smoker and smoke until cooked. In my little smoker this usually takes 15 – 20 minutes. You will notice that I have covered my rack in toil – this is so the trout does not get overpowered from the smoke.

Once your trout fillets are tender, juicy and falls apart take out of the smoker and let rest for 5 – 10 minutes.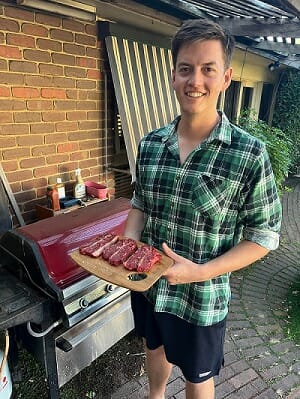 Author: Charlie Reeves
Hi, I'm Charlie, I am head taste tester at Simply Meat Smoking! I love it grilling, smoking, and getting out in the yard with the kids! The family also love to test all my recipes (especially my EXTRA CRISPY pulled pork, smoky pork loin, and ANY SEAFOOD I grill)
You will usually find me playing with the kids, perfecting my brisket bark, or sipping beers with boys around the fire. Can't wait to share all my delicious smoking and grilling adventures with you!

You can read more on our About Us page.
Hungry For More?