Looking for some EPIC things to cook for the Super Bowl and game day?
Choosing the perfect recipes for Super Bowl can be quite tricky!
Especially if you'll be having a few friends around (who all like different things)
But not to worry.
Below are some delicious Traeger Super Bowl recipes to help make the game even more EPIC.
Smoked Mac and Cheese
Mac and cheese is a favorite at our house on game day!
Whip it up with your Traeger to give it an extra smoky flavor.
We like it as it as a topping for our loaded nachos!
To make it extra flavorful, you will need white sharp cheddar cheese.
Epic Smoked Burgers
This is another perfect meal for the Super Bowl!
Your guest can get stuck into this these burger while standing up or watching the game from the couch!
Plus adding chili gives it a spin on regular burger that everyone has tried!
Don't be surprised to find your guests asking for more.
Smoked Beef Short Ribs
Want to impress your guests? Then you have to try these smoked beef short ribs!
Smoked Beef Brisket
Who doesn't want a juicy, tender smoked brisket on game day?
Smoked Bacon Mac And Cheese
We have my classic mac and cheese above but this one here is my favorite. It has super crispy bacon which adds the perfect crunch
See the recipe for smoked bacon mac and cheese here.
Smoky Chicken Wings
You don't necessarily have to be a pitmaster to make these, It's so easy to prepare these on your grill!
Plus chicken wings are another great finger food that your guest can enjoy while having their eyes glued to the screen!
Smoked Shotgun Shells
What could be better than cheesy ground beef stuffed into pasta tubes then wrapped in bacon and smoked?
Nothing I say!
These shotgun shells are 100% worth the hype! You have to try them!
Plus they are easy finger food to serve during the game and they are simple prepare ahead of time.
See the smoked shotgun shells recipe here.
Smoked Garlic Bread
Who doesn't love garlic bread?
But imagine how much better it is when smoked!
Not only do people go wild when I serve this on game day it has to be one of the simplest recipes you'll ever find.
See the smoked garlic bread recipe here.
Pulled Pork Tacos With Avocado Cream
Name a better game day finger food than tacos? I bet you cant!
Smoked Pig Shots
I bet you have heard the hype about smoked pif shots right?
I can guarantee they are 100% worth all the hype, they are DELCIOUS!
Smoked Shotgun Shells
What's better than meat and cheese stuffed into pasta and smoked? Nothing I say!
Pork Shoulder Burnt Ends
There is nothing like the crispy, chewy, carnalised delicousness that is burnt ends! Perfect for a snacking on while you watch the game!
Brisket Rolls
What could be better than brisket wrapped in pastry and baked? Nothing!! All you need a good dipping sauce!
Smoked Pizza
Pizza is king! But have tried smoking it? You'll never go back to oven baked pizza again!
Grilled Lamb Koftas
Similar to a burger but shaped like a small log, these Mediterranean goodies are the perfect finger food, jsut make sure you have a good dipping sauce
Smoked Beef Kabobs
Who doesn't love meat on a stick? Plus its a perfect finger food for while your watching the game!
Smoked Tomahawk Steaks
Your guests will be drooling when they saw the HUGE tomahawks steak go in the smoker!
Smoked Beef Bao Buns
These super soft bao buns are packed with juicy pulled beef, just top with mayo and some green onions
Pulled Pork Nachos With All The Toppings
What could be better than nachos on game day? How about topping them with pulled pork?
Smoked Salmon Burnt Ends
Love burnt ends? When you HAVE to try these delicious smoked salmon burnt ends! Perfect for snacking while watching the game!
Smoked Brie Wrapped in Prosciutto
What could be better than gooey oozy smoked brie? How about wrapped in crispy prosciutto. Adding this to your charcuterie board will have your guests absolutely drooling
Country Style Rib Burnt Ends
Juicy, tender and carlmised burnt ends are the perfect snack for watching the game!
Smoked Cheezits
Everyone loves cheezits so they will be blown away by this smoked version of cheezits!
Smoked Tomahawks Steak
Your guests will be drooling when they saw the HUGE tomahawks steak go in the smoker!
Smoked Chicken Breast
Smoked chicken breast never disappoints, and that's a fact!
We like to brine and glaze the chicken for that EXTRA flavor!
Its is best to serve the chicken with some buns and toppings like lettuce, beetroot and aioli.
Whether you're preparing it for the family or guests, it is the perfect meal before kick-off and during the game.
Super Smoky Cider Brined Pulled Pork
Pulled pork is perfect for game day!
You can have it tacos, buns or as a nacho topping!
For the best result, make sure the pork shoulder or butt is properly brined in cider and smoked with fruitwood.
The cooking time should take between 7-9 hours.
Smoked Queso Dip Recipe
Who doesn't love a cheesy dip?
But imagine mow much better it is if you smoke it!
It's very easy to prepare this smoked Queso on your Traeger smoker.
Anyone that loves cream cheese dip will definitely love this.
Smoked Jalapenos Poppers Wrapped in Bacon
This is the ideal finger food for game day.
These smoked jalapenos poppers are loaded with cream cheese and wrapped with a slice of bacon
Leftover Brisket Nachos
Who doesnt love nachos and brisket
But imagine who EPIC they are together!
f you're looking for the perfect appetizer to serve for the Super Bowl, this is it!
It perfect for graving on, plus you don't need any cutlery or plates with it!
Smoked Honey Garlic Chicken Wings
These wings are a finger-licking experience.
The honey garlic sauce is the perfect glaze! Its sweet, spicy and has a tiny bit of heat.
You can serve this before the kickoff, during the game, or at the end of the match.
Grilled Sweet Potatoes With Lime Dipping Sauce.
This dish is super easy and quick to prepare.
We love serving it with a lime yogurt dipping sauce.
Need More Holiday Recipes?
Thanksgiving Recipes for the Grill and Smoker
Valentines Day Grilling Recipes
St Patricks Day BBQ and Grilling Recipes
Cinco De Mayo Grilling Recipes
Wrapping Up
What Super Bowl recipes are you going to cook up?
Smoke On!

Charlie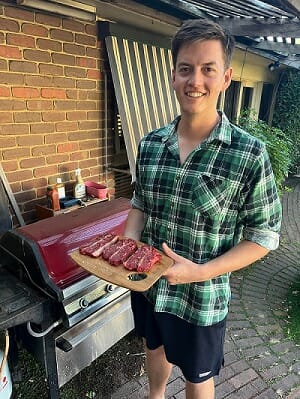 Author: Charlie Reeves
Hi, I'm Charlie, I am head taste tester at Simply Meat Smoking! I love it grilling, smoking, and getting out in the yard with the kids! The family also love to test all my recipes (especially my EXTRA CRISPY pulled pork, smoky pork loin, and ANY SEAFOOD I grill)
You will usually find me playing with the kids, perfecting my brisket bark, or sipping beers with boys around the fire. Can't wait to share all my delicious smoking and grilling adventures with you!

You can read more on our About Us page.
Hungry For More?