Not every mom wants flowers and chocolates for Mother's Day. 
Maybe your mom wants you to cook for her.
Need some recipe ideas?
Glad you asked! We've put together a range of delicious recipes so that the day is extra special. 
Brown Sugar Rubbed Salmon
You can't go wrong with hot-smoked salmon. 
The salmon has a lovely brown sugar marinade, which caramalises on the grill.
You can also vacuum seal leftovers and pop them in the freezer for two months.
Bourbon & Smoked Pecan Pie
This pecan pie is perfect to impress your mom!
Serve it with ice cream or have it on its own!
Smoked Pork Loin
For something lean, healthy yet flavorsome for smoked pork loin. 
The thyme, rosemary, and garlic herb rub are also amazing so forget about it!  
Smoked Breakfast Casserole
This smoked casserole is perfect for a Mother's Day breakfast or brunch.
Sausage, egg, and cheese make for an amazing flavor combination.
Smoked English Muffins
Looking for something cheap and easy?
Give your English muffins the grill or smoker treatment.
After they're done top them with eggs, pulled pork, baked beans- whatever you want!
Steak Quesadilla
This dish is kid-friendly and perfect if you want to get the whole family involved.
This recipe is also great if you've got a leftover meat.
Just add cheese, your sauce, and your favorite toppings!
Grilled Caesar Salad
Grilled Caesar salad is a classic dish and is super simple to make
Grill your chicken then top with dressing, croutons, romaine lettuce and parmesan.
Feel free to add extra toppings as desired. 
Smoked Zucchini With Lemon & Feta Cheese
This Greek-inspired dish and goes well with the grilled Caesar salad. 
The zucchini takes minimal grill time and is an addictive side dish.
The recipe is ideal if you've got little time on your hands and need to make something asap.
Candied Bacon
If you're a meat-lover with a sweet tooth candied bacon is the perfect comfort food.
It is the perfect balance of flavors and a combination of sweet and salty.
Top other dishes with this candied bacon or have it on its own.
Grilled Hawaiian Stuffed Chicken
If you're looking to indulge this Mothers Day this is the perfect dish.
All you need for this recipe is juicy chicken breasts, ham, provolone cheese, and pineapple. 
Need More Holiday Recipes?
Cinco De Mayo Recipes For Grill Or Smoker
Valentines Day Grilling Recipes
Mothers Day is perfect for getting the grill or smoker out.
And there are plenty of tasty recipes that you can pick from.
From meats to salads to tasty desserts!
There's something for everyone and plenty of choices for a delicious meal.
So try one or try them all!
What are your favorite recipes to make on Mothers Day?
Smoke On!

Charlie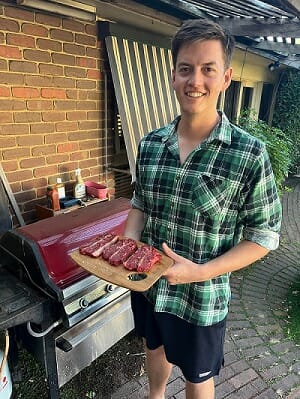 Author: Charlie Reeves
Hi, I'm Charlie, I am head taste tester at Simply Meat Smoking! I love it grilling, smoking, and getting out in the yard with the kids! The family also love to test all my recipes (especially my EXTRA CRISPY pulled pork, smoky pork loin, and ANY SEAFOOD I grill)
You will usually find me playing with the kids, perfecting my brisket bark, or sipping beers with boys around the fire. Can't wait to share all my delicious smoking and grilling adventures with you!

You can read more on our About Us page.
Hungry For More?