We love Mexican cuisine. And Cinco de Mayo is the perfect opportunity to whip some up and celebrate Mexican culture. 
Not sure what to grill or smoke? No worries. 
We've put together a bunch of fantastic recipes so you'll be up and cooking in no time. Have a read of the guide below to find out what you'll be cooking for Cinco de Mayo. 
Smoked Pork Carnitas
For a mouth-watering addition to your meal, try pork carnitas. They are similar to burnt ends, very tender and juicy. 
Add your pork carnitas to tostadas, and tacos, or have them on their own. 
Cilantro Lime Black Bean Soup
Start your meal strong with this amazing soup. You can use it as a dip (by omitting the stock) or have it as a soup appetizer. 
Either way, it's tasty and spicy and the fresh lime juice gives it a unique taste. 
Brisket Enchiladas
Got some leftover brisket? These enchiladas are perfect for using it up!
Use Mexican crema as the sauce for the full experience. 
Smoked Chicken And Cheese Enchiladas
If brisket or pulled pork isn't your thing, then maybe chicken will be. This is a smoked version of classic chicken enchiladas and it's game-changing. 
This dish is a big crowd pleaser and perfect for serving groups. 
Smoked Bacon And Tomatillo Guacamole
This recipe gives a tasty spin on classic guacamole. This dish is also gluten-free and Paleo. 
Serve it on its own with tortilla chips or use it as a topping for tacos or nachos. 
Tequila Marinated Flank Steak Fajitas
If you're looking to up your fajitas game try this recipe. The tequila marinade is phenomenal and will easily become a winner.
Flank steak is also cheap making this an affordable dish. 
See the smoked flank steak here
Grilled Chipotle Chicken Fajitas
For something spicy go for these chipotle chicken fajitas. You can also easily adjust the spice levels to suit your tastes. 
If you don't have chicken on hand you can substitute it with other protein. 
Smoked Brisket Tacos
Another favorite for using up leftover brisket. This recipe is perfect for Cinco de Mayo but it is also great for weeknight dinners. 
Feel free to get the kids involved with putting toppings on the tacos. 
Chicken Tinga
Chicken tinga is a dish made from shredded chicken breasts. This recipe for chicken tinga doesn't involve smoking or grilling. 
But, smoking the chicken beforehand will result in fantastic flavor. 
Grilled Bacon-Wrapped Jalapeño Peppers
This dish is a perfect appetizer for any meal. Stuffed with cheese, wrapped in bacon- you can't possibly go wrong. 
For a slight variation use Applewood bacon for a bold flavor. 
See the smoked jalapenos recipe here.
Need More Holiday Recipes?
Valentines Day Grilling Recipes
Celebrate Cinco de Mayo with some mouth-watering Mexican dishes.
There are so many options for grilled or smoked recipes. So you'll easily be able to cater to everyone's tastes and preferences. 
Well, what are you waiting for? It's time to get cooking and start celebrating with some amazing food!
What will you be cooking up for Cinco de Mayo?
Smoke On!

Charlie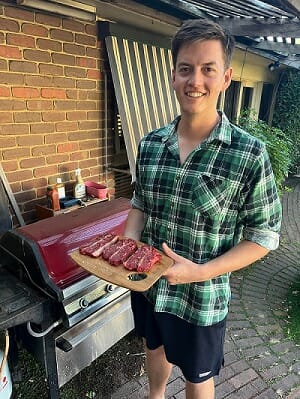 Author: Charlie Reeves
Hi, I'm Charlie, I am head taste tester at Simply Meat Smoking! I love it grilling, smoking, and getting out in the yard with the kids! The family also love to test all my recipes (especially my EXTRA CRISPY pulled pork, smoky pork loin, and ANY SEAFOOD I grill)
You will usually find me playing with the kids, perfecting my brisket bark, or sipping beers with boys around the fire. Can't wait to share all my delicious smoking and grilling adventures with you!

You can read more on our About Us page.
Hungry For More?