Want to cook for your loved one?
You can never go wrong with these mouthwatering Valentine's Day recipes.
So whip out your smoker or grill and make this Valentines day special
From the delicious steaks to grilled lobster or juicy prime rib. This list will have your mouth watering right to the end!
So enjoy!
Tequila Limp Shrimp Skewers
This meal is delicious, flavorful, and very easy to make.
It will only take 10-15 minutes to prep and cook! So you don't have to fuss about spending much time in the kitchen.
Grilled Oysters
Why not spoil your signification other some grilled oysters!
They ares known all around the globe as the food of love, making it a great way to excite your love life.
The smoking process should only take about 35-50 minutes on the a grill.
That will transform the oysters into this beautiful and tasty delicacy.
Smoked Hamburgers
Does your partner love burgers?
Why not try something a little special?
In this recipe we smoke the hamburgers. Giving them a delicious smoky flavor!
Smoked Mac and Cheese
Why not take your partners favorite comfort food and elevate it!
Mac and cheese is good but can imagine how good it is when its smoked.
Your partner will be so impressed with the effort you have gone to!
Grilled Steaks With Board Sauce
You might be asking "what the hell is board sauce"?
This is jumping on charcuterie boards trend.
You place your sauce on the board then steaks pre-sliced on top.
Then you can grab a glass of wine and eat your steak together!
Yes, you heard that right!
Smoked Chocolate Chip Cookies
Nothing tastes better than a homemade cookie.
But we have added a twist! We smoked these cookies!
It add a lovely flavor profile and gives the cookie a little more oomf.
Shotgun Prime Rib
Shotgun prime rib is a must-try if you love beef ribs.
It is a delicious meal and can help set the mood right on Valentine's Day.
When smoked at the perfect heat temperature, the meat comes out juicy, moist, and succulent.
Grilled Surf and Turf
Who doesn't love steak and shrimp?
Its the ultimate combination. Try the tequila marinade on your shrimp for a little more flavor.
Smoked Tri-Tip
Who says you have to be at a fancy restaurant to enjoy your Valentine's Day?
In just two hours of smoking you can whip up a delicious tri tip.
Make sure you also serve it with a sauce. We love a creamy mushroom sauce.
Hot Smoked Salmon With a Brown Sugar Rub
Salmon is a perfect when you want a simply yet stylish dinner.
You add a delicious brown sugar crust to your salmon and jsut grill.
No messing about in the kitchen!
Pie Iron Cinnamon Rolls
Everybody loves desserts, and these pie iron cinnamon rolls are irresistible.
The fluffy and soft texture of the pie combined with the smoke flavor will blow your socks off.
Smoked Rotal Dip
How doesnt love a hot,cheesy, spicy dip!
Your partner will be drooling when they see this come out of the grill.
Smoked Lobster Tail
The smoked lobster tail comes out covered in butter with a sweet and smoky flavor.
Seafood is best when smoked, and you can never go wrong with it.
What will you be cooking for your loved ones this Valentines day?
Smoke On!

Charlie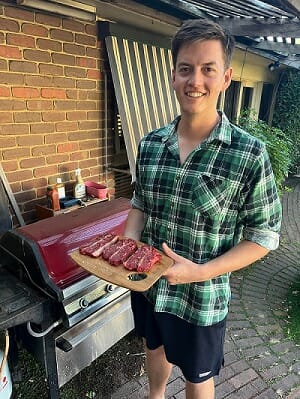 Author: Charlie Reeves
Hi, I'm Charlie, I am head taste tester at Simply Meat Smoking! I love it grilling, smoking, and getting out in the yard with the kids! The family also love to test all my recipes (especially my EXTRA CRISPY pulled pork, smoky pork loin, and ANY SEAFOOD I grill)
You will usually find me playing with the kids, perfecting my brisket bark, or sipping beers with boys around the fire. Can't wait to share all my delicious smoking and grilling adventures with you!

You can read more on our About Us page.
Hungry For More?