Looking for the perfect chicken smoked breast recipe?
Grilled chicken breast usually ends up dry and resembling cardboard.
Over time I have found a solution to this problem! Smoking the chicken breasts instead of barbecuing them!
While I love tending to brisket and slow-cooked pork ribs, smoked chicken is a favorite recipe for a quick dinner at our house.
These smoked chicken breasts are tender and juicy (one of my secrets is the brine).
This recipe is perfect for those of you who simply don't have the time to prepare and smoke a whole chicken or brisket for dinner.
Hungry Now? Jump to Smoked Chicken Breast Recipe
How to Brine Chicken Breasts Before Smoking
I'll let you in on three little secrets, the first is key to a really good smoked chicken breast is using a brine.
I recommend brining your chicken for at least 2 hours before you smoke it.
The brine infuses the chicken with flavor and also keeps it from drying out in the smoke, see my chicken brine recipe here.
Brining is a type of tenderizing, there is a full resource on how to tenderize chicken for grilling where we run through all the techniques.
My second secret is the oil that is used in the marinade, try olive oil or avocado oil.
Timing and temperature are also very important to the cooking process, however, the oil is something that many people overlook.
Applying a Rub to Your Chicken Breast
You should always apply a rub when smoking chicken breasts. I like to first put mustard on the chicken then apply the rub. You can see some of my favorite rubs for chicken here.
Green Mountain Grill vs Camp Chef Grills, what is the best unit to grill chicken on?
How Long Does it Take to Smoke a Boneless Chicken Breasts?
It takes around 2 – 2.5 hours to smoke chicken breasts, however, it does really depends on the size of the breasts.
Smaller breasts (4-6 ounces) can take an hour, whereas larger breasts (8 ounces or more) will take closer to 2.5 hours.
The best way to check whether your chicken is cooked is to use a thermometer, always test the thickest part of the chicken breast.
Once that comes out I like smoother them in some homemade barbecue sauce!
Note you can also use chicken tenderloin instead of breast chicken.

Don't Have a Smoker? Try Cedar Planks
If you don't have a smoker or don't have time to get your going. Why not try cedar plank grilled chicken?
The cedar gives the chicken a delicious smoky flavor in under 15 minutes.
If you can also try searing your chicken on a salt block, it gives your chicken a delicious savory flavor.

What Temperature Do You Smoke Chicken Breast
I like to smoke my chicken breasts between 225 – 250 degrees F. You can use a lower temperature however you will need to increase your cook time your meat is in the smoker.
When Is Chicken Breast Done?
To ensure your chicken breast is safe to eat you need to make sure that the thickest part of the breast is at least 165 degrees F.
Can you use a probe thermometer and check the chicken as it cooks, this way you can be confident that your chicken is neither under nor overcooked.
What Type of Wood is Best For Smoking Wood?
I think cherry wood or hickory is best for smoked chicken, they both have a mild yet sweet flavor that my family loves.
Some other great types of wood to use include are apple or maple wood.

The Best Sides For Smoked Chicken
Smoked chicken is a fantastic healthy protein, but what can you eat with it?

Here are some of my favorite side dishes for smoked chicken:
Watermelon, tomato, cucumber and feta salad

Honey sesame carrots

Grilled corn

Print Recipe
Smoked Chicken Breast Recipe
Smoking chicken breasts is one of the healthiest ways to add a lot of flavour to your chicken. You will be surprised how easy and tasty this smoked chicken breast recipe is.
Ingredients
4-5

large chicken breasts

1½

cup

of roasted red pepper olive oil vinaigrette

(or your favourite marinade)
Roasted Red Pepper Marinade
2

juice of lemons

12

oz

Roasted Red Peppers

2

Cloves

2 Cloves of garlic

1/4

Cup

Extra virgin oil

3

tbsp

Vinegar

1.5

cups

Basil

.5

cup

parsely

salt and pepper
Instructions
Inspect each breast and trim off any skin or fat. Using fresh water thoroughly wash each chicken breast. Pat dry with paper towel and place in a large ziplock bag. (If you don't have a large ziplock bag you can do the next few steps in batches or by using a bowl).

Pour your marinade in the ziplock bag and shut securely. Massage the marinade over the breasts to coat well. Make sure each breast is coated well as this will help them stay tender and juicy while cooking.

Place the chicken breasts in the refrigerator t marinade for at least 1 hour. You can prepare and marinade over night if you want more flavor.

When you are ready to cook preheat your smoker to 250ºF following your smokers instructions.

While your smoker is coming to temperature individually wrap each chicken breast in foil.

Once your smoker has got to temprature, add the hickory chunks to the smoker box and wait until you get a good smoke.

Once you have got a good smoke, add the foil parcels to the smoker, close and leave for around 2 – 2 ½ hours. (no peeking!)

After 2 – 2 ½ hours check the internal temprature of the chicken breast, you are looking for 160ºF.

Once cooked let rest for 10 minutes then slice & serve.
Roasted Red Pepper Marinade
Combine Peppers,basil, parsley, garlic, oil and seasonings into the blender and puree.

Some Recipes For Your Leftover Smoked Chicken Breast
In the unlikely event that you have leftover smoked chicken breasts check out some of my recipe ideas
How you can use up that leftover juicy smoked chicken.
Pull the chicken and add into your favorite vegetable or corn soup.

Slice and add into your favorite salad for a quick mid week dinner.

Pull and make quick and easy smoked chicken tacos or burritos.

Cut into bite sized pieces and make a quick and easy smoked chicken pizza.

Easy after work smoked chicken enchiladas.

Shred and add to fried rice.
How To Smoke Chicken Breasts in Your Pellet Smoker
This smoked chicken breast recipe serves about 4 hungry guests.
If you do not like the sound of this marinade you can swap it out for your favorite, however, I would advise you to go for something that does not have a very overpowering flavor.
You really want the beautiful flavor of the hickory to stand out in the breast!

For this smoked chicken recipe, all you need to do is;

Simply lay your chicken on a large piece of grill foil and drizzle the vinaigrette over one side.

Wrap the foil tightly around each breast and place in the fridge until your smoker is preheated.

Smoking each breast with a healthy amount of the marinade and wrapped individually creates a perfect moist environment for a tender and juicy breast.Be sure not to open the parcel until a couple of hours into the cooking to keep all the goodness inside for the duration of the cook.

Once the chicken is in you want to maintain a temperature of 250ºF, if you need to add in more hickory throughout the duration of the cook please do so.
How To Smoke Chicken Breasts in Your Electric Smoker
For this recipe I am using a roasted red pepper olive oil vinaigrette, it's a family favorite!

Sometimes you just don't have the time for pellets, charcoal, or wood!
My wife is also a fan of smoking chicken breasts in our electric smoker. Its means she can just plug it in set the temp and carry on with her day.
Preheat your electric smoker to 250ºF.

Similar to the pellet smoker recipe above you want to marinade your chicken breasts with your choice of oil or vinaigrette (make sure you this is more than enough liquid to cover them and more for them to sit in.

Once you have your smoker to temp add your parcel to the electric smoker.

After about 2-2.5 hours (make sure you don't open them below!) check the internal temp, you want to see at 160ºF. My always left the chicken sit for at least 5 minutes!


What About Smoking A Whole Chicken?
If looking to feed a crowd a whole chicken might be easier. See my steps for smoking a whole chicken like a true grill master here.
My wife and kids looooove chicken! After my smoked chicken breasts they also love when I cook my spicy smoked chicken wings as well when I do beer can chicken in the smoker.

If you have any variations or special additions that you have, let me know. I am always interested in finding out other people's takes on my recipes.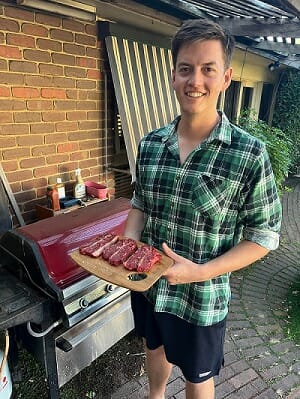 Author: Charlie Reeves
Hi, I'm Charlie, I am head taste tester at Simply Meat Smoking! I love it grilling, smoking, and getting out in the yard with the kids! The family also love to test all my recipes (especially my EXTRA CRISPY pulled pork, smoky pork loin, and ANY SEAFOOD I grill)
You will usually find me playing with the kids, perfecting my brisket bark, or sipping beers with boys around the fire. Can't wait to share all my delicious smoking and grilling adventures with you!

You can read more on our About Us page.
Hungry For More?