Are you looking for delicious BBQ recipes for St Patrick's day?
Whether or not you have Irish heritage, celebrating Saint Patrick the patron saint is a great holiday to celebrate!
What does a good holiday need?
Food!
Below we have our favorite recipes for St Paddy's day!
1. BBQ Beef Brisket Loaded Nachos
Everyone loves nachos!
But imagine how much better these are topped with smoked brisket!
Its a perfect dish to soak up all that beer!
Tip: You can replace the brisket with smoked chicken breasts should you choose if you don't want to spend the whole day before cooking.
Find The Brisket Nacho Recipe Here
2. Smoked Rack Of Ribs
These is nothing like a juicy rack of ribs!
We like to spray bottle filled with apple juice or apple cider vinegar. This will keep them tender!
3. Smoked Lamb Chops
These delicious lamb chops will have your guests drooling.
Cover these beauties with yellow mustard, fresh garlic, and paprika before throwing them on your smoker's grill grates.
4. Smoked Beer Can Chicken
Speaking of beers, this is one way to recycle all those cans!
 This a technique used to lock in the moisture and provide a juicy chicken.
5. Smoked Corned Beef
Corned beef is a traditional Irish meal!
Plus its easy to prepare ahead of time. Serve it with boiled cabbage, mashed potatoes and mustard.
6. Corned Beef Hash
This hash recipe is perfect for all that leftover corned beef.
I thought I would include the hash so you have a plan for the morning after celebrating.
7. Smoked Shepards Pie
If you haven't tried a shepherd's pie you are missing out.
This winter warmer is the epitome of comfort food.
Enjoy!
What will you cooking up for St Paddys day?
Smoke On!

Charlie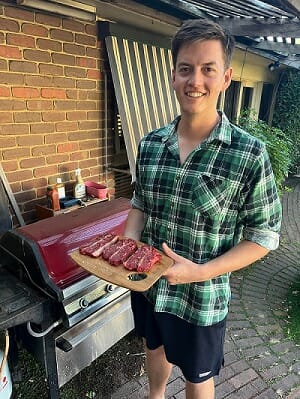 Hi, I'm Charlie, I have been meat-smoking and grilling for the past 15 years. I have an array of different smokers, thermometers, and have a love for finding the right wood and charcoal combo My favourite recipes are my EXTRA CRISPY smoked pork belly, juicy pulled pork, smoked brisket, duck poppers, and ANY SEAFOOD I grill).
I loves sharing his tips with beginners, helping them navigate the world of smoking. I find it's not just about cooking; it's a quest for that perfect smoky flavor.
You will usually find me playing with the kids, perfecting my brisket bark, or sipping beers with boys around the fire. Can't wait to share all my delicious smoking and grilling recipes with you!

You can read more about me on our About Us page.
Hungry For More?