From meatball mummies, cake pop brains, and creepy-crawly spider cookies.
There is a whole world out there of Halloween-themed food.
But what are the best smoker recipes for Halloween?
We've found some great spooky recipes so that you can start smoking for Halloween.
Have a read of the guide below to find an easy, Halloween-inspired recipe.
Smoked Bacon Jam & Cream
For something creamy, sweet, and smoky try this recipe.
Who doesn't want a delicious brain for Halloween?
This dish can be served with vegetables or crackers.
Smoked Pumpkin Seeds
For the ultimate Fall, the recipe tries these smokey pumpkin seeds.
These seeds are great in salads, granola, or just as a snack.
Or save your smoked seeds for later and pop them in the freezer.
Smoked Pork Tenderloin Mummy
This smoked pork loin recipe is so much fun and is right on the theme. 
The combination of smoked pork and apple creates a great flavor.
If you're looking for a side dish, it also comes with mashed potato ghosts.
Smoked Jalapeno Poppers
This delicious appetizer will give you the ultimate spicy cheese experience.
With cream cheese in the middle, they will easily melt in your mouth.
Did we mention they're also wrapped in bacon?
See the smoked jalapenos recipe here
Smoked Feetloaf
This delicious meatloaf recipe is perfect for Halloween.
This recipe will make one large foot but you can always double the recipe.
As soon as it's done, be sure to let the feet loaf rest for 10-15 minutes.
Skeleton Smoker Ribs
This smoked rack of ribs is perfect for a hands-off cooking process.
Set them, forget them and then come back and eat them!
For some matching entrails use long sausage links and BBQ sauce.
Bloody Mary Chicken Lollipops
This chicken drumstick recipe is super easy and appetizer-sized.
It'll be sure to spook and surprise your Halloween guests.
You can also make these in the oven if your smoker is out of action.
Smoked Fireball Whisky Apples
This dish is for those doing some adult entertaining.
A perfect dessert or side dish for a fantastic Halloween. For the full experience serve them with your smoked pork tenderloin.
Spooky Smoky Cocktails
This may not require a grill but who doesn't love some cocktail magic.
This cocktail process does use a smoker box, which is pretty cool. So grab your spirits, mixers, and a cocktail shaker and get making.
See our favorite smoked cocktails here
Need More Holiday Recipes?
Cinco De Mayo Recipes For Grill Or Smoker
Valentines Day Grilling Recipes
For the perfect party food, you can't go wrong with these recipes.
There's more out there than candy eyeballs, chocolate tombstones, and creepy butter cookies.
Smoked dishes are just as good.
We do not doubt that you'll end up with some great BBQ party ideas for Halloween.
So go preheat your pellet smoker or charcoal smoker, it's time to get cooking.
What smoked Halloween dishes do you like to make?
Smoke On!

Charlie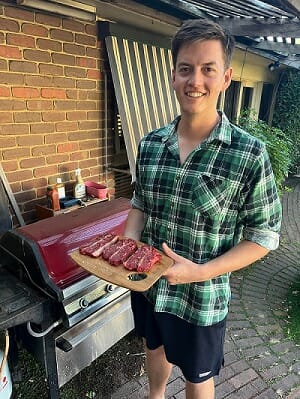 Author: Charlie Reeves
Hi, I'm Charlie, I am head taste tester at Simply Meat Smoking! I love it grilling, smoking, and getting out in the yard with the kids! The family also love to test all my recipes (especially my EXTRA CRISPY pulled pork, smoky pork loin, and ANY SEAFOOD I grill)
You will usually find me playing with the kids, perfecting my brisket bark, or sipping beers with boys around the fire. Can't wait to share all my delicious smoking and grilling adventures with you!

You can read more on our About Us page.
Hungry For More?