Holiday meals are the ones to remember!
Does your mother make the best holiday favorite?
Or are you cooking and looking for a new holiday dinner?
To help here are 12 of my favorite holiday recipes that use a grill or smoker!
Happy Thanksgiving!
Smoked Turkey
I'm sure an entire turkey is on all of your lists but in this recipe, we have chosen the crown cut as our holiday turkey.
This will have a delicious depth of smoky flavor which will also be tender if you choose to wet brine the bird before cooking.
A wet brine will prevent dry meat and provide a flavorful turkey.
Smoke with a digital meat thermometer to an internal temperature of 170F which typically takes around 5 hours for a 10-pound turkey crown.
I hope this holiday bird blinds your family with the extra flavor from the smoke.
Don't forget the cranberry sauce!
Smoked Pumpkin Pie
There is no better way to end a meal Thanksgiving meal than with a pumpkin pie.
But why not make things easier and cook it in your smoker?
That means you have more fre space in your oven
Just don't forget the whipped cream!
Find The Smoked Pumpkin Pie Recipe Here
Honey Roast Sweet Potatoes
The first side dish we have chosen for our thanksgiving meal could easily be the star of the show.
A must for any vegetarians, the smoking process adds an earthy flavor that mixes with the natural sweetness of the potatoes.
Fresh herbs like thyme will add aromatic complexity and combine with fresh ground black pepper for the optimal flavor.
Cooking potatoes is easy in a smoker with direct heat.
Be sure to use a baking sheet or foil packet to prevent burning during the longer roasting period.
Consider mixing with a blend of cheeses to give a creamy texture.
Plan on Cooking Turkey and Ham?
If you cooking turkey and ham these holidays you might be wondering if you can cook them together? You can cook ham and turkey together, see the guide on how to do it properly.
Spatchcocked Smoked Turkey
It might not look like tour traditional Thanksgiving turkey. However, when you spatchcock a turkey
you give it a better chance to cook evenly. Therefore you get more tender and juicy meat and crisper skin.
Green Bean Casserole
Let's take the humble green bean to another level.
This dish is perfect as it can be prepared before as we all know how stressful getting the timing right on the biggest dinner of the year can be.
This simple but tasty recipe accompanies the turkey breast meat and can be a healthy side dish to enjoy.
Think about adding a dash of vinegar or the flavor from lemon juice on top. It will contrast and cut through any smoked protein for a new mealtime favorite.
Buffalo Turkey Dip
If like me you want to add a bit of heat to your thanksgiving meal then look no further.
This spicy and sour dish is best with any leftover dark meat.
Make it before to give plenty of time for the seasonings to get to know each other!
Fresh ingredients like scallions straight from the cutting board give it a zing to compliment the spicy acidity.
We added crumbled blue cheese for the ultimate treat at meal time.
Honey Smoked Carrots
These whole sweet carrots make a great accompaniment to the turkey.
Try them with a hint of orange to wow your guests.
I never remove the skin for a more rustic touch but feel free to experiment to find the right food flavor in this all-occasion dish.
The sweet and savory create amazing flavors as well as stack up against your daily recommended vitamin A in this colorful dinner treat.
Carrots can be cool!
Smoked Turkey Legs
Don't fancy cooking a whole turkey but still want to keep it traditional?
These beautiful smoked legs have a large amount of meat but take less time to prepare and cook.
Smoke with hickory wood on your electric smoker and use plenty of garlic powder in the rub.
I will shred the meat and serve it with my sweet potato dish for a new family favorite.
Cornbread Pudding
Are you craving a dish to soak up those beautiful meat juices or if you've overdone it on the wine?
Look no further than this simple but delicious cornbread to accompany you and the entire family.
Comfort food is done well with no artificial ingredients, baking the cornbread couldn't be easier as it only takes 90 minutes.
If you make it before then please store it in an airtight container to save it from getting dry but I do recommend putting this on your plate fresh out of the grill!
Savory Gravy
I know I crave a creamy sauce or gravy on a flavorful bird or to be soaked up by my cornbread recipe.
Having the right consistency is key and be sure to use any meat juices when you can.
I recommend also adding a touch of white wine at the beginning.
Once the alcohol is burned off it creates a perfect base to then build on.
Adding a steaming gravy broth boat to a crowded table at thanksgiving is the key!
Beef Brisket
Tired of turkey and want to experiment?
Or do you have multiple mouths to feed and want some diversity?
Slow-smoked beef brisket is the ultimate indulgence that utilizes flavourful spices and aromatics.
A brisket takes the whole day to smoke, so be sure to give yourself time will free you up during the day.
The family is something to be thankful for so it's a win-win!
I used apple wood chips which add extra depth during the smoking process and change the taste through the milliard reaction.
Cheese Platter With a Smoked Cheese
There isn't much else to say when you are given a platter with a variety of cheeses other than thank you.
I always find room after stuffing myself full of turkey for soft European cheeses or even the tang of goat cheese with fig.
Go the extra mile and smoke your own to finish off the quintessential Thanksgiving cook-off!
I like choosing a strong cheddar and if you choose another cheese, check out the individual smoking times because they differ.
Need More Holiday Recipes?
Valentines Day Grilling Recipes
St Patricks Day BBQ and Grilling Recipes
Cinco De Mayo Grilling Recipes
Smoke On!

Charlie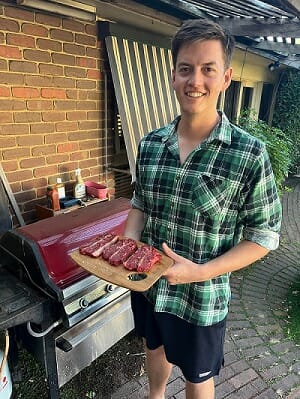 Author: Charlie Reeves
Hi, I'm Charlie, I am head taste tester at Simply Meat Smoking! I love it grilling, smoking, and getting out in the yard with the kids! The family also love to test all my recipes (especially my EXTRA CRISPY pulled pork, smoky pork loin, and ANY SEAFOOD I grill)
You will usually find me playing with the kids, perfecting my brisket bark, or sipping beers with boys around the fire. Can't wait to share all my delicious smoking and grilling adventures with you!

You can read more on our About Us page.
Hungry For More?