Beef kabobs can be a tasty app for your next barbecue, or they can be a meal all on their own!
When done on a pellet grill, there's an added juicy, smoky flavor that makes them of my families favorite meat smoking recipe for summer!

In addition, they are relatively quick to prepare and cook, making them the perfect entrée to your main meal.
Let's find out how to do them like a true grill master!
Cooking Kabobs on Your Pellet Grill
I think using a pellet grill for kabobs is perfect. You get that delicious smoky flavor infused into your meat.
But you don't have to worry about tending to a fire or monitoring any temps!

You can enjoy the company of friends and family or finish that never-ending to-do list!
Wondering Where Kabobs Came From?
Kabobs, kebabs, or shish kabobs, originated in the middle east.

They are cubes of marinated meat slid onto a wooden skewer with roasted vegetables. The meat can be pieces of red meat, chicken, or fish.
What Cut of Beef To Use?
As with any meat used on the pellet grill, go for tender and flavorful cuts.
Top-quality cuts like filet mignon, porterhouse, and ribeye are juicy and tender and won't need marinating. But these can be quite expensive for a pre-dinner dish.
Cuts like sirloin steak, flat iron steak, lamb, or strip steak work well too. To tenderize the meat marinate the beef cubes for 15 minutes to an hour before assembling, and they'll be as flavorful and juicy.
Alternatively, use chunks of turkey, chicken, seafood, or fish. Again, soak these in a marinade beforehand to prevent the meat from drying out and becoming chewy.
Prefer Chicken Over Beef?
If you prefer chicken over beef or trying to cut on your red meat, you should try my bbq chicken kabobs. They are just as delicious as my beef ones!
What Vegetables Should You Put on Your Kabobs?
You can use any vegetable that is solid enough to hold its form while grilling.
Some vegetable suggestions:
courgette
cherry tomatoes
yellow squash
red onion
bell peppers
fresh mushrooms
Marinating the Meat
Marinating the meat helps tenderize the meat, lock in moisture, and add extra flavor.
You can make a simple steak marinade with:
olive oil
soy sauce
lemon juice and lemon zest
Worcestershire sauce
mustard
black pepper
chopped garlic.
Add the marinate to an airtight container or a zip lock bag. Throw in the cubes of meat and make sure to coat all surfaces. Place in the refrigerator for at least half an hour before cooking.
What Wood Chips To Use?
What chips to use is an often-asked question. The answer is down to personal taste.
Some prefer the more subtle smoke flavors like apple, cherry, maple, or pecan. Others prefer more robust, smoky flavors like hickory or mesquite.
Experiment with different wood chip combinations if you are new to pellet grilling. If you have been smoke grilling for a while, you will no doubt have settled on the chips you prefer.
Assembling the Beef Kabobs
The first step to assembling the kabobs is to soak the wooden kabob skewers in water beforehand. It will prevent the stick from burning while grilling. Soak for about 30 minutes in cold water.
Cut the beef into decent-sized chunks – around 1 inch to 1½ inch cubes. Marinate if required.
Now to the vegetables. Wash under cold water and drain to dry. Cut the vegetables into pieces roughly the same size pieces as the meat. If using vegetables like potato or corn on the cob, part cook first.
Once the meat has marinated and bamboo wood skewers soaked, it's time for the fun part!
Place the ingredients in separate bowls for easy access. Have a tray or platter ready for the completed kabob skewers.
Alternate the meat with a vegetable onto the skewers, mixing the vegetables throughout. Leave a small gap between each item to allow for heat circulation.
Drizzle the kabobs with BBQ sauce or steak sauce. If you have any leftover marinade, drizzle that over the top instead. If not, sprinkle some Teriyaki sauce and whatever seasoning you prefer.
Grilling the Steak Kabobs
Start by checking the levels of your favorite wood chips in the hopper and top up if needed.
Spray the grill grates with cooking oil, and scrape to clean completely. You don't want any leftover food residue sticking to your kabobs!
Preheat the smoker to 250°F for 15 minutes to prepare the smoker for cooking.
Once heated, turn the heat down to 180°F.
Keep the temperatures low, as smoking is at its best under 250°F. Anything above that will cook quickly but produce very little smoke.
Place the skewers on the grill grate and leave for around an hour.
What Temperature to Cook Beef Kabobs At?
Set the smoker at 250°F.
Time can vary depending on the type of grill, size of kabobs, and many factors.
Optimal Internal Temperatures for Kabobs
The best way to check the doneness is to check the internal temperatures with a meat thermometer. Then you can be sure they cook through, regardless of appearance.
Here's a quick guide to the desired internal temperatures:
Rare – 120°F
Medium Rare – 130°F
Medium – 145°F
Well done – 160°F
Once the kabobs finish, allow them to rest for 10 minutes before serving. That gives time for the juices to settle and finish cooking.
What to Serve With Beef Kabobs
Looking for the perfect sides for kabobs? Here are some of our favorites!
Greek Salad
Smoked Beef Kabobs
Beek kabobs can be a tasty app for your next barbecue, or they can be a meal all on their own!
Equipment
Pit Boss Grill

8-12-inch Metal skewers
Ingredients
2

pound

sirloin steak

cut in 1-inch cubes

1

large

red onion

1

green bell pepper

cut in 1-inch pieces

1

red bell pepper

cut in 1-inch pieces

garlic salt

to taste

½

cup

olive oil

1

tsp

black pepper

3

cloves garlic minced

½

cup

soy sauce

¼

cup

worcestershire sauce

BBQ sauce

as needed

½

tsp

mustard

lemon juice or lemon zest

to taste
Instructions
Take a medium bowl and whisk together olive oil, soy sauce, wocestershire sauce, mustard sauce, garlic, black pepper and lemo zest to make the marinade.

Add the sirloin steak cubes to marinde for 30 minutes for up to an hour.

Once the marination is complete, put the meat onto the skewers alternating with the peices of green bell pepper, red bell pepper and red onion.

Soak the wooden kabob skewers in cold water for about 30 minutes.

Spray the grill grates with cooking oil.

Preheat the smoker to 250 F for 15 minutes and prepare the smoker for cooking.

Once heated, turn the heat down to 180 F and place the skweres on the grill grate and leave to cook for abour an hour and a half.

Drizzle the kabobs with BBQ sauce or the left over marinade.

Once the kabobs are ready, allow them to rest for 10 minutes before serving.
Kabobs are a great way to keep your hungry guests happy.

With the great bonus of the backyard filling with mouthwatering smells!
You can whip them up in no time, and their flexibility and ease make them a class above the rest!
Smoke On!

Charlie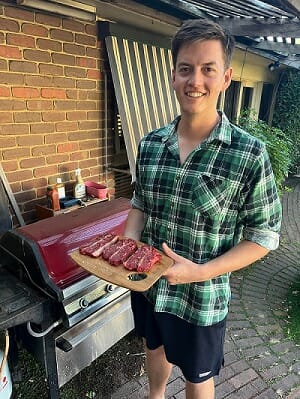 Author: Charlie Reeves
Hi, I'm Charlie, I am head taste tester at Simply Meat Smoking! I love it grilling, smoking, and getting out in the yard with the kids! The family also love to test all my recipes (especially my EXTRA CRISPY pulled pork, smoky pork loin, and ANY SEAFOOD I grill)
You will usually find me playing with the kids, perfecting my brisket bark, or sipping beers with boys around the fire. Can't wait to share all my delicious smoking and grilling adventures with you!

You can read more on our About Us page.
Hungry For More?