Are you hosting friends and family for a big cook-up on game day?
So the big question is, what delicious recipes do you have planned?
Here are the top 20 delicious recipes for the ultimate game-day chow!
I hope at least a few of these game-day recipes take your fancy.
From the classic chicken wing to a pork shoulder with all that good smoky flavor.
Happy smoking!
Smoked Chicken Wings
We had to include the classic at the start, right?
The best thing about chicken wings is that you can use whatever your favorite seasoning and they are relatively quick to cook.
Be sure to pair it with your favorite dipping sauce like sour cream or a tangy hot sauce!
Find The Chicken Wing Recipe Here
Loaded Brisket Nachos
Nachos are meant to be shared!
So they are perfect for a game day snack.
Brisket is always a hit, but add melted cheese and chips and you have a delicious combo!
Either use leftover brisket or smoke it the day before.
See the brisket nachos recipe here.
Smoked Shotgun Shells
What could be better than cheesy ground beef stuffed into pasta tubes then wrapped in bacon and smoked?
Nothing I say!
These shotgun shells are 100% worth the hype! You have to try them!
Plus they are easy finger food to serve during the game and they are simple prepare ahead of time.
See the smoked shotgun shells recipe here.
Smoked Garlic Bread
Who doesn't love garlic bread?
But imagine how much better it is when smoked!
Not only do people go wild when I serve this on game day it has to be one of the simplest recipes you'll ever find.
See the smoked garlic bread recipe here.
Smoked Brownies
I bet none of your guests will have tried smoked brownies. These little bites of heaven are also topped with bacon salt. So your hitting sweet and salty in one go!
See the recipe here; https://www.simplymeatsmoking.com/recipes/smoked-brownies-with-caramel-and-bacon-salt/
Smoked Pork Belly Ends
These pork belly will guarantee to tickle the taste buds of your guests.
These are the perfect finger food to snack on! Juicy, crispy and melt in the mouth bites of pork!
See the recipe here; https://www.simplymeatsmoking.com/recipes/smoked-pork-belly-burnt-ends/
Smoked Baked Potato With All The Toppings
These smoked potatoes are perfect for a crowd!
Just smoke your potatoes then set up a bar with all the toppings
Smoked Prime Rib
Go all out and smoke a whole prime rib for your loved ones.
Do this a day before as it takes around 8-12 hours.
We used the Traeger prime rib rub with fresh herbs for the best of backyard cookouts!
Pork Shoulder Burnt Ends
What is better than juicy, smoky caramelized nuggets of pork?
Nothing!
These burnt ends are perfect if you have leftover meat.
You can also do them with a whole pork shoulder.
Get the smoked pork shoulder meat candy recipe here
Homemade Cheezits
These homemade cheesits will have your guests begging for more bowls!
See the recipe here; https://www.simplymeatsmoking.com/recipes/smoked-cheez-its/
Smoked Turkey Legs
Speaking of turkey, these beautiful smoked legs have a large amount of meat and go well with barbecue sauce. 
Smoke with hickory wood and use plenty of garlic powder in the rub for the ultimate meat candy!
Find The Smoked Turkey Legs Recipe Here
Smoked Pulled Pork Grilled Cheese Sandwiches
Who doesn't love a sandwich? 
It's also safe to say a bit of bread would be good to soak up any beer you might be enjoying!
A smoked pork butt is a significant cut that typically takes a day to complete. 
Always give yourself enough prep time and give the sandwich a personal touch!
Smoked Buffalo Chicken Breasts 
Who can refuse spicy smoked chicken dipped in cream cheese?
A simple recipe that doesn't substitute taste.
Making a smoked buffalo chicken dip doesn't have to be hard and will complement lots of your game-day snacks. 
Smoked Meatball Sub With Marinara Sauce
If you want to take a sandwich to the next level then look no further. 
The multiple layers in this sandwich are why it's one of the most comforting and favorite recipes I crave.
Top with grated cheddar and create cheesy meatballs that melt in the mouth entombed by crust bread.
Find The Recipe Here
Beef Empanadas
Beautiful beef brisket is a king within BBQ culture.
With a bit of care and time, it provides a large quantity for a crowd and can be used in so many dishes.
I recommend these empanadas topped with green chiles for a kick of your own while watching the big game.
Beef Jerky
A snack made to please.
Chewing on tasty jerky is one of my favorite appetizer recipes as you can taste the Worcestershire sauce.
These beef strips are sure to disappear quickly so make double.
Smoked Meatloaf Wrapped In Bacon
What is a better way to enjoy a cheddar mix stuffed meatloaf?
Ground pork and bread crumbs fill this monster with flavors to please.
Especially when you add in bacon!
Smoked Beer Can Chicken
Well, this is one way to recycle all those beer cans!
A technique used to lock in the moisture and provide a tender treat.
The very little prep time is a bonus.
Monitor the internal temp with a meat probe.
Grilled Shrimp Skewers
I didn't forget about seafood, see!
I love marinading these the night before with Thai flavors that are sure to liven up the sweer meaty taste of the shrimps.
Easy to eat and easy to cook, there are no losers here!
Smoked Whole Trout
Continuing with a seafood sensation, I find the flavor of trout can be better than salmon.
Use a mild smoking wood to treat the delicate fillets with respect.
Try using fresh chives topped potato salad to create a dish to remember.
Smoked Burt Ends
A gift from heaven that covers all of the flavors compounds our brains crave for!
Easy to prepare, leave these on the smoker until serving.
Spray with apple juice during the cooking process to form a perfect bark. 
Honey Smoked Carrots With Brown Butter
Another vegetarian pleaser.
These whole sweet carrots make a great afternoon snack.
I don't remove the skin for a more rustic touch but feel free to experiment.
The sweet and savory create amazing flavors as well as stack up against your daily recommended vitamin A.
Find The Recipe Here
Crispy Tornado Potatoes With Parmesan
A new way to prepare the humble potato.
Twist your guests and spiral them out of control.
A good substitute for boring potato chips so kids will love them.
Be sure to make a double batch!
Smoked Beef Kabobs
Meat on skewers is popular in just about any culture.
Add a street food style recipe for the Superbowl that is easy to make and consume so you never miss a kick!
We used beef but it works with whatever you desire.
Smoked Salsa and Corn Chips
Nothing beats salsa and chips.
But what about homemade smoked salsa?
Its super simple to make if you have the smoker going.
Just throw in your veggies and smoke.
Smoke On!

Charlie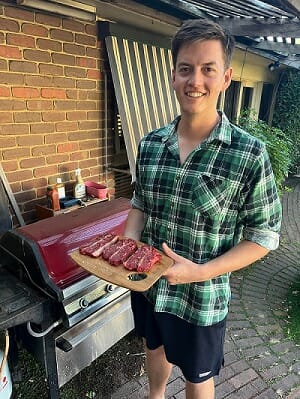 Author: Charlie Reeves
Hi, I'm Charlie, I am head taste tester at Simply Meat Smoking! I love it grilling, smoking, and getting out in the yard with the kids! The family also love to test all my recipes (especially my EXTRA CRISPY pulled pork, smoky pork loin, and ANY SEAFOOD I grill)
You will usually find me playing with the kids, perfecting my brisket bark, or sipping beers with boys around the fire. Can't wait to share all my delicious smoking and grilling adventures with you!

You can read more on our About Us page.
Hungry For More?