I hadn't tried smoked turkey legs until summer 2017 at Disneyland.
Since then I have given chicken legs the flick!
Smoked turkey legs hold heaps more flavor and always come out real juicy
It could be the delicious brine that my wife created.
I think that's what makes them so tender, moist, and full of succulent flavor.
Not to mention these bad boys are also much healthier!
Want more of a show stopper than turkey legs? How about learning how to smoke a turkey in an electric smoker?
Right enough chatting let's find out how to smoke these properly!
Wondering How to Cook Smoked Turkey Legs?
Smoking turkey legs takes between 4 and 5 hours.
It is a simple meat smoking recipe as long as you follow the steps below.
The main thing that you need to remember is that smoking meat is all about temperature and timing.
4 to 5 hours, might seem like a long time, but you need to trust me on this one!
The connective tissue needs time to break down into that delicious gelatin.
Follow along on Peters's 6 steps to delicious smoked turkey legs below!
Note: If you have pre-smoked turkey legs and want to know how to cook them, see here.
What Temperature to Smoke Turkey Legs At?
You should smoke turkey legs at 140°F – 150°F.
Cooking low and slow allows the connective tissue to breakdown
What Temperature to Smoke Turkey Legs At?
Turkey legs are done when they reach an internal temperature of 165°F.
Use a probe thermometer and insert it in the thickest part of the leg. Ensure you don't touch any bone or grislte.
6 Steps to Beautifully Smoked Turkey Legs
Below we have pitmaster Peter's smoked turkey legs!
He has really mastered the art of smoking this bird!!!
Step 1: How to Season Your Turkey Legs
Peter started by applying a binder to the turkey legs and then giving the legs a good rub. His rub recipe is below.

Turkey Rub Recipe
1tbs dry mustard
1tbs sweet paprika
1tbs dark brown sugar
1.5 tsp garlic powder
1.5 tsp onion powder
1.5 tsp celery salt
1 tsp cayenne pepper
0.5 tsp allspice

Note: If you don't have turkey legs you can smoke turkey wings instead.
Step 2: Prep all your vegetables and Preheat your smoker
Prep your vegetables and place them in the foil tray. Then preheat your smoker to 140°F to 150°F
Step 3: Place Turkey Legs in The Smoker
When your smoker reaches 140°F to 150°F place then on the grill smoke for 20- 30 minutes, with the foil tray underneath.
Step 4: Move The Legs to Foil Tray
After 30min place the turkey legs in the foil tray and cover with foil. Leave them in the smoker to simmer for 1.5 hours

Step 5: Turn The Legs and Cover With Foil
After 1.5 hours turn the turkey legs and cover and cook for a further 2 hours.

Step 6: How Long to Rest Turkey Legs
After 2 hours, remove the foil tray from the smoker. Allow the turkey legs to rest for at least 30 minutes. Then enjoy!
How Long To Smoke Turkey Legs?
You need to smoke turkey legs for 4 – 5 hours or until the internal temperature reaches 165°F
This seems like a long time! But it ensures you don't end up with chewy meat and that the skin is golden and crispy!
These are perfect for a cookout (no plates needed).
So you can just sit and enjoy a few beers and the delicious smell of the smoking turkey legs.
To get high-quality turkey legs, I recommend you buy meat online. I have found that supermarkets and butchers sometimes sell turkey legs that come out a bit chewy!
Have Some Leftovers?
Its always good to cook more than you need.
Leftovers are a fantastic way to eat during the week, but make sure you know how long does smoked turkey last in the fridge. That way you can eat your turkey safely
Wondering What to Serve With Turkey Legs?
Looking for some declious sides for your turkey legs?
See some of our favorite things to serve with turkey legs here.
Unsure what time you'll want to eat.
I would suggest start cooking early and get a faux cambro to hold your cooked turkey legs.

What is a cambro, you might ask yourself??

Well it is essentially a cooler, that acts like a thermos to ensure your legs are cooked to perfection without being cold or overcooked (because no one likes a chewy leg!)
It is imperative to let your meat rest for at least 20 minutes once it has finished up in the smoker.The meats juices will have time to rest and redistribute and you will enjoy a juicer, more tender smoked turkey leg.

Print Recipe
Smoked Turkey Legs Recipe
My family loves these smoked turkey legs.
They are a great change from your everyday chicken drumsticks. The crispy skin and flavor from the cumin and paprika are to die for! 
Ingredients
Brine Ingredients
1/2

cup

sugar

1

tablespoon

garlic powder

1 1/2

teaspoons

ground cumin

1

tablespoon

ground pepper

1 1/2

tablespoons

paprika

1

cup

kosher salt

1

gallon

water

2

tablespoons

onion powder

2 – 2 1/2

tablespoons

chili powder

8

turkey legs
Rub Seasoning
1

teaspoon

ground pepper

1

teaspoon

ground cumin

1

tablespoon

garlic powder

2

tablespoons

paprika

3

tablespoons

onion powder

3

tablespoons

light olive oil
Instructions
Aside from the turkey legs, in a large pan combine all your brine ingredients. Bring to a boil and let sit to come to room temperature. Once at room temperature add your turkey legs and place in the refrigerator to cool for 4 – 6 hours.

Preheat your smoker to 240°F following your manufacturer's instructions. After the brine is well cooled remove from the refrigerator and pat dry with a paper towel. In a large bowl combine all the dry rub ingredients and mix well. Coat each turkey leg thoroughly all over with the rub.

lace your turkey legs into your preheated smoker. I like to use pecan wood for this recipe, however, feel free to use your favourite turkey wood.

Smoke at 225 – 240°F for 4 – 6 hours until the turkey legs have reached an internal temperature of 165°F. You are also looking for a nice golden crust on the outside of the turkey.
Want to do Smoked Turkey Legs in An Electric Smoker?
Above we had our recipe for turkey legs smoked on a charcoal smoker. If you're using an electric smoker it's the exact same temps and timing but you will need to pick up some wood chips. I would suggest applewood or cheery wood for turkey.

Wrapping It Up
Smoking turkey legs are as simple as that!

Turkey legs are a healthier alternative to chicken and taste absolutely delicious.

I hope you enjoyed this recipe as much as me and my family.

Do you have a variation or any tips for this recipe? Or other smoked turkey leg recipes?

Happy Smoking

Charlie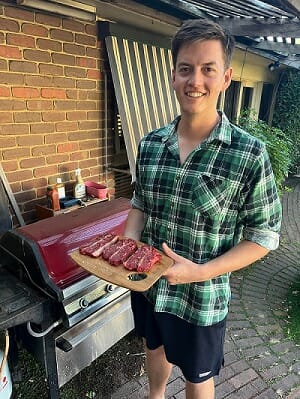 Author: Charlie Reeves
Hi, I'm Charlie, I am head taste tester at Simply Meat Smoking! I love it grilling, smoking, and getting out in the yard with the kids! The family also love to test all my recipes (especially my EXTRA CRISPY pulled pork, smoky pork loin, and ANY SEAFOOD I grill)
You will usually find me playing with the kids, perfecting my brisket bark, or sipping beers with boys around the fire. Can't wait to share all my delicious smoking and grilling adventures with you!

You can read more on our About Us page.
Still Hungry For More?