Are you looking a delicious smoked cauliflower recipe? Covered in a yummy rub, then placed on the smoker to get tender and soak up the smokiness, this recipe one is an extra tasty one.
Whether you are a vegetarian looking for something tasty to smoke. Or looking for a delicious side dish for, we've got you covered!
Why You'll Love This Smoked Cauliflower
Cauliflower doesn't tend to be the first thing you think of when firing up your smoker grill, but maybe it should be.
As vegetables go, it's very easy to work with and fantastic to smoke. And it's a completely blank canvas when it comes to flavoring. Smoke it whole seasoned, or cut it into florets and coat with sauce.
Cauliflower is so easy to grill. And when covered with tasty seasonings and smoked, it makes a great side to the rest of your meal. The crisp exterior full of smoky goodness, combined with the soft insides is divine.
How Do I Make Smoked Cauliflower
All you'll need for smoked cauliflower is extra virgin olive oil and some seasonings.
Simply coat in oil, or some type of binder, and sprinkle with seasoning. Then place on the grill, in indirect heat to smoke.
If you prefer to cut the cauliflower into florets, place them on a baking sheet. That way they won't fall through the grill grates. You can even slice it into cauliflower steaks and smother it with barbecue sauce.
Whatever seasoning you choose, spread evenly over the entire head. Then baste every 15-20 minutes while it smokes to keep up the flavor.
How Do I Prepare The Cauliflower For Smoking?
First of all, remove any of the outside leaves, and cut the stem down to level with the head of the cauliflower.
Ideally, you want it to be able to stand level on grill grates.
Then give the whole cauliflower a good wash under cool water to remove any debris.
Shake and pat dry.
What Are the Best Seasonings for Smoked Cauliflower?
You've got a perfectly blank canvas when it comes to seasonings! Seasoning can be as simple as black pepper and kosher salt, or as spicy as a cayenne pepper rub.
Your favorite BBQ rubs work especially well with cauliflower.
Always start by coating the cauliflower with cooking oil or melted butter. That way the seasonings have something to stick to, and won't fall off during the smoking process.
Some great seasoning ideas are garlic powder, paprika, cheese, or fresh minced garlic. Even fresh citrus, like lemon zest, is great with cauliflower.
You can really use your imagination when it comes to seasonings.
What You Need for Smoked Cauliflower
A Head of Cauliflower
Olive Oil or Grapeseed Oil
BBQ Rub
What Is the Best Temperature to Smoke Cauliflower?
You should smoke your cauliflower at 225° – 250°F, but the temperature you smoke at comes down to the type of seasoning you use.
Anything with sugar added should smoke at lower temperatures. Otherwise, the sugar tends to burn and char the vegetable, smoke at 225°- 250°F.
If there's no sugar, you can run at higher temperatures and speed up the cooking times. You can comfortably run the pellet grill at 325-350°F.
How Long Does It Take to Smoke Cauliflower?
Smoking the cauliflower will only take 2 hours when the grill is running at 230°F.
If you are cooking at lower temps, say around 200°, expect it to take around 2.5 hours.
How Can You Tell When the Cauliflower Is Ready?
Vegetables are much easier to watch than meats. You don't need to keep an eye on the internal temperature for food safety reasons.
In saying that, you don't want your cauliflower to be a mushy mess either. Poke with a skewer or knife to test how soft the insides are.
If it slides in easily, it's likely done. Any resistance and the cauliflower will need a bit more time.
What Are the Best Wood Pellets to Use for Smoking Cauliflower?
I recommend using fruitwood when smoking cauliflower. The fruitwood I recommend are apple, cherry, or oak.
Or go a little stronger with hickory or mesquite.
How to Smoke Cauliflower At Home
Step 1 – Prepare the Smoker
Pre-heat the pellet grill grate to 230°F.
Close the lid and let the heat build-up.
Step 2 – Prepare the Cauliflower
Remove the stem from the bottom of the cauliflower. Rinse and pat dry the cauliflower.
Coat the cauliflower with light olive. Apply your BBQ rub.
Lay the pieces out on a baking tray.
Step 3 – Smoking the Cauliflower
Place cauliflower directly onto your smoker grill. Smoke at 230F for about 2.5 hrs until fork
tender.
What to Serve Smoked Cauliflower With
Below are some of our favorite mains to serve this delcious cauliflower with
Smoked Meatloaf On A Pellet Grill
Grilled Lamb Koftas with a Tangy Yoghurt Dip
NY Strip Steak on a Pellet Grill
Looking for More Vegetable Recipes?
Smoking veggies gives them a whole new flavor, I have listed some of my other favorite vegetable recipes below
Smoked Carrots With Brown Butter Sauce
Smoked Asapagus on a Pellet Grill
Looking for more healthy recipe for your smoker, I have dozens here.
Smoked Cauliflower
Cauliflower is such a versatile vegetable and tastes divine when smoked.  All you need to do is cover in your favorite rub and smoke until tender.
Ingredients
1

head

cauliflower

3

tbsp

BBQ rub

1

tbsp

Any light oil

I'm using grapeseed oil
Instructions
Remove the stem from the bottom of the cauliflower. Rinse and pat dry the cauliflower.

Coat the cauliflower with light olive. Apply your BBQ rub.

Place cauliflower directly onto your smoker grill. Smoke at 230F for about 2.5 hrs until fork tender

Smoke time will depend on how large your cauliflower is.
Smoke On!

Charlie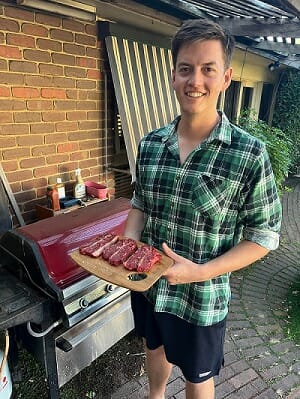 Author: Charlie Reeves
Hi, I'm Charlie, I am head taste tester at Simply Meat Smoking! I love it grilling, smoking, and getting out in the yard with the kids! The family also love to test all my recipes (especially my EXTRA CRISPY pulled pork, smoky pork loin, and ANY SEAFOOD I grill)
You will usually find me playing with the kids, perfecting my brisket bark, or sipping beers with boys around the fire. Can't wait to share all my delicious smoking and grilling adventures with you!

You can read more on our About Us page.
Hungry For More?