Looking for a recipe for smoked rack of lamb? This combination of smoky goodness and succulent meat will leave your family and friends drooling.
Below is a tried and tested recipe that will help you smoke your rack of lamb like a true pitmaster.
What You Need for Smoked Lamb Rack
Lamb Rack
Rosemary
Sea salt
Pepper
Garlic
How to Trim the Rack of Lamb
When you buy a rack of lamb, it will come in one of three ways: untrimmed, semi-frenched, or frenched.
Ask your butcher to trim the rack of ribs if you prefer the frenched version. This will save you time and headaches when you get home.
Once the fat is trimmed to a standard you prefer, it's time to marinade and season it for the smoker.
Seasonings and Marinades for Lamb
Lamb is often paired with fresh rosemary and garlic cloves for flavor. But there are many other ways to infuse flavors into your lamb rack.
Blend fresh herbs and aromatic spices for a fragrant lamb seasoning. Keep the seasonings simple to avoid overpowering the natural flavor of the lamb.
A simple mix of olive oil, kosher salt, black pepper, chopped rosemary, and diced garlic are perfect flavors for lamb.
Or try your favorite barbecue rubs for a more earthy, smoky flavor. Turkish and Middle Eastern seasonings also work well with lamb for a more exotic flavor.
Avoid any seasonings with a sugar base as they tend to burn with high heat.
You can also use a marinade for a bolder dimension of flavor. Leave it to soak for at least two hours or overnight.
How to Smoke the Rack of Lamb
After marinating and seasoning, it's time to put the rack of lamb in the smoker. Set the smoker temperature to 275°F – 300°F and load the hopper with wood pellets.
Place the lamb on the smoker grill grates in indirect heat and leave to cook for about 45 minutes.
A rack of lamb is a delicate, lean cut of meat, so it won't need as much time to cook.
You want the internal temperature of the lamb to reach 120°F if you want to reverse sear.
What Temperature to Smoke Lamb Rack At?
You want to smoke the lamb rack at 275°F – 300°F. Lamb is a more delicate cut compared to something like a lamb chop.
To avoid drying it out, it will need some care and attention when on the wood pellet grill.
How Long Will It Take to Smoke a Rack of Lamb?
A rack of lamb will take around 45 minutes to an hour to cook, but this is only an estimate. You are better off keeping an eye on the internal temperature to check for doneness.
Lamb will continue cooking after it's removed from the heat, so take this into account if you want to reverse sear before serving.
How to Reverse Sear a Lamb Rack
If you plan to reverse sear (smoke the meat first, then sear at the end), remove it from the grill and increase the smoker temperature to its hottest temperature or use a cast iron skillet on the stove.
Place the lamb ribs back on and cook for 3-4 minutes on each side to form a nice bark crust. The internal temperature after searing should be around 135-145°F.
Take off the grill and allow to rest for 8-10 minutes before serving. This allows the juices to settle and redistribute to give a lovely juicy cut.
Cut the lamb between the bones to serve.
What Wood Chips to Use For Smoking Lamb
Here are some of my favorite types of wood to use for smoking lamb:
Cherry and Apple Wood Chips
These wood chips offer a subtle flavor that complements the natural taste of lamb. They add a sweet and fruity note to the meat, enhancing its delicate flavors.
Mesquite and Hickory Wood Chips
These wood chips have a strong flavor profile that can add a bold smokiness to the lamb. Despite their powerful taste, they won't overpower the meat, thanks to the short cook time lamb requires in a pellet smoker.
Whether you prefer a subtle or a bold smoky flavor, lamb can handle it all. So, experiment with different wood chips and discover your favorite combination.
Looking for More Lamb Recipes?
Smoked Rack of Lamb on a Traeger
Smoked Lamb Chops on a Pit Boss
What to Serve With Smoked Rack of Lamb
Smoked Lamb Rack
With a delicious rosemary crust, this smoked lamb rack will be so flavorsome and tender you will have your guest asking for seconds.
Ingredients
1.1

lbs

lamb racks

3

tsp

Chopped Rosemary

2

tbsp

Chopped Garlic

1.5

tsp

Chopped Thyme

1

tbsp

Black Pepper

1.5

tbsp

Sea Salt
Instructions
Combine the rosemary, garlic, thyme, black pepper and salt in a bowl

Brush lamb rack with oil, then apply your rosemary seasoning.

Sear the lamb with fat side down.

Place it over the hottest part of your grill for 5-10 minutes.

Then flip the rack fat side up and place it away from the heat source for the rest of the cook.

Smoke at 275-300F until it hits 135F (for medium rare). This will take about 45 min to 1 hour.

Place a meat probe inside to check the temperature until medium rare, 135F.

Let the meat rest for 20 minutes before slicing the chops.
Smoke On!

Charlie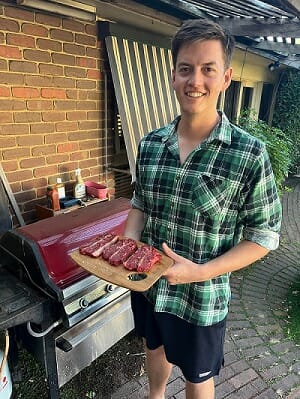 Author: Charlie Reeves
Hi, I'm Charlie, I am head taste tester at Simply Meat Smoking! I love it grilling, smoking, and getting out in the yard with the kids! The family also love to test all my recipes (especially my EXTRA CRISPY pulled pork, smoky pork loin, and ANY SEAFOOD I grill)
You will usually find me playing with the kids, perfecting my brisket bark, or sipping beers with boys around the fire. Can't wait to share all my delicious smoking and grilling adventures with you!

You can read more on our About Us page.
Hungry For More?