Smoked pork loin should be at every COOKOUT!
Even Christmas, weddings, birthdays, heck even a funeral is a good time for a smoked pork loin.
Smoking the perfect pork loin is a straightforward process.
But there are a few tricks that I have picked up!
The most important trick is to smoke your loin with the fat at the top!
Having the fat at the top means your meat will consistently baste itself and keep it moist and full of flavor.
In this post, I will explain how to smoke a pork loin and give you the best recipe I know!
Hungry Now? Jump straight to my: Smoked Boneless Pork Loin
What Temperature to Smoke Pork Loin At?
You should set your smoker to 220°F – 250°F.
Smoking low and slow will allow the connective tissue to break down into juicy gelatin.
How Long to Smoke Pork Loin?
Pork loin can take 3-4 hours to smoke at 220°F. However, you want to wait until the internal temperature reaches 145°F.
When Is Pork Loin Done?
Smoked pork loin is done once it reaches 145°F. Once it hits this temperature you can pull the pork from the smoker.
What to Serve With Pork Loin?
Need some delicious sides for your pork loin?
Zesty Potato Salad With Wasabi
See what else to serve with smoked pork loin here.
6 Steps to My Juicy Smoked Pork Loin
It's also no secret that pork is my favorite meat to smoke.
But I also do enjoy smoked brisket
These are the steps for the world-famous smoked pork loin recipe
1. Preheat Your Smoker
You'll want to begin by preheating your smoker to around 225°F – 250°F degrees. Note: if you're using frozen pork loin, make sure you allow time for it to defrost.
2. Prep Your Pork Loin
While the smoker is heating up, use this time to season and tenderize your pork.
3. Give The Pork Loin a Rub
Next, you'll want to grab a small sharp knife and diagonally make cuts over the fatty layer of the pork.
This is how the smoky flavor and other rubs, marinades, and seasoning will penetrate into the piece of meat.
(This will also ensure that the fat layer covering the entire pork becomes crispy. Just like the crispy pork served in Asian restaurants.)
Once you have done this allow it to rest for an hour
4. Place Your Pork Loin in the Smoker
Place your pork loin in the smoker, insert the temperature probe
5. Continue to Spritz Your Pork
Spritz with a mixture of 50/50 apple cider vinegar and water
6. Pull Your Pork Loin at 145°F
Once the internal temperature reaches 145°F remove your pork loin from the smoker.
This took around 4 hours.
Cover it in your favorite BBQ sauce
7. Let It Rest Then Slice and Enjoy!
Let it rest for 30 minutes then slice your pork loin and enjoy
Pork Loin Vs Pork Tenderloin – What Is The Difference?
Pork loins are a bigger and fatty cut, they are also usually a little bit cheaper
Most people think that pork loin and pork tenderloin are the same things.
They are not!
Due to the higher fat content, pork loin is usually more moist, tender, and delicious. I also find that loins are better for a big gathering as they come in a roast size
Can't find pork loin at the supermarket? Here are some alternatives for a pork loin that are just as delcious!
You Might Also Like
LOVE pork as much as we do? See our other favorite recipes
Read Pork Ribs Vs. Beef Ribs
Read: Crispy Pork Belly Recipe
Read: What to Do With Leftover Pork Belly!
How to Make The Best Smoked Pork Loin
To get the best-smoked pork loin it all starts with the meat. Try to buy a piece with a good amount of fat on it.
Try going for a whole loin that is 6-10 pounds. Any bigger and you might need to cut it in half to fit it in the smoker.
Should you glaze? This is more of personal preference. I usually do it for big events like Christmas and Easter for the WOW factor!
Also, don't forget to give it a rub, I put my favorite pork dry rubs below! I have too many favorites to pick one!I
Now pork is one of the meats you CAN'T under cook. If you do you risk sending members of your family or friends or the hospital.
Some Great Rub & Sauce Recipes for Pork Loin
Homemade Honey BBQ Sauce – If you want something a with a sweet and smokey sauce at the end this sauce is perfect.
Smoked Chicken Rub – Not only is this delicious on chicken , it is my standard 'go to' rub for pork as well!
Want to Smoke Some Side for Your Pork Loin?
There is nothing like cooking your main and sides in one go! It makes the cooking process much easier If I'm taking the time to prepare the smoker and smoke meat, I always smoke several side dishes.

At my cookouts, some crowd-pleasers are Double Smoked Potatoes, Smoked Macaroni, and Cheese from Amazing Ribs And, you can never go wrong with Smoked Jalapeno Poppers!
Brine for Smoked Pork Loin
I think the key to a good smoked loin is the brine. You don't even need to brine it overnight it just needs at least 6 hours.
If you use boiling hot water you won't need to boil this brine on the stove. Just mix all the ingredients and stir till the sugars is dissolved. Make sure you allow enough time so that the meat can sit in the brine for 6 hours.
After at least 6 hours, remove the pork loin from the brine and pat dry. Grab your favorite binder and then apply our rub to thge meat.
Ingredients for Brine
Kosher Salt
Hot Water
Apple Cider Vinegar
Orange Peel
Brown sugar
Black peppercorns
Cinnamon sticks
Bay leaf
How Long to Smoke A Pork Loin?
To achieve a tender and moist pork loin you must get to an internal temperature of at least 145° F this takes around 4 hours at 225°F – 250°F
I have a detailed guide below that will tell you exactly how long to smoke your pork loin.
It all differs depending on the shape, size, and weight of your pork loin.
If the pork loin is much thicker or thinner than average you may need a different time/temperature.
Below is a time and temperature guide for average-sized pork loin.
Using a Pellet Smoker?
Want to use a pellet smoker? We gave a detailed recipe here for smoked pork loin, it also includes a delicious gravy to serve with it.
Cooking for a Crowd?
Are you cooking for a crowd and not sure how much pork loin you need per person?

My rough estimate is always; to allocate eight ounces or a half-pound for every guest.
Want to Try Italian Pork Loin?
If you're looking for a twist on smoked pork loin, you have to try porchetta. It is an Italian rolled pork loin that is stuffed with delicious herbs.

Or Go Greek!
This Greek-inspired stuffed pork loin has feta, spinach and is wrapped in crispy bacon.
Temperature Guide For Smoked Pork Loin
When cooking pork loin (smoked chops, pork loin roasts & tenderloins too) it is essential that you cook it to an internal temperature of at least 145° F.
This ensures that you will be eating the meat when it is at its most flavorsome and juicy state.
Not to mention you will be eating it safely with no risk of food poisoning or any other nasty bugs.
Here is my temperature guide to cooking pork by weight.
| Size | Temperature (F) | Time |
| --- | --- | --- |
| 2 Pounds | 220 | 2.5 Hours |
| 4 Pounds | 220 | 3 Hours |
| 5 Pounds | 220 | 4 Hours |
| 6 Pounds + | 225 -250 | 4 Hours + |
Smoked Pork Loin Recipe
Smoked Pork Loin
Looking for a delcious smoked pork loin recipe? I have been making this one for years and have perfected it! It juicy, smoky and simple to make.
The apple cinnamon sauce is the perfect accompaniment for this smoked pork loin. While the pork loin is resting make this quick and easy sauce to serve with the pork.
Ingredients
4 – 6

lbs

whole pork loin

2.3 kg

3

tbsp

salt

4

tbsp

mustard

3

tbsp

hot sauce

2

tbsp

BBQ Seasoning
Brine
3

tbsp

Kosher Salt

3

tbsp

brown sugar

2

strips

orange peel

2

cups

apple cider vinegar

1

tsp

black peppercorns

2

whole

cinnamon sticks

2

cup

hot water
Apple Cinnamon Sauce Ingredients
Salt & pepper to taste

1/2

teaspoon

cinnamon

1/2

teaspoon

paprika

1

Tablespoon

brown sugar

2

Tablespoons

rice wine vinegar

2

Large

sweet apples

Royal Gala are my favourites
Instructions
Brine The Pork Loin
In a lrge bowl, combine the kosher salt, brown sugar, peppercorns, cinnamon sticks and bay leaf, water, apple cider, bourbon and orange peel.

Allow the brine to cool and then place the pork loin roast in it. Place the bowl in the fridge and let it sit for at least 6 hours. After 6 hours remove from the bowls and pat dry.

To start off preheat your smoker to 225°F. For this recipe, I like to use an apple wood. It goes deliciously with the pork in this recipe.

Remove all the excess fat, silver skin (membrane) from the outside of the loin.

In a bowl mix together the ground cinnamon, nutmeg, white pepper, cumin, onion powder, paprika & salt. Rub the loin with olive oil and sprinkle over some of the dry rub.

Smoke the pork loin at 220°F for 3 hours. Basting as necessary. Check the internal temperature with a meat thermometer. You are looking for an internal temperature of 155°F.

If you have achieved an internal temperature of 155°F, transfer from the smoker to your platter and cover for at least 20 minutes before carving.

If an internal temperature of 155°F is not achieved put back in the smoker, checking every half hour and basting as necessary.
Apple Cinnamon Sauce
Finley chop the apples and place in a saucepan.

On a medium heat add in sugar, rice wine vinegar, cinnamon, paprika, and salt & pepper. Cover and bring to a slow boil, lowering to a simmer until the apples are tender.

Slice the pork loin in nice thick slices with a healthy helping of the apple cinnamon sauce drizzled on top.
Brine Instructions
Boil half the water with all the ingredients. Ensure you whisk thoroughly to dissolve the honey and salt.

Using a container that is largest enough to fit your pork add the mixture along with the rest of the water. Make sure the it is completely cool before you add the pork!

Once cooled place the pork in the brine and refrigerate for 2 to 6 hours. Following that rinse and pat dry the pork with paper towels.

Then let the pork sit out for 30 minutes to get to room temp before cooking.
How to Slice Your Smoked Pork Loin
Let the pork loin rest for at least 20 minutes before slicing.
This allows the juices to redistribute and for the internal temperature to stop rising.
Then with a sharp knife cut the loin across the grain.
FAQs
I get lots of emails and questions from my grill and meat-smoking community. So I have put some of the common ones below 🙂
Question: What is a good side dish for pork loin?
Answer: Some of my favorite side dishes for pork loin are mashed potatoes with wasabi, mac, and cheese, cornbread, or triple cooked fries
Question: I have mountains of leftovers, what should I do with it?
Answer: Ohh I love getting inventive with leftovers I have! I love adding it to fried rice or using it in my tacos with lots of cilantro and guacamole! I have an extensive list of leftover pork lin recipes here for you to try.
Question: What's the best wood to pair with pork loin?
Answer: I think that cherry, hickory, and applewood chips work best for pork.
Smoke On!
So there you have it, my super easy smoked pork loin.

This is a great recipe for anyone new to smoking or looking to impress their friends with minimum effort.

Do you have a variation or any tips for this recipe?

Happy Smoking

Charlie
Smoke On!

Charlie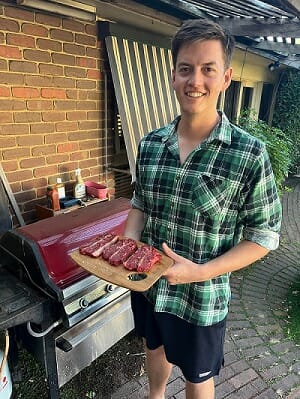 Author: Charlie Reeves
Hi, I'm Charlie, I am head taste tester at Simply Meat Smoking! I love it grilling, smoking, and getting out in the yard with the kids! The family also love to test all my recipes (especially my EXTRA CRISPY pulled pork, smoky pork loin, and ANY SEAFOOD I grill)
You will usually find me playing with the kids, perfecting my brisket bark, or sipping beers with boys around the fire. Can't wait to share all my delicious smoking and grilling adventures with you!

You can read more on our About Us page.
Hungry For More?
Hungry for More?