Are you smoking a pork loin roast?
It can be a hard cut of meat to cook right! But if you get it right, its damn tasty!
Even amongst cuts of pork, the most popular piece of pork to smoke would be pork ribs or a cut of pork butt.
Since smoking pork loin roast isn't as easy, we're going to be teaching you how to smoke pork loin perfectly PLUS my world-famous rub recipe!
Read on to find out how long you should smoke a 5 lb pork loin roast.
How Long Do You Smoke A Pork Loin Roast Per Pound?
Allocate half an hour per pound of pork.
So, if you have a 5-pound pork loin, then you'll want to smoke it for 2.5 hours.
Additionally, you could just use a meat thermometer to measure the internal temperature of the pork loin.
Smoke it until it reaches a temperature of about 145 degrees. Whereas the optimal temperature for pulled pork is 200°F – 204°F due to the connective tissue
Then let it rest for 10 to 15 minutes before serving.
Pork Tenderloin vs. Pork Loin
Smoked boneless pork loin is different from smoked pork tenderloin.
While both of them are great to smoke because of their high fat content, they're not the same, and they cannot be cooked the same way.
Tenderloin is a long and thin cut of meat, whereas pork loin is larger and flatter.
Tenderloin is always boneless, but pork loin can be purchased with or without the bone.
(In fact, if the pork loin comes with the bone still intact, you can cut it into smaller pieces and they'll form pork chops.)
We won't teach you how to smoke pork tenderloin in this article, but here is smoked tenderloin recipe.
This recipe is great because it's super easy to follow and you can cook it with an ordinary smoker
And if you don't have one of those, don't worry. You can easily make a DIY smoker.
How to Smoke a Pork Loin Roast
These are the steps for my world-famous smoked pork loin recipe. I thought it would be good into including it here for you,
You'll want to begin by preheating your smoker or DIY smoker.
The smoker temperature should read around 225-250 degrees.

While the smoker is heating up, use this time to prep and tenderize your pork meat. Cut away any extra fat from pork loin. This additional fat would include anything that is over a quarter inch.

Next, you'll want to grab a small sharp knife and diagonally make cuts over the fatty layer of the pork. This is how the smoky flavor and other rubs, marinades and seasoning will penetrate into piece of meat. (This will also ensure that the fat layer covering the entire pork becomes crispy. Just like the crispy Asian pork served in Asian restaurants.)

You'll then want to spread oil all over the pork, and then cover it in your favorite rub.

Then you just need to place it into your preheated smoker, or the grill grates of your DIY smoker.

Cover the lid and make sure that the temperature stays around 140-145 degrees Fahrenheit. At 220°F you'll want to cook the pork loin for 2-3 hours. Use one of the methods if you don't have a thermometer to check if the pork is done.

When it's done, you have to leave it to rest. So you'll want to make a cover with disposable foil or heavy-duty aluminum foil, and place the smoked pork loin under it.

After that, it's ready to serve!

Note: Pork loin last 3-5 days in the fridge, after that you should dispose of it.
Want to try it stuffed? The Italians do a stuffed pork loin called porchetta.

This pork loin has a stuffing of Parmesan, breadcrumbs, and lots of herbs. This is placed on the pork loin, then the whole smoked loin roast is then rolled and smoked or roasted.

Or maybe you want the Mediterranean stuffed pork loin? This pork loin is stuffed with Greek ingredients like feta, spinach, and olives then wrapped in bacon.
Smoked Pork Loin Rub
There are many different kinds of smoked pork loin rubs.
However, if you simply don't know where to start, then here's a quick rub that you can make in under 5 minutes!
To make the rub, you'll need:
1/2 cup brown sugar
1 cup white sugar
1 cup paprika
1/4 cup garlic powder
1/4 cup coarse salt
2 tablespoon chili powder
2 teaspoon cayenne pepper
4 teaspoon black pepper
2 teaspoon dried oregano or Italian seasoning
2 teaspoon cumin
1 tablespoon mustard powder
yellow mustard to taste
Some More of My Favorite Pork Recipes
If our guide of how to smoke pork loin wasn't enough for you, here's some more pork recipe that we recommend you try out.
What to Serve With Pork Loin?
Need some tasty sides for your pork loin?
Zesty Potato Salad With Wasabi
See what else to serve with smoked pork loin here.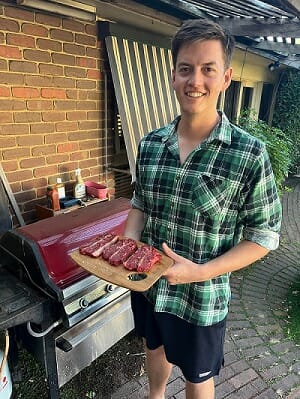 Author: Charlie Reeves
Hi, I'm Charlie, I am head taste tester at Simply Meat Smoking! I love it grilling, smoking, and getting out in the yard with the kids! The family also love to test all my recipes (especially my EXTRA CRISPY pulled pork, smoky pork loin, and ANY SEAFOOD I grill)
You will usually find me playing with the kids, perfecting my brisket bark, or sipping beers with boys around the fire. Can't wait to share all my delicious smoking and grilling adventures with you!

You can read more on our About Us page.