Pork loin is one of the tastiest cuts of meat you can buy.
But sometimes you need something cheaper.
Or can't find it at the butcher or supermarket.
We've put together a list of options so that you can find the perfect alternative for pork loin.
Whether you're after more pork, different meat, or something vegetarian. We've got you covered.
Have a read of the guide below to discover the perfect replacement for pork loin.
Pork Tenderloin
Pork tenderloin is similar to pork loin and is a great pork meat substitute.
It is a lean cut like pork loin.
When cooked well, pork tenderloin will taste delicious. We recommend smoking it for pulled pork, it comes out juicy and tender.
If you use your tenderloin for pulled pork make sure you cook it until at least 200°F – 205°F this is the ideal internal temperature for shredding pork.
Pork Chop
Pork chop comes from the shoulder and is round-shaped or T-shaped.
This meat has a tougher texture because it has more connective tissue.
Pork chops are highly nutritious and are a healthier alternative to pork loin.
The perfect smoked pork chops are here.
Beef Loin
While this is a more expensive substitute, if you get it on special it's amazing.
It's very tender and has an amazingly rich beefy taste.
We highly recommend beef loin for a juicy and flavorful substitute.
Smoked beef tenderloin recipe
Chicken Breast
Chicken breast is a cheaper and healthier substitute for pork loin.
It is lower in saturated fat but tastes just as good.
This cut of meat can be smoked, baked, roasted, grilled, breaded, or deep-fried.
Vegan And Vegetarian Options
Not everyone has the same dietary requirements and taste preferences.
For those who don't like animal products, there are plenty of alternatives.
Have a read of the vegan and vegetarian options below for more alternatives to pork loin.
Mushrooms
Mushrooms work well as a meat substitute.
They also cook very quickly and are an excellent option for soaking up different flavors.
Use mushrooms alongside your pork alternative or have it on its own!
Textured Soy Protein (TSP)
Textured soy protein is also known as soy meat or soy protein.
If you're using TSP we highly recommend using spices and herbs to give it flavor.
This substitute has a mild flavor on its own and needs some extra flavoring.
Tofu
Tofu is a great source of protein and vegan/vegetarian substitute for pork loin.
It's also really filling and a little goes a long way.
Like TSP, you'll need to season the tofu for it to taste good.
Finding an alternative for pork loin doesn't need to be difficult.
You're bound to find something that will suit everyone's taste preferences and budget.
From tofu to beef to other pork cuts- there's something for everyone.
Ultimately, the best alternative will depend on the recipe you're using and your cooking method.
So grab your piece of meat, and spices, and let's get cooking! What is your favorite substitute for pork loin?
Smoke On!

Charlie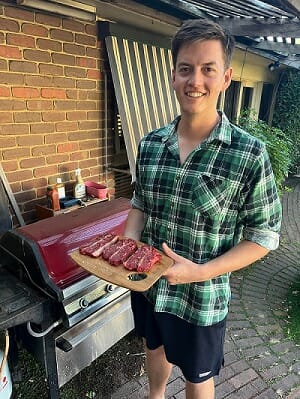 Author: Charlie Reeves
Hi, I'm Charlie, I am head taste tester at Simply Meat Smoking! I love it grilling, smoking, and getting out in the yard with the kids! The family also love to test all my recipes (especially my EXTRA CRISPY pulled pork, smoky pork loin, and ANY SEAFOOD I grill)
You will usually find me playing with the kids, perfecting my brisket bark, or sipping beers with boys around the fire. Can't wait to share all my delicious smoking and grilling adventures with you!

You can read more on our About Us page.
Hungry For More?