Crispy smoked pork belly is a staple in my family.
There is nothing more satisfying than hearing the crunch of perfectly cooked pork crackling.
I've tried many smoked pork belly recipes, but this is my favorite for two reasons;
Firstly, this recipe is super simple.
I like to give the meat rub during the week and then smoke the pork belly on a Sunday morning.
There is no better way to finish off the weekend than with a nice thick, crispy and juicy piece of pork with a delicious smoky flavor.
The second reason why I love this recipe so much is the taste.
This pork belly is SERIOUSLY good. It's sweet, spicy, smoky and most importantly it's crispy.

Wanna Cook it Now? Jump straight to my crispy smoked pork belly recipe
How to Smoke Pork Belly
Below I break down exactly how to smoke pork belly perfectly.
You don't need many ingredients and the steps are simple. I have summarized it below but I have step-by-step images and a recipe card at the end.
For a deliciously tender pork belly, you have to cook low and slow for 3-5 hours or until the internal temperature has reached 165 degrees Fahrenheit.
As the pork belly cooks for longer periods of time, it becomes more and more flavorful and tender.
To prepare your pork score the skin in a cross pattern.
After sprinkling the dry spice mixture over all sides, cover the meat with plastic wrap and refrigerate for at least 24 hours.
Place the pork belly on the bench and allow it to come to room temp while you preheat the smoker to 225°F
Let the pork belly sit out to come to room temperature while you bring the smoker to 225°F
Next, you want to add your wood chips (we will show you below the best type to use). Once the smoker comes to temperature place your pork in the smoker over the indirect heat.
Cook for 3-4 hours or until the internal temperature reaches 165°F then remove it from the smoker. Wrap the pork belly in foil and cover with beer or juice, return it to the smoker and using indirect heat, cook until you reach 200°F
How Long to Smoke Pork Belly
It takes about 3-5 hours to smoke 3 pounds of pork belly. However, that can vary on the temperature of your smoker and the thickness of the meat.
You want the pork belly to have an internal temperature of 165°F before you remove it from the smoker. Then place it in a foil with beer/ juice and place it back on the smoker until you reach 200°F.
Note if your using a Traeger to smoke your pork belly see the recipe here.
Want Crispy Smoked Pork Belly? Getting That Perfect CRACKLING
Did your pork belly come with the skin? Then you can make crackling. Make sure you give it apply salt to the skin before putting it in the smoker.
How to Prepare Pork Belly
I like to buy pork belly with the skin. You can use frozen pork belly just ensure you leave time for it too defrost. Using a sharp knife, then score the skin in a straight or cross pattern. Then you want to season the pork
Seasoning Your Pork Belly
The dry rub is essential for this pork belly recipe.
Apply a binder like oil or mustard to the meat. Then coat the pork belly with a rub (I have included my favorite rub recipe for pork below. Try to do this at least 12 hours before you plan on cooking it.
What Wood Should You Use For Smoked Pork Belly?
My favorite type of wood to use with pork belly is cherrywood and applewood. They both complement pork nicely and don't overwhelm it. You can see all the types of wood I recommend for pork belly here.
Step 1: Score Your Pork Belly
If you want crispy pork you need to score and rub it with sea salt. See how I did it below
Step 2: Apply Rub to Pork Belly
First, we applied the binder, which was mustard then applied the pork rub. Sometimes we also use a texas style rub I have included the recipe for it below.
I haven't in this recipe but some people like to inject their pork for each moisture and flavor.
Ingredients for Rub
3 tablespoons brown sugar
2 tablespoons paprika
1 tablespoon chili powder
1 teaspoon salt
1 teaspoon cumin
1/2 teaspoon ground black pepper
2 tablespoons smoked paprika
2 teaspoons garlic powder
2 teaspoon onion powder
1 teaspoon cayenne pepper
Step 3: Place The Pork Belly in the Smoker
Preheat the smoker to 250°F and set it up for indirect heat.
Place the pork belly in the smoker and insert the temperature probe. We used apple wood chip wood for this cook.
Spritz the meat every 45-60 minutes with beer or apple juice. This helps to create a deep dark caramelized bark.
Step 4: Wrap The Pork Belly – Optional
Once you reach an internal temperature of 165°F you have the option to wrap your pork belly in foil with apple juice.
This will affect have crispy the skin will be. If you decide to wrap the pork belly, leave it in the foil until it reaches 200°F remove the foil and let the skin crisp for 10 minutes before removing it from the smoker.
If you the pork belly, just cook it until it reaches 200°F
Step 5: Rest and Slice
Allow the pork belly to rest for at least 10 minutes time.
Then slice and enjoy with your BBQ sides, just dont forget the apple sauce!
If you are want crispy pork belly, don't wrap it . Got some leftovers? try making some smoked bacon!
My Favorite Sides for Pork Belly
I like to serve this pork belly with a side of;
Jalapeño creamed corn
Classic crispy baked potatoes.
See some of my other favorite sides for pork belly!
Another awesome thing to do is create some smoked pork belly burnt ends with the leftovers!
There are dozens of other recipes for smoked sides here.
Can't Find Pork Belly? Try Pork Butt
Need an alternative for pork belly? You can also get a delicious crackling on pork butt.
Just don't trim the fat cap as much and ensure you score and salt the meat to bring out those natural flavors
If your pork butt stalls, you can either try wrapping it (that might affect the crackling) or you can up the temperature.
Want to know where the best pork belly I have ever eaten at a restaurant is?
On a trip down under to see my brother, we went to Red Spice Road. We had the Pork Belly with caramel chili and apple slaw, it was the best pork belly I had ever tried!
Pork Belly Cooking Temperature Chart
| Doneness | Temperature (F) | Rest Time |
| --- | --- | --- |
| Medium-rare | 145°F – 150°F | 10 minutes |
| Medium | 150°F – 155°F | 10 minutes |
| Medium-well | 155°F – 160°F | 10 minutes |
| Well | 160°F | 10 minutes |
How To Eat Smoked Pork Belly
When you have finished your BBQ smoked pork belly you need to decide how to eat it! There are so many options!
You can shred it and create pulled pork. – See the recipe
Cut into pork belly cubes and create pork belly burnt ends. – See the recipe
Thinly slice it and have it with cucumber, and hoisin in boa buns. See the recipe
Slice into thick pieces and use them for sandwiches. – See the recipe
How To Smoke Pork Belly
Crispy Smoked Pork Belly Recipe
This recipe is a for crispy smoked pork belly. Pork belly is a favourite around my house, the kids love when I do it!
It will give you an amazing smokey flavour and the crispy skin that we all love.
Its essentially the perfect pork belly recipe in my eyes. If you don't like crispy skin feel free to only use the first half of this recipe for an amazingly flavorsome pork belly. 
Ingredients
1 3 to 3-1/2-

pound

section of pork belly

3

tbsp

mustard

Freshly ground salt & pepper to taste

1/2

teaspoon

ground white pepper

1/2

teaspoon

cayenne pepper

1/2

Tablespoon

ground black pepper

1/2

Tablespoon

mustard powder

1

Tablespoon

granulated garlic

1

Tablespoon

chilli powder

1

Tablespoon

ground cumin

2

Tablespoons

kosher salt

2

Tablespoons

sugar

2

Tablespoons

sweet paprika
Instructions
Preheat your smoker to 250°F as per your manufacturer's instructions. I like to use a mix of cherry and hickory wood.

With a sharp knife

remove the top layer of fat on the pork belly. Score the fat in 1 inch squares. You don't want to cut all the way through the pork belly, only go around a ¼ inch deep.

In a medium sized bowl mix together cayenne, chilli powder, cumin, garlic, mustard powder, paprika, sugar and salt & pepper.

Dab any excess moisture off the pork belly with a paper towel. Then apply the mustard binder. Then rub the dry rub over the top, bottom and sides of the pork belly. Don't be scared to get in there with your hands and make sure everything is covered.

Once the smoker is up to temperature smoke the pork belly fat side up until bronzed with smoke. You are looking for an internal temperature of 165°F. This should be around 2 - 3 hours, however, I would advise checking after 2.5 and adjust accordingly.

At 165°F wrap your pork in foil with apple juice

Once the internal temperature gets too 200°F remove foil and allow the skin to crisp up.

Once skin is crispy (10-15 minutes) remove the piece of pork from the smoker and allow to rest for at least 10 minutes
Notes
My favorite type of wood to use with pork belly is cherrywood and applewood. They both complement pork nicely and don't overwhelm it.
How to Get Perfect Pork Crackling
Remove the skin from the pork and give it a good rub with salt. Place in the oven at 350°F for 30 - 40 minutes. Make sure you keep an eye on it.
Recommended For You:
Leftover Pork Belly? We have all the tastiest ways to use it!
Pork Ribs vs. Beef Ribs find what you should be eating!

Looking for a Healthier Alternative? (Try Pork Loin)
If you are catering to a health-conscious crowd, you might want to try a different cut of pork as well.

I find that smoking pork loin will yield much less fat and is one of healthy smoker recipes. Now some people are borderline addicted to the crackling (aka, the fat) and some want to enjoy pork without it. So much sure you cater to everyone!
Got Some Leftover BBQ Smoked Pork Belly?

We all love leftovers! Sometimes I turn this pork belly into pulled pork if we have leftovers.

That way it stays juicy. You just need to be mindful when reheating pulled pork as it can become dry and stringy. Try using juice or beer to keep it moist

There you have it my simple, delicious, and surprisingly easy smoked pork belly. I love that when we have leftovers, you just have to reheat it properly.

What is your favorite smoked pork belly recipe?

Happy smoking everybody,

Charlie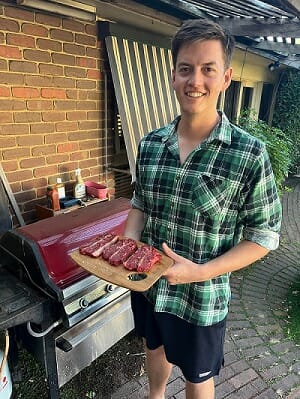 Author: Charlie Reeves
Hi, I'm Charlie, I am head taste tester at Simply Meat Smoking! I love it grilling, smoking, and getting out in the yard with the kids! The family also love to test all my recipes (especially my EXTRA CRISPY pulled pork, smoky pork loin, and ANY SEAFOOD I grill)
You will usually find me playing with the kids, perfecting my brisket bark, or sipping beers with boys around the fire. Can't wait to share all my delicious smoking and grilling adventures with you!

You can read more on our About Us page.
Hungry For More?