Smoked pork loin is a delicious piece of meat.
Whether it's for a special occasion or a weeknight dinner.
But not sure what to serve with this delicious piece of pork?
We have tracked down some delicious side for smoked pork loin that pair perfectly!
Have a read of the guide below to discover what to serve with your pork tenderloin!
Whipped Sweet Potatoes
This classic comfort food is sure to go down a treat!
This recipe is fluffy and creamy with a lovely sweet flavor.
It has only 7 ingredients, making it super simple and easy to make.
Ways to Cook Pork Loin?
Pork loin is easy to cook and there are many methods.
Below are some of our favorite ways to cook it;
Smoked pulled pork loin, this is perfect if your not able to find pork shoulder.
Garlic Parmesan Roasted Green Beans
This green bean recipe is one of our favorite side dishes.
It will give you crispy beans on the outside and tender ones on the inside.
Packed full of spices (and parmesan!) this recipe is an easy dinner win.
Smoked Cabbage
Take this humble vegetable and smoke it!
It will take on a delicious flavor and be a wonderful side for pork loin
Fig and Arugula Salad With Walnuts and Goat Cheese
The chickpeas in this salad give it an extra boost of protein.
This means that it's not only delicious, it's also filling.
This dish is full of nutty flavor that is amazing with pork dishes.
Peach and Avocado Green Salad
Peaches with avocado?
Surely not…
This dish features such an incredible mix of flavors that you'll forget it's a green salad!
Smoked Corn on the Cob
Want to stick with the smoked theme?
No worries, this recipe is all about cooking deliciously smoky corn.
Feel free to play around with the spices to suit your personal preference.
Spicy Roasted Cauliflower
This cauliflower dish is charred and roasted in all the right places.
You'll end up with soft, spicy, caramelized cauliflower pieces.
This recipe is perfect to serve as an appetizer or as a side dish.

Creamy Garlic Mushrooms
These succulent creamy garlic mushrooms also come with a heavenly sauce.
Have the mushrooms on their own or serve them with pasta.
They also work as a sauce alongside your pork tenderloin.
Grilled and Smoked Zucchini
Take this humble vegetable to the next level with some bold flavors.
We recommend marinating the zucchini to get the most out of it.
You can also smoke other vegetables alongside it (squash, mushrooms, bell peppers etc.).
Mexican Street Corn Casserole
This Mexican casserole is the perfect side dish for pretty much everything.
Serve it with nachos, tacos and of course, pork tenderloin.
This is a fantastic recipe for serving large groups.
Honey Balsamic Roasted Carrots
These sweet, sticky carrots work well with any type of roast or smoked meat.
The carrots are caramelized in a garlic honey sauce.
If you're feeling particularly decadent, add these carrots to your pork loin dinner.
Mediterranean Couscous Salad
We love how light and refreshing this couscous salad is.
This dish can be served hot or cold, depending on your preference.
To save yourself some time, make the couscous a day or two ahead.
Southern Cheesy Grits Casserole
Easy, cheesy (obviously) and incredibly creamy.
This Southern staple is a classic dish for a reason.
For an extra hint of spice, top your casserole with a pinch of paprika.
Butternut Squash Gratin
Butternut squash gratin is the ultimate Fall dish.
But we think it's awesome all year round.
Use up those butternut squashes and whip up this delicious gratin.
Cherry Chipotle Salad
Are you ready for a taste explosion?
We hope you said yes because this salad will blow your socks off.
The sweetness of the cherries and the spiciness of the chipotle make for amazing flavors.
Honey Butter Biscuits
For more Southern treats try making honey butter biscuits.
Serve them plain or top them with honey butter.
If you haven't had these before, you'll be in for something special!
Oven-Roasted Plums
This recipe can also be made with raspberries, blackberries and blueberries.
For the plums, we recommend using Quetsches as they hold their shape the best.
It's fine to use a different variety, but cooking times will differ.
Applesauce
This applesauce recipe only uses 4 ingredients.
You can also adjust the amount of sugar that you use for the sauce.
This recipe makes a decent batch which is great for serving families and large groups.
Smoked Mac and Cheese
Smoked mac and cheese is one of the best dishes for pork tenderloin.
This dish is cheesy and creamy with an amazing smoke flavor.
Don't take our word for it, whip up this comfort food classic today!
Ginger Citrus Cranberry Sauce
Looking to up your cranberry sauce game?
This delightful recipe gives it a whole new lease of life.
It is also gluten-free and vegan for anyone with dietary requirements.
Cherry Pecan Brussels Sprouts
This recipe will forever change the way you see Brussel sprouts.
These Brussel sprouts are sweet, nutty and bursting with flavor.
If you don't have cherries available, use cranberries as a substitute.
Waffle Fries
Who doesn't love some homemade waffle fries?
This side dish is bound to please even the fussiest of eaters.
Bring them out for an entrée or serve them alongside your smoked pork tenderloin.
Butternut Farro Salad With Blood Orange Vinaigrette
This side dish goes with literally everything.
Serve it with pasta, on a pizza or on its own as a salad.
You truly cannot go wrong with this recipe, you'll want to use it again and again.
Garlic Bread
Sure, you can easily buy garlic bread.
But, why not set yourself a challenge and make it yourself?
It goes well with smoked pork (and pretty much everything) and tastes outrageously good!
Pork loin is one of the best cuts of pork available, just make sure you tenderize the pork.
And, when it's smoked it tastes even better!
Finding side dishes to go with it shouldn't be difficult.
There are so many fantastic options out there bursting with flavor.
It might be a classic side dish or something new.
Either way, you're bound to find a recipe that will make your meal a success.
What do you like to serve with smoked pork loin?
Smoke On!

Charlie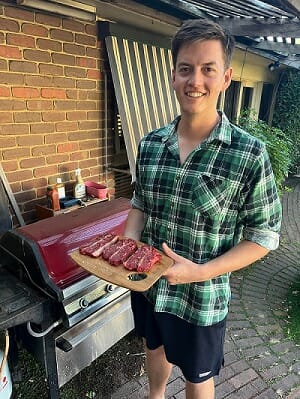 Author: Charlie Reeves
Hi, I'm Charlie, I am head taste tester at Simply Meat Smoking! I love it grilling, smoking, and getting out in the yard with the kids! The family also love to test all my recipes (especially my EXTRA CRISPY pulled pork, smoky pork loin, and ANY SEAFOOD I grill)
You will usually find me playing with the kids, perfecting my brisket bark, or sipping beers with boys around the fire. Can't wait to share all my delicious smoking and grilling adventures with you!

You can read more on our About Us page.
Hungry For More?