Looking for a delicious rub for your chicken?

Here is a fantastic base to build your chicken rub on. However, please feel free to take away/add-in or adjust the amounts of these ingredients.

This basic rub recipe will tenderize and enhance the flavors of a chicken cooked low & slow.

It's a basic recipe using common kitchen ingredients. Don't stress if you don't have all of these ingredients, try using a similar spice.

Note: Make sure you always cook the chicken to the correct temperature!
What Do You Need for a Chicken Rub?
Salt
Pepper
Brown Sugar
Thyme
Garlic powder
Paprika
Onion Powder
Cumin
Chilli powder
Cayenne pepper
How to Apply a Rub to Chicken
Here's a simple guide on how to apply a rub to chicken:
Start by patting the chicken dry with paper towels to ensure the rub adheres well.
In a bowl, mix together your desired dry ingredients for the rub (see the ingredients above)
Apply a binder, you could use mustard, oil or honey. Using a binder ensures the rub sticks to the chicken throughout the cook.
Generously sprinkle the rub mixture all over the chicken, ensuring that all sides are covered.
Gently massage the rub into the chicken, making sure it is evenly distributed.
Can You Use Chicken Rub on Other Types of Protein?
You might think that chicken rub can solely be used for chicken. Until two years ago I thought the same thing!
I was a little nervous, but the wife and kids absolutely loved it! So if you are smoking a boneless pork loin throw on some of this bad boy or a Cornish hen. You will be thanking me later!
Chicken Recipes to Use This Rub
I have cooked dozen of chicken recipes with his rub, below are some of my favorites.
Looking For Some Sides For Your Chicken?
You can't just have delicious chicken, you need some sides. Here are some of my favorite sides for chicken. They all complement chicken really well.
Smoked Chicken Rub
Having your own chicken rub recipe is one of the most important parts of BBQ. Please feel free to use this rub recipe as a base to create your own secret recipe! 
Ingredients
1

tablespoon

Salt

1

tablespoon

Pepper

1

teaspoom

cumin

1

tablespoon

thyme

1

tablespoon

garlic powder

1

tablespoon

onion powder

2

tablespoons

Smoked Paprika

1

tablespoons

chilli powder

1

tablespoons

cayenne pepper
Instructions
Gather all of your ingredients.

Combine all ingredients in a mixing bowl.

Give a good stir to combine all the ingredients.

If you want to turn your dry rub into a paste so it sticks to the chicken (great for sings), add in olive oil and mix well until a paste consistency is formed.

Rub all over your chicken to coat well.

Set up your smoker as per your manufacturer's guidelines and smoke chicken until cooked.
Charlies Tasty Tip!

If you enjoyed this recipe make sure you check me out on Youtube for more yummy ones!
Final Thoughts
This smoked chicken rub is deeeeeeelish!!

It's something that I have used for years and something that I.

It's amazing what you can add in and take away to create very different flavors (try smokey paprika).

Let me know if you have any similar barbecue rubs you love for smoked chicken!
Want some more motivation? Check out my favorite bbq blogs!

Happy Smoking

Charlie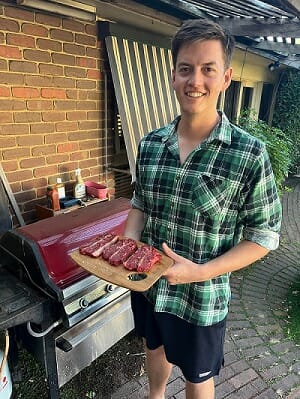 Author: Charlie Reeves
Hi, I'm Charlie, I am head taste tester at Simply Meat Smoking! I love it grilling, smoking, and getting out in the yard with the kids! The family also love to test all my recipes (especially my EXTRA CRISPY pulled pork, smoky pork loin, and ANY SEAFOOD I grill)
You will usually find me playing with the kids, perfecting my brisket bark, or sipping beers with boys around the fire. Can't wait to share all my delicious smoking and grilling adventures with you!

You can read more on our About Us page.
Hungry For More?