Pork loin is one of my favorite cuts! Especially when it is smoked! You can get my recipe for smoking pork loin here.
It's tasty, full of flavor, and ideal for a family get-together.
But what if you've got leftovers?
Pork loin is incredibly diverse when it comes to using it in leftovers. There are plenty of different dishes out there to suit every household and their pork loin preferences.
Have a read of the guide below to find your next go-to pork loin recipe.
Leftover Pork Chop Stir Fry
Pork loin doesn't have to be a pain when it comes to leftovers!
This recipe will not only use up leftover meat it will get rid of your vegetables too! It works well as a nutritious dinner that the whole family will enjoy.
This recipe is especially great as it can be easily adapted based on the amount of food you have.
The seasonings are pretty minimal so feel free to add some more spice for additional flavor.
Pork Stroganoff
Looking for something warm, buttery, and hearty?
This might just be the perfect recipe for you.
Pork stroganoff is great for leftovers and keeping you cozy on a cold winter night.
The cream also helps to make your dry pork moist again.
We recommend serving it with pasta, rice, or on its own.
Reheating Your Pork?
Make sure you know how to reheat pork loin correctly, not only can it turn out dry but its can be unsafe to eat if not done properly.
Pulled Pork
Sometimes basic is best.
This classic pork loin recipe is a staple in our kitchen because it's just that good.
If you have leftover pork loin you can pull it and turn it into pulled pork!
Don't be afraid to play around with seasonings and your favorite BBQ sauce. We recommend serving it with corn tortillas or rice.
Easy Spicy Pork Noodles
Ramen noodles aren't just for college students. Not only are they cheap, but they also work in a wide variety of dishes.
And this recipe is perfect for those that are looking to up their pork loin game. Next time skip the takeout and try cooking up some spicy pork noodles for yourself.
We love the flavor combinations in this dish and how simple it is. Pork loin can also be swapped out for vegetables or other meats.
Make sure to slice the meat extra thin so that you get the most out of your pork loin.
Pork and Mushroom Quesadillas
Love Mexican food?
Well, you are going to love these pork and mushroom quesadillas. This is a perfect leftovers dish that doesn't require many ingredients or effort!
Feel free to experiment with the fillings if mushrooms aren't your thing. However, be careful of overstuffing, it will make it harder to flip the tortillas.
This dish is also freezer friendly and can be made ahead of time or saved for later.
Grilled Pork Tenderloin Sandwiches
Some nights you just need something simple and easy.
Thankfully, this sandwich recipe is here to help. It's quick, delicious, and best of all; it uses up your leftover pork.
The onions in this recipe also give this dish a slightly sweet taste that tastes wonderful with the meat.
This recipe is surprisingly filling, serve with salad if you need some additional nutrients.
Easy Pork Tenderloin Sliders
Not sure what to do for finger food?
Look no further. These fun little sliders will be eaten up in no time! This dish is perfect as an appetizer or last-minute party food.
We love the caramelized relish with the sliders for an extra flavor hit.
This recipe can be made with all types of pork (including pulled) so feel free to try this dish out in different ways.
There are plenty of options out there if you have leftover pork loin. Next time you have excess meat, don't throw it away!
Use it in another dish and have twice as many delicious meals. Pork loin is a nutritious, delicious, and versatile addition to any meal.
What is your favorite pork loin recipe?
Smoke On!

Charlie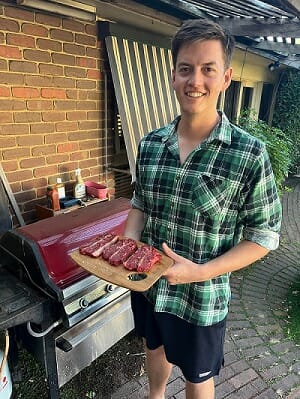 Author: Charlie Reeves
Hi, I'm Charlie, I am head taste tester at Simply Meat Smoking! I love it grilling, smoking, and getting out in the yard with the kids! The family also love to test all my recipes (especially my EXTRA CRISPY pulled pork, smoky pork loin, and ANY SEAFOOD I grill)
You will usually find me playing with the kids, perfecting my brisket bark, or sipping beers with boys around the fire. Can't wait to share all my delicious smoking and grilling adventures with you!

You can read more on our About Us page.
Hungry For More?