It's no secret that pulled pork is one of the best ways to feed a crowd at a reasonable price! However, one problem with smoking or baking a Boston Butt (pork shoulder) or a pork loin is that you often have a lot of leftovers.
These are leftover pulled pork recipes that are guaranteed to blow your mind!
It's true that pulled pork does freeze and keep really well, but what do you do once you have defrosted it? You could simply add it to salads, omelettes, grilled cheese, with black beans, or simply eat it out of the fridge with your hands.
However, we all know we can do much, much better than that!
Here are my 15 best ways to use leftover pulled pork! Enjoy!
How to Use Up Your Leftover Pulled Pork (All these recipes are drool-worthy)
Below are 15 of the most delcious ways to use pulled pork.
1. Leftover Pulled Pork Sandwiches (Our family favorite)
I know this might seem obvious, but not much beats a pulled pork sandwich.
A simple and declious way to let your smoked pulled pork shine!
Need a Pulled Pork Recipe?
Havent smoked your pork yet to make pulled pork?
Don't worry! We have our fail proof pulled pork recipe on a Pit Boss here. It ensures you also come out with super juicy and delicious pulled pork.,
2. Pulled Pork Tacos (Everyone looooves tacos)
Pulled pork tacos are a favorite around my house. There is a million different combination of flavors you can make here, and there is no right or wrong way to do it.
Just remember to ALWAYS use fresh corn tortillas and hot sauce! 
Remember it can be hard to reheat pulled pork try using beer, juice, or wine when you warming it up.
3. Leftover Pulled Pork Nachos (Somehow nachos got BETTER!)
What's better than nachos? Pulled pork nachos!
What's better than that? Pulled pork nachos when you already have the meat cooked! Just make sure you heat it to the correct internal temperature. This is another certified family favorite.
Just remember, lots of grated cheddar cheese!
Not sure how much-pulled pork you'll need for your cookout? I have a calculated it, so no one will go hungry and you might have some leftovers!
4. Pulled Pork Carnitas (Always a crowd pleaser)
What are Carnitas?
Basically, Carnitas are slow-cooked meat chopped into little pieces, then used in a burrito, taco, or anything Mexican.
Sometimes the pork cushion is used for carnitas.
Don't know where to start? Start here!
5. Pulled Pork Risotto (Two Classics Combined!)
What is better creamy, cheesy risotto topped with juicy pulled pork?
Nothing I say!
Cooking Food Chat has combined two EPIC standalone meals and created something that has me DROOLING (I think the addition of mushrooms is key, they are delicious but you also get your daily veg in!).
Plus you also get an awesome wine pairing for both white and red wine!
6. Pulled Pork Wraps With Zesty and Creamy Coleslaw
We have all had pulled pork sandwiches! But have tried using your leftover pork for wraps?
Kids love them, adults love them and there is no soggy bread! Make sure you give the zesty coleslaw a go!
7. Dominican Pulled Pork Sliders (Always popular at at our cookouts!)
We have all had pulled pork sliders at a restaurant and thought they were the best things in the world. Well considering you have already done the hard part of making the pulled pork this recipe is a breeze!
Perfect for a lazy weekend or surprise guests throughout the week. Simple add your shredded pork meat and your favorite toppings to your favorite small (or big) bun and you are done! 
Do you need a vegetarian pulled pork substitute? We have 5 things that taste and look just like pulled pork!
8. Pulled Pork Enchiladas (The kids will always eat this!!)
Another quick and simple dinner is enchiladas. This recipe is my go-to – but don't worry if you don't have pork.
You can use beef, chicken, or even leftover cooked mushrooms!
9. Leftover Pulled Pork Chili Recipe (Awesome for a winter's night)
Everyone loves chili.
It's how some of us get through the winter.
This is a twist on the classic chili – Put this recipe in your favorite bread roll and you have one of the best twists on a Sloppy Joe I have ever had!
10. Leftover Pulled Pork Soup
Pulled pork soup?
Huh?
Trust me on this one this pork and bean soup is an awesome cheap and super healthy mid week meal.
11. Leftover Pulled Pork Casserole Recipe (Our go-to weeknight recipe)
Need something to feed a crowd or take to a potluck? Look no further than this delicious casserole!
12. Pulled Pork Mac and Cheese (This takes mac and cheese to the NEXT level!!)
This list would not have been complete without a pork mac and cheese recipe.
It's the undisputed king of mac and cheese.
First, take my smoked mac and cheese recipe and add in your leftover pulled pork…..EPIC
13. Leftover Pulled Pork Toasted Cheese Sandwich
A toasted cheese sandwich WITH PULLED PORK is epic.
Add your leftover pulled pork and TWO TYPES OF CHEESE and you have one EPIC sandwich!
14. Leftover Pulled Pork Pizza Recipe (This my kids favorite!)
Pizza is one of the best ways to use up leftovers, and pulled pork is no exception.
Don't have all the ingredients for this recipe?
Don't worry! You can substitute any of the toppings for what you have at home for an easy weekend lunch.
If you really want to make it fancy, throw your pizza in the smoker.
14. Leftover Pulled Pork Ragu Recipe
Feeling like getting a little fancy?
Your leftover pulled pork is perfect for a quick and easy ragu.
This thick and comforting ragu is great for a quick winter's dinner.
15. Pork and Noodle Recipe
Feeling sick? Nothing is better than noodle soup.
This is a super quick recipe full of flavor that will get you running on all cylinders again.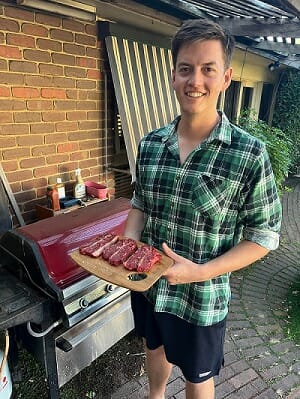 Author: Charlie Reeves
Hi, I'm Charlie, I am head taste tester at Simply Meat Smoking! I love it grilling, smoking, and getting out in the yard with the kids! The family also love to test all my recipes (especially my EXTRA CRISPY pulled pork, smoky pork loin, and ANY SEAFOOD I grill)
You will usually find me playing with the kids, perfecting my brisket bark, or sipping beers with boys around the fire. Can't wait to share all my delicious smoking and grilling adventures with you!

You can read more on our About Us page.
Hungry For More?