Are planning to host a New Year's party but have yet to decide what to cook for your guests?
Not to worry!
Below are some of our favorite New Year's smoker recipes to help make your party a memorable one.
Without wasting any time, let's dive in!
Smoked Ribs (That Fall Off The Bone)
Smoked ribs are always a hit at parties and cookouts!
The ribs can be cooked in multiple ways, but many pitmasters prefer smoking them low and slow so that the meat falls off the bone!
Smoked Honey Garlic Chicken Wings
These smoked chicken wings covered with honey garlic sauce are delicious!
Smoked Prime Rib Roast
Preparing prime rib can be tricky!
Follow my steps in the link below to cook it like a true grill master!
Grilled Lobster Tails
These are perfect for special occasions.
Plus they are easy and quick to prepare. You don't need to be a pitmaster to grill lobster tails perfectly.
Just add some garlic, lemon, and butter!
Smoked Pulled Pork
If you want to please your guests, smoked pulled pork is the way to go!
You can serve it with tacos, buns or with a crunchy slaw.
Loaded Brisket Nachos
Looking for a simple appetizer?
What better combo than brisket and nachos??!
It's two of the BEST foods COMBINED!
All the toppings will make these LOOOOADED nachos the most EPIC way to welcome your guests!
See the loaded brisket nachos recipe here.
Smoked Turkey With Maple Barbecue Rub
Want to impress your guests?
This smoked turkey with a delicious maple BBQ rub will throw them into a feeding frenzy!
Smoked Pulled Pork Nachos
Want a quick appetizer?
Smoke your pork ahead of time and pull it.
Then when your are ready to serve all you need to do is layer the chips, pork, and cheese!
See the recipe Pulled Pork Nachos
Grilled Jumbo Shrimp
Shrimp are the perfect finger food
Just throw together a delicious dipping sauce. We love a lime yogurt sauce!
Hot Smoked Salmon
Buying smoked salmon can be expensive!
That is why you should smoke it yourself!
Smoked Brisket (Tender and Juicy)
Brisket is a perfect if your feeding a crowd.
Just remember to get it cooking early!
Homemade Bacon Jerky
Jerky is a perfect additional a charcuterie board.
Imagine how impressed your guest will be when you tell them you made it yourself!
BBQ Smoked Sausage Pizza
Nothing beats a well-prepared homemade barbecue smoked sausage pizza.
Your guests would surely want to have a bite.
Find The Smoked Pizza Recipe Here
Smoked Pork Belly
This is a crowd-pleaser, especially if well-prepared with crispy crackly skin.
You'd be surprised to see your guests coming back for more!
You should give it a try.
Grilled Steak Kebabs
This is surely bound to please your loved ones.
The marinade adds additional deep flavor, making it super delicious and irresistible.
Tomato-Roasted Red Pepper Meatball Sliders
What makes them perfect for a New Year's party is that they can be served either as a classic appetizer or a main course.
There's no doubt that your guests would enjoy having these.
Grilled Beef Tenderloin
Merely looking at this smoked cut of beef will leave your guests salivating.
You can use your smoker or gas grill to prepare it.
Why not give it a try?
Grilled Buffalo Wings
Take your grilled wings to the next level with a marinade to keep them moist.
You will find your guests licking their fingers after having a bite.
Smoked Mac and Cheese
If some of your guests are vegetarians, then you can prepare these for them specially. One thing is certain – they'll enjoy every bit of it.
Grilled Margarita Shrimp
Surprise your guests with the grilled margarita shrimp. It goes perfectly with turkey and chicken.
Using an injection marinade with it will help increase the flavor.
Smoked London Broil
This is a special delicacy that will make your guests enjoy their stay at your party.
Smoked Cheezits
Blow the snack game out the window!
Forget just putting chips in bowls, we are going to smoke cheezits!
Your friends will be begging for the recipe!
See the smoked cheez-its recipe here
Need More Holiday Recipes?
Cinco De Mayo Recipes For Grill Or Smoker
Wrapping Up
Hosting a memorable New Year's party boils down to one thing – delicious tasting meals!
Try one of our favorite recipe ideas listed above to make this New Year's celebration a memorable one
Smoke On!

Charlie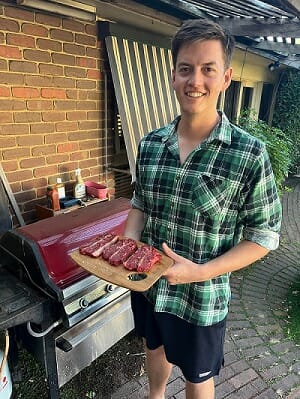 Hi, I'm Charlie, I have been meat-smoking and grilling for the past 15 years. I have an array of different smokers, thermometers, and have a love for finding the right wood and charcoal combo My favourite recipes are my EXTRA CRISPY smoked pork belly, juicy pulled pork, smoked brisket, duck poppers, and ANY SEAFOOD I grill).
I loves sharing his tips with beginners, helping them navigate the world of smoking. I find it's not just about cooking; it's a quest for that perfect smoky flavor.
You will usually find me playing with the kids, perfecting my brisket bark, or sipping beers with boys around the fire. Can't wait to share all my delicious smoking and grilling recipes with you!

You can read more about me on our About Us page.
Hungry For More?