In my house, a whole beef tenderloin only ever comes out for special occasions.
This simple grilled beef tenderloin recipe is special to me.

It's not a beef fillet recipe that you are going to need a lot of ingredients or fancy cooking/grilling techniques.
This recipe only requires pantry staples, a charcoal or gas grill, and a meat thermometer (which is crucial to perfectly grilled beef tenderloin)
Any pitmaster will tell you that, and I'm sure you all know this already – but we do want to be safe!
Another simple technique this recipe uses is indirect grilling. This is so we don't overcook or char the fillet.

The last thing we want is our expensive beef tenderloin to taste like char!

Hungry Now? Jump straight to my beef tenderloin recipe!
Should You Trim Beef Tenderloin
Yes, you should trim beef tenderloin.
Leave no more than 1/4 inch of fat.
You can use the tenderloin trimmings for burgers, as cooking oil or even in ice cream!
How Long to Grill Beef Tenderloin Steak
In this recipe, I use a 4-pound beef tenderloin and it took just over 40 minutes to reach my ideal doneness temperature of 125°F.
Total grilling time will differ slightly depending on your grill, the thickness of your steak, and your ideal doneness level.
Need more grill guides? Check out my smoked chuck roast medium rare recipe for detailed cook times.
Can You Smoke Beef Tenderloin?
Yes, you can smoke beef tenderloin. Our recipe has been tested to ensure it comes out moist and juicy.
See how to smoke a beef tenderloin here.
How Do You Grill a Tenderloin Steak on a Gas Grill?
To grill a whole beef tenderloin on a gas grill you don't need to be an expert pitmaster or a professional chef.

There is basically 3 steps you need to keep on top of.
Searing
Searing your beef fillet locks in the juices which keeps your beef juicy and tender. It also starts creating a crispy almost 'bark' on the outside of the fillet.

Cooking
When cooking the beef it is essential to keep an eye on the temperature of your grill. You want to maintain an even cooking temperature in the cooking chamber. This ensures your beef will be cooked to your perfect doneness level.

Resting
Resting is just as important as the actual cooking of your meat. Resting your beef will let the juices re-disperse through the meat and give you a more tender and juicy result. You should rest a beef fillet for at least 30 minutes for the best results.
What Temperature Do you Grill Beef Tenderloin Steaks?
The internal temperature of your beef tenderloin is the most important part. It will make, or break your beef tenderloin.

When cooking meat it is important that you have a meat thermometer handy. This will ensure you are coking to the perfect doneness every time.
| Beef Fillet Doneness Level | Take off The Grill At | Temperature After Resting |
| --- | --- | --- |
| Rare | 120 to 125°F | 130 to 140°F |
| Medium Rare | 140°F | 145°F |
| Medium | 155°F | 160°F |
| Well Done | 165°F | 170°F |
Good Sides for Beef Tenderloin
Wondering what to serve with your beef tenderloin?
Carrots Smoked and Sauteed in Brown Butter
Want more sides for beef tenderloin?
Grilled Beef Tenderloin Fillet
Print Recipe
Grilled Beef Tenderloin Fillet
This grilled beef tenderloin is special. Its not special because it has a lot of ingredients, its special because it focuses very heavily on the gorgeous natural flavour of the meat. All we are using is garlic, rosemary, salt, pepper and butter. I guarantee this will be a new favorite around your home!
Equipment
Gas or Charcoal Barbecue

Butchers twine

Scissors

Sharp knife

Meat thermometer
Ingredients
1

whole beef fillet

4 – 5 pounds

8

garlic cloves

1/2

stick

butter

5

tbsp

sea salt

5

tbsp

black pepper

5 – 6

fresh

rosemary sprigs

olive oil
Instructions
Trim the excess fat off the fillet with a sharp knife. Fold the thin end of the tip underneath the fillet so the fillet is around the same thickness throughout. Tie the folded end of the beef tenderloin together with butcher's twine, then tie the roast to the twine every 1/2 to 1 inches (to help the roast keep its shape while cooking). Snip the silverskin with scissors to keep the roast from bowing while cooking.

Pat dry your beef with a paper towel, then cover well with oil. Spread freshly cracked black pepper and sea salt on a plate of enough size to fit the fillet. Roll the fillet in the mixture so that it is well covered. You might need more salt and pepper depending on your taste buds.

Once the fillet is well seasoned, place your rosemary sprigs and whole garlic cloves on the plate and place your fillet on top. Cover and chill for up to 24 hours. Ensure that the temperature of your fillet is around 1 hour before cooking.

Either build a charcoal fire in half the grill or turn the burners over the barbecue grill according to your units manufacturers instructions. Use tongs to lubricate the grate with an oil-soaked rag or paper. Put beef on the hot side of your grill and close the lid. Grill until seared on each side, about 3 minutes per side.

Move meat to the cool side of the grill (if you only have 1 or two burners just sit the fillet to one side and keep one burner on medium).

In a medium sauce pan, melt half a stick of butter, 1 finely chopped rosemary sprig, 2 finely chopped gallic cloves and salt and pepper to taste. For the last 30 minutes of cooking time, baste the fillet 3 times with a mixture of melted butter.

Cook until your meat thermometer reads 125 degrees F in the centre of the thickest part for rare. Usually about 45 to 60 minutes, depending on the size of the filet and the grill.

Take off the grill and cover with foil and let the meat rest 15 minutes before slicing.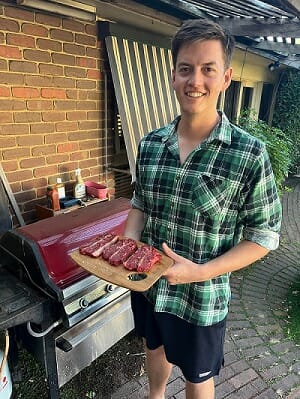 Author: Charlie Reeves
Hi, I'm Charlie, I am head taste tester at Simply Meat Smoking! I love it grilling, smoking, and getting out in the yard with the kids! The family also love to test all my recipes (especially my EXTRA CRISPY pulled pork, smoky pork loin, and ANY SEAFOOD I grill)
You will usually find me playing with the kids, perfecting my brisket bark, or sipping beers with boys around the fire. Can't wait to share all my delicious smoking and grilling adventures with you!

You can read more on our About Us page.
Hungry For More BBQ?