Who doesn't love ribs? That juicy, succulent meat falling off bone and bbq dripping down your chin, heaven!
So if you're looking to smoke a rack of beef ribs like a true pitmaster, your ion the right place, I have my favorite beef ribs recipe here!
In this article, we'll show you how to use a Pit Boss to smoke the perfect rack of beef BBQ ribs.
Don't worry though, my recipe should also work even if you have a charcoal or gas smoker!
Why You'll Love This Beef Rib Recipe!
Beef ribs have definitely grown in popularity in recent years, and they are now just as popular as pork ribs.
While both are great for smoking, barbecuing, and grilling, you'll want to go with the beef option if you want meatier ribs.
I do find smoking beef ribs a bit easier than pork ribs is a huge bonus! Less work for me!
Also beef also has a higher fat content and connective tissue, resulting in ribs that are more juicy and tender.
The Different Kinds of Beef Ribs
A cow typically has 13 ribs on each side of its body.
And these ribs can be split into two types — short ribs and back ribs.
It's true that both types have their differences. They are both excellent choices for making fall-off-the-bone ribs. But they simply need to be cooked correctly.
Beef Short Ribs
Short ribs are cut from the rack's front and back ends. They can be further categorized as plate ribs and chuck ribs. Because short ribs are so close to the brisket cut of meat, they actually have more fat.
Plate short ribs come from the bottom part of the animal's rib cage. On the other hand, chuck short ribs refer to the bones that form the first to the fifth rib.
Chuck ribs are much shorter in length when compared to plate ribs. But they still have quite a bit of meat — even if it's enough to make chuck roast beef sandwiches.
In short, since chuck short ribs are located right below the chuck, if you're a fan of beef chuck meat, then you'll definitely love chuck short ribs.
Smoked beef short ribs are absolutely delicious, and if done correctly, should yield very rich and tender meat.
It's best to cook beef short ribs on low heat for a longer period of time. This is what helps to break down the fat while still keeping the meat moist.
Beef Back Ribs
The ribs closest to the cow's shoulder are referred to as beef back ribs.
Back ribs aren't particularly large, measuring only six to eight inches in length. These are especially excellent for slow cooking with indirect heat, so back ribs are excellent for smoking.
The flavor of beef back ribs that have been smoked to perfection is seriously unbeatable.

Get to Know Your PitBoss Pellet Grill
So, what sets it apart from a ceramic grill or a conventional gas grill?
For starters, the Pit Boss does not run on gas nor use charcoal for the heat source.
Instead, you'll need to fill up your Pit Boss grill with wood pellets. It uses 100% hardwood pellets, and you can use the digital control board to help regulate the smoker temperature of the appliance.
The Pit Boss also has an internal temperature probe that communicates with the control board. This temperature probe is what helps it keep the cooking temp steady throughout your cook.
The entire grill can be divided into two sections:
A smaller rectangle or box section is the pellet hopper, and the longer rectangle section is the main cooking body.
The auger connects and helps feed the pellets to the fire pot, which is located directly beneath the central cooking section. The fire pot has an automatic igniter that lights up the wooden pellets.
Following on from that, the flame broiler sits right above the firepot. This allows the user to choose between cooking with direct and indirect heat.
What You Need for Smoked Beef Ribs
Beef back ribs — 2 racks
Half a tablespoon of black pepper
Half a cup of your favorite steak rub (Here's an easy recipe suggestion!)
Apple cider vinegar
Soy sauce
Tabasco hot sauce
Tools You Need for Smoked Beef Ribs
Paper towel
Butter knife
Metal sheet tray
Butcher paper
A temperature probe or meat thermometer
6 Easy Steps for the Best Smoked Beef Back Ribs 
Do You Need to Cut Membrane on Ribs?
You'll notice that there's actually a thin membrane that covers the bones.
This membrane actually doesn't break down during the cooking process. That is why you'll need to use a sharp knife to remove it off the bones.
Once you've begun to separate it from the rib bone, you should be able to easily peel the rest of it off.
How to Season Beef Ribs
Pat ribs dry with paper towel, Coat with mustard – this is to help the rub stick.

Apply the dry rub onto the ribs — be sure that it's evenly coated.
You should leave the ribs to marinate for at least 20 minutes.
But, as always, we recommend leaving it in the fridge to marinate overnight. This will not only give the meat more flavor, but it will also help to tenderize it.
What Temperature to Smoke Beef Ribs
Turn on your Pit Boss pellet grill and preheat it to 250 degrees Fahrenheit.
What to Spritz Beef Ribs With
Combine the wet ingredients — apple cider vinegar, soy sauce, Tabasco hot sauce — together.
Pour everything into a clean spray bottle and you've got a great spray you can coat the ribs with during the smoking process.
How Long To Smoke Beef Ribs on a Pit Boss
Once the Pit Boss is at 250 degrees Fahrenheit, you can place your rack of ribs in. Smoke for approx. 2 hours.
Always make sure that the meat side is facing up.
To ensure that the meat stays moist and flavorful, you can begin spraying your homemade concoction as soon as the meat reaches a temperature of 160 degrees Fahrenheit.
When to Wrap Beef Ribs
After 2 hours (or once the ribs have developed a nice bark), wrap with butchers paper.
Leave the ribs to smoke for anywhere between five to eight hours. You'll know when it's done when the internal meat temperature is at 200 degrees Fahrenheit.
What Temperature Should You Smoke Ribs Too?
Smoke until the internal temp of the ribs is approx. 203°F-205°F.  Meat should have no resistance to probe.
How Long to Rest Beef Ribs
Rest ribs for approx. 1 hour in an empty cooler. Fill the empty space with towels to retain heat.
Then it's ready for you to slice up and serve with some sides!
Smoked Beef Back Ribs
With the perfect blend of herbs and spices, this simple beef back recipe offers the perfect smoky finish!
Ingredients
2

racks

Beef Back Ribs

½

tbsp

Black pepper

½

cup

Steak Rub

½

cup

Apple Cider Vinegar

2

tbsp

Tabasco Hot Sauce

can be adjusted accordingly

½

cup

Soy Sauce
Instructions
Preheat your Pit Boss Grill to 250 degrees F.

Cut the thin membrane from the bone side of the ribs with a sharp knife.

Season the ribs with the steak rub. Make sure the ribs are evenly coated.

Leave the ribs to marinate for 20 minutes. Fro extra flavour and tender, leave the ribs in the fridge overnight.

Combine the wet ingredients — apple cider vinegar, soy sauce, Tabasco hot sauce — together.

Pour everything into a clean spray bottle to coat the ribs during the smoking process.

Once the Pit Boss is at 250 degrees Fahrenheit, place your rack of ribs in. Make sure that the meat side is facing up.

Spray your homemade mix one the temperature reaches 160F to ensure moist and flavourful ribs.

Leave the ribs to smoke for anywhere between five to eight hours.  You'll know when it's done when the internal meat temperature is at 200 degrees Fahrenheit. 

Take ribs off the heat before their internal temperature reaches 205 F.

Let it rest under aluminium foil for 20 minutes

Cut and serve as desired.
We hope that our article has inspired you to give it a go as well. Good luck!
Smoke On!

Charlie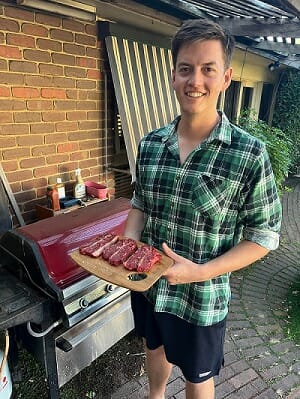 Author: Charlie Reeves
Hi, I'm Charlie, I am head taste tester at Simply Meat Smoking! I love it grilling, smoking, and getting out in the yard with the kids! The family also love to test all my recipes (especially my EXTRA CRISPY pulled pork, smoky pork loin, and ANY SEAFOOD I grill)
You will usually find me playing with the kids, perfecting my brisket bark, or sipping beers with boys around the fire. Can't wait to share all my delicious smoking and grilling adventures with you!

You can read more on our About Us page.
Hungry For More?