There is nothing better than smoking a turkey! But the real reason I do it is because my family loves it when I do smoked turkey for our Thanksgiving or Christmas feast!
I love firing up my gas smoker and spending some quality time in my backyard. Smoking a whole turkey can be quite intimidating for those of you who have never done it before. So I will break down this process as simply as I can for you.
What We Cover in This Article:
Smoking a Turkey in a Gas Smoker
How To Smoke A Turkey On A Gas Grill
Don't have a gas smoker? Check out my guide on smoking a turkey electric smoker.
What You Need for a Smoked Turkey
This is the equipment and supplies you need to get before you start smoking your turkey.
Turkey
If you go for a fresh turkey, make sure you pick one that is under 15 pounds. This is due to food safety recommendations. If you cooking for a large group if it would be better to cook multiple turkeys than one large one.
The turkey can spend too long in the danger zone and bacteria can grow. If you do want to cook a turkey over 15 pounds, you can try smoked spatchcocked turkey. This is where you flatten the turkey, this method helps cooks it faster.
Smoker
You can cook a turkey on many different appliances. We have done a pellet smoker turkey, an electric smoker turkey, and one in our oven. For this recipe, we are using our gas smoker. You can also use a gas grill and implement the charcoal snake method. We have included that recipe at the end of the page.
Brine Ingredients.
We recommend brining the turkey for at least 48 hours.
1 lb brown sugar
1 cup salt
2 quarts apple juice
3 quarts cold water
3 oranges cleaned and quartered
4 ounces ginger thinly sliced
6 bay leaves
6 garlic cloves peeled and crushed
15 whole cloves
Wood Chips/ Gas
Make sure you have enough gas to run your smoker for the entire cook. We always have a backup gas bottle just in case.
We like using cherry wood, apple wood, and hickory when smoking our turkey. These all produce a lighter flavor that won't overpower your smoked turkey.
How to Prepare The Turkey For Smoking
Below are the steps you need to take to prepare your turkey for the smoker.
Plan and Thaw Your Turkey
In this recipe will be brining the turkey for 72 hours. You need to brine it defrosted, so make sure you calculate how long your turkey will take to defrost so that you have enough time to brine it. Note, it takes 30 minutes per pound for a turkey to defrost.
Brine Your Turkey
Combine the apple juice, brown sugar, and salt in a saucepan, bring to a boil then allow to cool. Once cooled add the rest of the brine ingredients, then place the turkey and brine in a bag that is large enough for both.
Once the turkey and brine are inside fasten the bag. Place in the fridge for at least 48 hours. We did ours for 72 hours. Then remove the turkey from the brine, pat dry and allow the turkey to sit in the fridge uncovered for 24 hours.
Tie Your Turkey
Using butcher twine, tie together the legs and tuck the wings between the joint of the shoulder. This stops the wing tips from burning in the smoker.
Season The Turkey
This is optional. However, I like to give the bird a rub with olive oil and melted butter. If you didn't brine the turkey I would suggest giving the outside a rub with smoked chicken or turkey rub.
How to Smoke a Turkey
Below are the steps for smoking a turkey. Make sure you follow the preparation steps above and either brine or applied a rub to your turkey.
Preheat Your Smoker
Set your smoker to 225°F and set it up for indirect cooking. You want to keep a consistent temperate when smoking turkey.
Place Your Turkey in The Smoker
Once your smoker is preheated, place your bird on the grates, Place the turkey breast side up. Place a tray at the bottom of the smoker to catch the turkey drippings. If you are using temperature probes place these in the breast and thigh.
Smoke The Turkey
Cook your turkey, you want to allow 30 minutes per pound if your temperature is set to 225°F. There is a table below that has timings for different temperatures. The turkey is finished cooking when it reaches 165°F in the breast and thigh.
No Need to Rest
After some research, experts have found that resting turkey makes no difference. If it is finished early you can wrap it in a towel or foil. If you want crispy skin, broil in the oven for a few minutes.
What Temperature To Smoke A Turkey At
You want to smoke your turkey at 225 with indirect heat. This will ensure you end up with a succulent turkey.
I have included a table below which shows you exactly how long to cook a temperature at different temperatures.
| Temperature (C) | Temperature (F) | Time |
| --- | --- | --- |
| 135 | 275 | 20 – 25 minutes per pound |
| 120 | 250 | 25 – 30 minutes per pound |
| 115 | 235 | 30 – 35 minutes per pound |
| 110 | 225 | 30 minutes per pound. |
Charlie's Tips on Smoking A Turkey in a Propane Smoker
Your 10 Essentials to The Best Smoked Turkey
1. Your Turkey Does Not Need A Lot Of Stuffing:
Stuff your turkey cavity with a minimal amount of aromatics. Less stuffing will ensure you get proper airflow throughout and a nice even cook.
You Should Never Carve Your Turkey From The Carcass.
Deconstruct your bird into pieces and carve each piece individually.
Turkey Needs a Very Mild Wood for Smoking.
Strong wood can very easily overpower the meat. You want to go with wood like an apple, alder or cherry. A mixture of chunks and chips is perfect.
This might seem like overkill but you will thank yourself when your turkey comes out lovely and moist.
I brine my turkey for 72 hours. First, combine the apple juice, brown sugar, and salt in a saucepan, bring to a boil, and allow to cool. Then place everything all the ingredients in a large plastic bag with the turkey and seal it.
Place in the fridge for at least 48 hours. Then rinse the turkey, pat dry, and place it in the fridge uncovered for 24 hours, this helps the skin crisp up when you cook it
Ingredients for Brine
1 lb brown sugar
1 cup salt
2 quarts apple juice
3 quarts cold water
3 oranges cleaned and quartered
4 ounces ginger thinly sliced
6 bay leaves
6 garlic cloves peeled and crushed
15 whole cloves
You Should Truss The Turkey.
Trussing the turkey ensures the wing tips don't get burnt. Using butcher twine, tie together the legs and tuck the wings between the joint of the shoulder.
Lots of Leftovers?
With a turkey, you ALWAYS have leftovers! I like to do a big batch of it and put it in the fridge for sandwiches.
Do Not Smoke (Or Roast) Your Turkey Directly Inside A Roasting Pan Or Rack
Definitely stay away from roasting and smoking in liquid. This will result in a very soggy turkey.
Should You Cook Turkey Breast Side Up or Down?
There is a lot of debate about whether you should place your turkey breast side down or up.
For crisper skin, I recommend placing the turkey breast side up. If you want more succulent meat, place the breast side down.
How to Rest Your Turkey on The Grill Plates (+ Catch The Turkey Drippings)
The best way is to rest your turkey directly on the grill plates, with a pan filled with around 1" of water resting underneath the grates (around 3 – 4" below the meat).
This will also allow you to catch the turkey drippings, that way you can make a delicious turkey gravy.

If you're wondering how to get crispy skin on smoked turkey, this will create a nice moist environment but still give you the nice crispy skin we all dream of.
Don't Throw Away the Gizzard or Neck!
This will make the base for an incredible gravy! (recipe below)
BONUS! Don't forget your nice smoked turkey sides! The turkey is the main event, but you ALWAYS need some good sides! Don't have a gas smoker? I have also smoked a turkey on my Traeger pellet grill, it came out perfectly!
Using a Frozen Turkey? Leave Time to Defrost.
If you're using a frozen turkey you will need a few days for it to defrost. It takes 24 hours for every 5 pounds to defrost in the fridge.
Here are some tips to tell if your turkey is thawed and ready to go in the smoker or oven.
How Long to Smoke a Turkey?
If your smoker is set to 225°F it will take 30 minutes per pound to smoke your turkey. If your smoker your is set to 235°F the turkey will take 30 – 35 minutes per pound to cook.
When I cooked my 12-pound turkey last year, it took 6 hours at 225°F to cook completely.
Smoked Turkey Temperature
You want the internal temperature of the turkey to be at least 165°F before you eat it.
The best way to make sure your internal temperature is correct is with a meat thermometer. Make sure you check the thickest part of the turkey which is the breast. Also, check the thigh but be careful not to touch the bone.
How Much Turkey Do You Need Per Person?
Allow 1 to 1.5 pounds of turkey per person. This takes into account the skin and bones that won't be eaten. It's best to overestimate that way you have leftover turkey for sandwiches all week.
When Should You Baste The Turkey?
You want to baste the turkey every 40 minutes. To make a basting mix, combine the following in a saucepan and slowly heat until combined.
200g Unsalted butter
Chopped fresh herbs
1 tsp brown sugar
Best Wood For Smoking Turkey
I like to use wood like apple, alder, or cherry for smoked turkey.

However, it comes down to personal preference when deciding which wood to use to smoke. Everyone has their own favorite and their personal opinions.

However, when it comes to selecting the best wood to smoke a turkey there is one main rule:

You should pick a wood that does not have a very overpowering flavor. Turkey has a delicate flavor and can be overpowered very easily.
My Top Choices for the Wood are:
Apple Wood
Cherry Wood
Alder
How Long to Let Smoked Turkey Rest?
It was commonly said to rest your turkey for at least 20-30 minutes. However, research has found that resting the meat doesn't make it more tender or allow the juices to redistribute. So you can carve it and serve the smoked turkey hot.
More Smoked Turkey Recipes
If you enjoyed this smoked turkey recipe you should check out some of my other recipes.
Smoking Turkey in a Gas Smoker
Smoking Turkey in an Electric Smoker
What to Serve With Smoked Turkey
Some of my favorite sides for smoked turkey include;
Brown Butter Carrots
Cranberry Sauce
Charlies Guide to Smoking a Turkey in a Gas Smoker
Make sure you follow the recipe below. You'll learn the simple steps to making a perfectly smoked turkey for your family.
Smoked Turkey In A Gas Smoker
This is a simple recipe for smoking a turkey in a gas smoker. Please feel free to use this recipe as a base and put your own flare on it!
Ingredients
Brine liquid:
1

lb

brown sugar

1

cup

salt

2

quarts

apple juice

3

quarts

cold water

3

oranges cleaned and quartered

4

ounces

ginger thinly sliced

6

bay leaves

6

garlic cloves peeled and crushed

15

whole cloves

Brined for 36 hours.

Fridge dried for 12 hours.
Basting liquid:
200

g

Unsalted butter

Chopped fresh herbs

1

tsp

brown sugar
Instructions
To a large saucepan add the apple juice, brown sugar and salt. Over a high heat bring to the boil making sure you stir until the sugar has dissolved. Boil for one minute once dissolved then remove from the heat. Cool at room temperature then refrigerate until 40°F.

In a large container, add the remaining ingredients together into the apple juice mixture. Place the turkey into the brine breast side down. You might need to weigh down the turkey with a weight to keep it fully submerged. Set aside in the fridge for 24 -72 hours (for best results leave for 72 hours).

After 24 (or ideally 72 ) hours remove the turkey from the brine. Thoroughly pat dry with paper towels and set on a rack inside a baking tray lined with baking paper and set in the fridge to air dry overnight. This step is not essential but will give you a nice crispy skin.

Remove the turkey from the fridge. Tie the legs together and fold the wings under the body. Set aside and let rise to room temperature. Now you can start to prepare and pre heat your gas smoker.

Fire up your gas smoker according to your manufacturers specifications and pre heat it to 225°F. Once you have reached 225°F get your turkey in there!

As a rule of thumb at 225°F a whole turkey will take around 30 minutes per pound. You need to smoke the turkey until a meat thermometer reaches 165°F in the thickest park of the breast. This should be around 6 – 8 hours depending on the size of your turkey.

Carve and serve with your favorite sides!
I have two favorite recipes, my one below and this one from Delia Online. This gravy is quick, simple & easy. You will thank me later when you are chowing down on a smoked turkey sandwich dripping with gravy!
1. While the turkey is smoking take the gizzard, neck & around 10 peppercorns. Simmer in a quart of water on a low heat.

2. Once your grill has cooled, carefully remove the drip pan and run the drippings through a fat separator then add into the simmering neck, gizzard & peppercorn broth. Add in any leftover meat from carving the bird.

3. Fish out the gizzard, neck and most of the peppercorns and keep on a very light simmer.

4. In a separate pan make a roux by melting 2 teaspoons of butter while mixing in 2 ½ teaspoons of flour. Stir constantly until golden brown.

5. Stir the roux into the gravy broth and season with a little thyme, salt & pepper to your taste.

6. Simmer for around 5 minutes on a low heat until thick. This gravy is best served nice and hot!
How To Smoke A Turkey On A Gas Grill
Smoked Turkey On A Gas Grill
Not everyone has a gas smoker, but thats ok. You can still smoke a turkey on a traditional gas grill, and its not too hard! I will walk you through step-by-step how to smoke a turkey on a gas grill.
Ingredients
1

tsp

kosher salt & black pepper

1/2

cup

honey

1

quartered small onion

1

turkey

around 10-15 lbs, unfrozen with the neck and giblets removed (set aside for later)

1

quart

water

1

cup

kosher salt

1

small bunch of fresh sage

1

small bunch of fresh thyme

1

large handful wood chips

I suggest apple, alder, or cherry wood

2-3

wood chunks

I suggest apple, alder, or cherry wood

3

tbsp

ghee

melted

6

cloves

garlic

I love my garlic so you might want to use a little less

A bunch of ice cubes

The rind of 1 lemon/orange
Instructions
Start off by pouring 1 quart of water into a very large stockpot, add the honey and kosher salt.

Heat on a high heat and stir until the honey and salt have dissolved. Remove from the heat and pour in ice, stir until the ice melts and the water has turned cold (you're looking for room temperature or below). Once at room temperature add the turkey and be sure the turkey is fully submerged (use a weight if you need to). Cover and stick in the fridge for at least 12 hours.Tip: If your fridge is not large enough, you can use a cold dark basement. If you choose to do this you want the temperature to be below 30°F.

After 12 hours remove the turkey from the brine and pat dry with a paper towel. Air dry for 30 mins on a wire racked lined with baking paper. If your fridge is big enough for the wire rack and turkey this is perfect, otherwise anywhere out of the sun is fine.

Now it's time to prepare your smoking woods. You will need to small aluminium pans, place one handful of wood chips in one and a few wood chunks in the other. In the wood, chips pan add about ½" of water. This will allow the wood chunks to burn & smoke first so you will not need to add more chips in mid-smoke. The best woods for this smoked turkey are alder mixed with one fruit wood. Mixing fruit woods can create a weird more complex flavour in my opinion, so it's best to keep it simple with just the one.

Add the aluminium pans under the grill grates, you want to place these on the side of your grill that is going to be kept hot.On the cool side place one large aluminium pan and fill with around 1" of water. This will keep the smoker nice and moist and will also catch any dripping so you can create a delicious gravy when done! (See the bottom of the page)

Once the bird has air dried, its time to prepare the aromatics for your stuffing. I find the rind of a lemon or an orange works much better than actual fruit pieces, this is because there is no moisture in the rind. Adding moisture to the inside of the bird can alter cooking times. Add the onion, garlic, lemon/orange rind, and the sage & thyme to the inside of the turkey.

Tip: don't overcrowd the inside of the bird. If it's a tight squeeze to get everything in don't use everything!




Once stuffed brush the entire turkey with the ghee. Start on the underside and work your way around to the top. Don't worry if the ghee starts to harden after it has been applied. Make sure you get every inch of the bird. Now season all over with the salt and freshly ground black pepper to taste.

Turn on your grill and heat on high for 10 minutes, You want to wait until you see wood chunks start to smoke. Once you see smoke appear turn off all the burners bar one. You want to leave one on and keep a stabilized temperature of 325°F. Once you have a stable temperature and only then, add the turkey! To prevent the wing tips from burning wrap them with foil. Cover the turkey and let smoke for one hour.Tip: Avoid peaking! The bird won't go anywhere, peaking will just let heat and smoke escape and will end up taking longer for your bird to cook.

After 1 hour you want to rotate the turkey. Take care when doing this you do not want to burn yourself! Or drop the turkey! Turn the turkey 180° so the other side is facing the hot side of the grill. At this stage, you can remove the foil from the wing tips. Be sure to pour out any liquid that has accumulated and cover up again and smoke for a further 45 minutes.

After 45 minutes open your turkey back up and pour out any liquid that has accumulated into the pan underneath. At this stage, you want to check the internal temperature of the bird. The breasts want to be around 160°F and the thighs to be 170°F (They will continue to cook a further 5 or so degrees while resting). If the temperatures are too low pop back in for further smoking, checking every 10 – 15 minutes to ensure you do not overcook. As a general rule of thumb, a 12-pound bird takes around 2 hours to reach these temperatures.

Place cooked bird on a wire back with baking paper to let rest for 20 minutes before carving. This will give the juices time to set and the bird to come all the way to temperature. So not cover with foil, this will turn your perfect crispy skin into soggy skin.

After the bird has rested it's time to carve! Remove each section individually from the bird and carve separately. I personally like to carve the breast against the grain into ½ – ¾" pieces and shave the thigh meat off the bone. Be sure to save any leftovers to add to the gravy broth.
Smoking a turkey is not as scary and hard as you first thought, is it? These two smoked turkey recipes are a good way to feed a crowd or the family.

I hope these step-by-step guides have given some of you insight into how easy it is to smoke or grill smoke a turkey.

Smoke On!

Charlie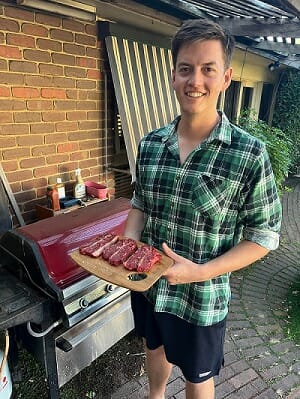 Author: Charlie Reeves
Hi, I'm Charlie, I am head taste tester at Simply Meat Smoking! I love it grilling, smoking, and getting out in the yard with the kids! The family also love to test all my recipes (especially my EXTRA CRISPY pulled pork, smoky pork loin, and ANY SEAFOOD I grill)
You will usually find me playing with the kids, perfecting my brisket bark, or sipping beers with boys around the fire. Can't wait to share all my delicious smoking and grilling adventures with you!

You can read more on our About Us page.
Hungry For More?