Ribs are a BBQ staple! But you need some sides!
Juicy ribs smothered in delicious BBQ sauce can get a little heavy. So it's good to have some healthy, light, fresh sides to help cut through it all.
25 Delicious Sides for BBQ Ribs
Below I have 25 side dishes for BBQ ribs that are healthy, fresh, and light! Enjoy.
Smoked Macaroni and Cheese With a Crispy Panko Top
Ribs and mac and cheese are a match made in heaven! It's a blowout meal but it's 100% worth it!
Smoked Shotgun Shells
What could be better than cheesy ground beef stuffed into pasta tubes then wrapped in bacon and smoked?
Nothing I say!
These shotgun shells are 100% worth the hype! You have to try them!
Plus they are easy finger food to serve during the game and they are simple to prepare ahead of time.
See the smoked shotgun shells recipe here.
Smoked Garlic Bread
Everyone love garlic bread! And its even better when it smoked!
We recommend topping with some cheese too!
See the smoked garlic bread recipe here.
Smoked Pickles
When your having a rich and heavy dish like ribs it good to have some acidic that can cut thought.
That is why I love serving pickles with my ribs! But what is even better than your traditional pickles? Ones you smoke your self at home.
See the smoked pickles recipe here.
Smoked Rotal Dip
This smoky cheese dip pairs perfectly with saucy ribs.
Smoked Cheesy Potatoes
What is easier than throwing a potato in foil and placing it on the hot coals? It makes for a simple and tasty side!
We take it to the next level by adding two types of cheese!
The kids will love these!
SPAM Burnt Ends
Perfect with ribs are burnt ends! These are a bit different though!
These are SPAM burnt ends, you gotta try em!
Smoked Duck Jalapeno Poppers
Everything is better wrapped in bacon! If you have tried the regular jalapeno poppers you are in for a surprise!
Stuffed with duck and cheese, these delicious morsels will be gone in (60) seconds.
See the duck jalapeno poppers recipe here.
Smoked Cream Cheese (Super Creamy and Smoky Cheese)
Cheese is a perfect contrast to saucy, vinegar ribs. Just make sure you have some napkins on hand
Smoked Mash Potatoes With Bacon and Cheese
What could be better than smoked mashed potatoes?
Only one thing! Topping them with cheese and bacon!
Your guests will be drooling over this side!
See the smoked mashed potatoes recipe here.
Smoked Garlic Bread
Who doesn't love garlic bread?
But imagine how much better it is when smoked!
Not only do people go wild when I serve this on game day it has to be one of the simplest recipes you'll ever find.
See the smoked garlic bread recipe here.
Smoked Pig Shots
These declious bacon cups filled with cheese are the perfect app.
Make sure you double your batch!
They will be gone before you know it.
Quinoa Mango Black Bean Salad with Chipotle Lime Vinaigrette
This salad is a staple around my house when mangoes are cheap and in season.

It is full of color, flavor, and nutrients. It is also vegetarian, vegan, and gluten-free – perfect for any time you have guests over that can't eat ribs!
Berry Salad With Strawberry Dressing
This is another super fresh vibrant fruit-based salad.
It's packed full of flavor and nutrients.
It easily cuts through heavy bbq flavors and leaves you feeling full, but not bloated!
Grilled Corn with Bacon Butter and Cotija Cheese.
How Sweet Eats grilled corn recipe is EPIC! I mean she does BACON butter!!!
The first time I did this, my son asked me to never make corn the old way (my way) again! But I didn't disagree!
Plus it's a hands-on kind of food, perfect for eating with ribs! I mean you are already covered in BBQ sauce!
Smoked Corn with EXTRA Butter and Gin Salt
What's better than grilled corn? Smoked corn!
When I make this it is dripping in butter and super-duper smoky!
A perfect side for ribs, as your hands are already covered in BBQ sauce so you can just pick up the corn and munch on it!
Fried Pickles
Pickles are the perfect way to cut through fatty, heavy dishes. What's better than that?
Crispy fried pickles! These also are a great side with smoked brisket. This is the best way to get your kids to eat their veggies!
Grilled Brie with Gin Infused Caramelized Onions
Do you know what is decadent?
Dipping your ribs into gooey oozy grilled brie!
This will blow your taste bud and pants button away!
Mediterranean Green Bean Salad
Another salad staple when I have a gathering.
This recipe incorporates a lot of ingredients and is a great 'fridge salad'.
You can swap out the ingredients for what you have, just ensure you have feta because that really makes it.
Grilled Watermelon and Avocado Salad
I know what you are thinking; "Grilled watermelon??
What the?".
But trust me on this grilled watermelon is amazing.
If you don't want to make the whole salad I highly recommend just grilling whole watermelon ham!
Creamed Spinach
Greens should be a staple of any cookout, this creamed spinach recipe is easy and can be made a day or two in advance.
Cowboy Caviar or Texas Caviar
Essentially a Mexican-style corn salad this 'cowboy caviar' recipe is great as a side for ribs.
It's light, spicy, and crunchy, and has a good hint of citrus to cut through heavy meats. I guarantee this will become a regular at your house.
I enjoy it just by itself with corn chips.
Grandmas Creamed Corn Casserole
Corn is an essential side dish to bbq.
This creamed corn casserole is always one of the first dishes empty when I have friends over.
It's sweet, crunchy, and creamy! Everything you need in a side dish.
Do You Need Some Dessert Recipes?
Smoke On!

Charlie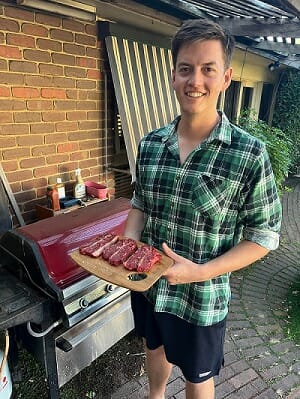 Author: Charlie Reeves
Hi, I'm Charlie, I have been meat-smoking and grilling for the past 15 years. I have an array of different smokers, thermometers, and have a love for finding the right wood and charcoal combo My favourite recipes are my EXTRA CRISPY smoked pork belly, juicy pulled pork, smoked brisket, duck poppers, and ANY SEAFOOD I grill).
I loves sharing his tips with beginners, helping them navigate the world of smoking. I find it's not just about cooking; it's a quest for that perfect smoky flavor.
You will usually find me playing with the kids, perfecting my brisket bark, or sipping beers with boys around the fire. Can't wait to share all my delicious smoking and grilling recipes with you!

You can read more about me on our About Us page.
Hungry For More?