This recipe for smoked chocolate chip cookies comes from Pitmaster Jodi. Her recipe uses her Pit Boss smoker. It makes delicious cookies that come out chewy and smoky!
There is nothing like sitting down to a glass of cold milk and a plate full of cookies!
Those warm chunks of chocolate and creamy milk make for one good snack!
When we make smoked chocolate chip cookies at our house, they are gone in about 30 minutes flat!
Not only do the kids love them but we do too!
Want to know why?
These cookies are a bit different. They have been cooked in the smoker! They have a slightly smoky flavor that makes them irresistible to adults and kids!
Making them a perfect dessert for a cookout!
Note: She used silicone baking mats but said you could also use aluminum foil

Why Smoke Your Chocolate Chips Cookies?
What makes these cookies so good?
They have a nice crisp exterior but as still chewy and gooey on the inside!

The smoky flavor makes them unlike any other cookie ANYONE has tried!

What You Need for Smoked Choc Chip Cookies
Plain Flour
Baking soda
Salt
Butter
Sugar
Brown sugar
Vanilla
Eggs
Chocolate chips
Want to Know Our Secret to The Perfect Smoked Cookie?
It's all about the mixture! You thought you could just throw together all the ingredients and put them in the smoker? Nope! There is more to it than that!
Start by preheating your smoker, you want to set to 350°


Then you want to cream your butter, then slowly incorporate your sugar. Once that is fully creamed add in your eggs and vanilla essence.


Now, this is our top tip!
Slowly shift in the flour. Don't dump it in all in. Once you have added flour, salt, and baking soda using a spatula scrape the sides then using an electric mixer, mix until you don't see any raw flour.


Now you incorporate the chocolate chips. We like to use a cup of Cadbury cooking chocolate chips.


Layout your baking tray and cover with silicon baking mat Then using a large tablespoon, dollop your mixture onto the tray. Make sure the cookie is well spaced apart on the tray.


Once your smoker has reached 350°F put your cooking tray in it.


Cook for 15 – 20 minutes depending on how chewy you like your cookies! Go for close to 15 minutes if you like chewy cookies and 20 minutes if you like crunchier cookies.


Once they are done, place them on a cooling rack. I know it's tempting but let them cool slightly before you eat them!
When to Serve Smoked Chocolate Chip Cookies?
These cookies are always popular at cookouts. They are really easy to make ahead of time.

You can either freeze the mixture or just keep it in the fridge.

Once your meat has finished cooking you can put your cookies and once you finished your main meal the dessert will almost be ready!

Want More Dessert Recipes?
Do you love dessert as much as me? I have lots of delicious dessert recipes below.
Smoked Pineapple in Brown Sugar
Smoked Peaches Cinnamon and Brown Sugar Drizzle
Prosciutto-Wrapped Smoked Brie Recipe 
Smoked Cheesecake With Caramel
Smoked Chocolate Chip Cookies
Smoked chocolate chip cookies made in the smoker, that come out chewy and declious
Equipment
Smoker

silicone baking mats or aluminum foil
Ingredients
2 1/4

cups

flour

1

tsp.

Baking soda

1

tsp.

Salt

1

cup

butter

2sticks, softened

3/4

cup

sugar

3/4

cup

brown sugar

1

tsp.

Vanilla

2

large eggs

2

cups

chocolate chips
Instructions
Place inside and cook for 15 - 20 minutes
Notes
15 minutes in the smoker will give you chewier cookies and 20 minutes will give you crisper cookies.
Thanks to Jodi for allowing me to share her delicious cookies! Hopefully, we get to see more of her cooking here.
Happy Smoking
Charlie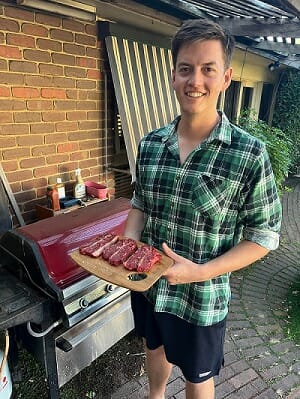 Author: Charlie Reeves
Hi, I'm Charlie, I am head taste tester at Simply Meat Smoking! I love it grilling, smoking, and getting out in the yard with the kids! The family also love to test all my recipes (especially my EXTRA CRISPY pulled pork, smoky pork loin, and ANY SEAFOOD I grill)
You will usually find me playing with the kids, perfecting my brisket bark, or sipping beers with boys around the fire. Can't wait to share all my delicious smoking and grilling adventures with you!

You can read more on our About Us page.
Hungry for More?