Are you planning to put your grill to good use this summer?
If yes, we've got great news for you!
In this post, we have put together some of the most delicious BBQ side dishes to help make this summer a great one for you and your household.
Make this summer an unforgettable one for you and your loved ones with the following summer side dishes.
Smoked Carrots
Want a new way to cook carrots?
When your smoking next, just throw some carrots on the grill too!
They just take 30 minutes. We then covered them in burnt butter and honey!
Smoked Brussels Sprouts
Like other veggies, ordinary Brussels sprouts taste good.
But have you tried grilling them?
You'd be surprised by the deliciousness of smoked Brussels sprouts.
You'll need to season with a little salt, pepper, and olive oil.
Smoked Cheesy Potatoes
This is an excellent choice of BBQ side dish this summer.
Everyone enjoys grilled potatoes, especially when they are well prepared.
The smoke and char from the grill give the potatoes an extra smoky flavor.
The sight of the grill marks on the potatoes will leave your loved ones salivating even before they're served.
You should definitely give this a try this summer.
Smoked Shotgun Shells
Perfect for a party, cookout or small get together. These tasty appetizers will be gone before you know it.
Recipe for smoked shotgun shells.
Grilled Broccoli Salad
This salad is a classic summer side dish. It is just what you and your household need this summer.
The best part of it all is that it is very easy to make.
It is delicious, refreshing, and satisfying. Also, it is very healthy.
The combination of colorful veggies and fruits gives it an irresistible look.
To top it all off, the honey mustard dressing will keep your loved ones salivating.
You will need some broccoli, dried cranberries, and silver almonds to add a bit of crunch.
You can add some seeds and smoky nuts to make it crunchy.
However, these should be added during the last minute of preparation so they don't lose their crunchiness.
BBQ Macaroni Salad
This is another summer side dish that will leave your loved ones asking for more.
It is delicious, nutritious, and will surely help bring any summer party to life.
The major things you need to make this salad are macaroni pasta, celery, BBQ mayonnaise sauce, and red bell peppers.
For the best result, make sure you coat the macaroni pasta, celery, and bell peppers with a BBQ mayonnaise sauce.
One thing is certain with this salad; your loved ones will enjoy every bite!
Smoked Olives
Olives are usually nice ordinarily, but you can try smoking them to add more flavors.
One of the good things about olives is that they go perfectly well with a lot of things like pizzas, salads, and charcuterie.
You can spice up things this summer with our smoked olive recipe.
Smoked Corn
Smoked corn on the cob is the perfect BBQ side dish for this summer!
There are several ways to do it; you can either steam it, grill it, bake it, or even smoke it.
You should definitely try to make some this summer. Your family and friends will love the smoky flavor.
Grilled Chicken Ramen Salad
Kick-start your summer with this amazing Asian-inspired side dish.
A combination of salad, chicken, and ramen may seem weird. However, the combination works like magic!
The major things you need for the preparation of this salad are crumbled ramen noodles and chicken breast, and salad greens.
You can never go wrong with this grilled chicken ramen salad.
Smoked Peaches
Smoked peaches should definitely be at the top spot of your dessert list this summer.
They are usually smoked with brown sugar, cinnamon, and butter.
They are absolutely amazing and very easy to make. They are best served when hot.
Mediterranean Grilled Eggplant
This may come to you as a surprise, but the truth is, eggplant actually tastes better when grilled.
They are best served when warm, meaning you should serve them fresh off the grill.
They should be ready in about 6 minutes if the slices aren't too thick.
You can serve these with a hot sauce to boost the taste.
Smoked Pineapple With Brown Sugar
We all know pineapples have a naturally sweet taste. But have you ever tried smoking it?
We assure you that once you try this, it will become your favorite.
With this, your loved one will have an incredible summer experience.
It is very easy to make. You can serve it with pulled pork tacos or smoky pork loin.
Smoked Egg Recipe
Eggs are a rich source of protein for humans and many people love them.
Certainly, you would have cooked or fried eggs at some point in your life. But I doubt if you've ever tried smoking one!
Smoked eggs are very easy to make and the flavor is simply irresistible.
You should give it a try this summer.
Need More Holiday Recipes?
Thanksgiving Recipes for the Grill and Smoker
Valentines Day Grilling Recipes
St Patricks Day BBQ and Grilling Recipes
Cinco De Mayo Grilling Recipes
Your BBQ won't be complete without any of the side dishes mentioned earlier in the article.
These side dishes are guaranteed to make this summer an enjoyable one for you and your household.
You'll be amazed by how easy it is to prepare them. You should definitely give one or more of these side dishes a try.
Smoke On!

Charlie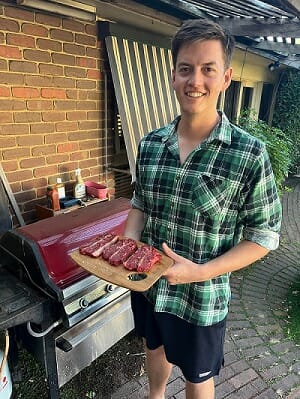 Author: Charlie Reeves
Hi, I'm Charlie, I am head taste tester at Simply Meat Smoking! I love it grilling, smoking, and getting out in the yard with the kids! The family also love to test all my recipes (especially my EXTRA CRISPY pulled pork, smoky pork loin, and ANY SEAFOOD I grill)
You will usually find me playing with the kids, perfecting my brisket bark, or sipping beers with boys around the fire. Can't wait to share all my delicious smoking and grilling adventures with you!

You can read more on our About Us page.
Hungry For More?