Want to treat your mom this mother's day? Why not whip up a feast for her on your Traeger!
Its a win- win! You get to grill and your mom gets a delicious meal!
I have all my favorites below! From decadent brunch or breakfast in bed! My list of Traeger recipe ideas is guaranteed to impress your mom.
Classic English Cooked Breakfast
What a way to start the day! Grab a tray and surprise your mum before she even steps out of bed.
This is the ultimate breakfast! We like to smoke a few portabello mushrooms and throw the eggs and bacon on the grill!
Want to make a bit fancier? Add some smoked salmon and chives to your eggs!
Smoked Oysters
This recipe for smoked oysters is a great appetizer. All you need is a mignonette and a fresh baguette to serve these
Smoked Beef Tenderloin
Beef tenderloin is a top quality cut. It is also large, so it is perfect if you have the whole family over for Mothers day!
If your mother is a fan of beef then honestly, this is the right pick. It perfect for beginner smokers as this dish has minimal prep time and it simple to cook.
Smoked Sweet Potatoes
What mom doesn't love sweet potatoes? Your mom will go crazy for this recipe!
Lamb Burgers
Why not make fancy lamb burgers for your mom?
Smoked Tuna
Your mom will love this healthy yet decadent tuna recipe
Smoked Trout
Seafood always impresses! If your mom enjoys fish why not pick up some trout at the store and smoke it for her.
Spicy Smoked Chicken Wings  
Does your mum prefer a more laid-back approach on mothers day? Maybe she loves tucking into chicken wings with a cold beer?
Grilled Lobster Tails With Garlic Butter
Who doesn't love perfectly grilled lobster tail with a delish butter sauce!
I guarantee that for days or even months she will be saying…"Do you remember that time you cooked me lobster for mothers day?"
"It was so AWESOME!"
Perfectly Smoked Ham With Truffle Mustard
This smoked ham is perfect if you cooking for a crowd or like to have leftovers. Plus the truffle mustard really gives it an indulgent kick!
Find The Christmas Ham Recipe Here
Juicy Smoked Brisket
I bet that one thing that makes your mother happy is as simple as spending time with the family.
Smoking a brisket takes the whole day! That means you get to enjoy each others company and have an EPIC feast at the end!
Tip: If your looking for a quicker cook try smoked pork shoulder.
Smoked Rack of Lamb
Rack of lamb is a dish to impress and your mom will be blown away with this one.
See the smoked lamb rack recipe here.
Smoked Mash Potatoes With Bacon and Cheese
Everyone loves mash potatoes including your mom!
She wont believe her eye when you serve this up.
See the smoked mash potatoes recipe here.
Smoked Pork Loin
Always a perfect centrepiece for your dinner table. Pork loin is perfect for a big occasion like mothers day.
See the smoked pork loin recipe here.
Traeger Smoked Bacon Mac And Cheese
Mom will love a classic recipe like mac and cheese! We all might act like adults but at heart we are all kids and kids love mac and cheese!
See the recipe for smoked bacon mac and cheese here.
Smoked Beer Can Chicken
Does your mom love juicy chicken? Then you have to try this beer can chicken!
This is a technique used to lock in the moisture and add extra flavor.
There is hardly any preparation time which gives you more freedom to catch up with your mum.
Smoked Teriyaki Chicken
What could be better than smoky chicken with you a delicious caramelized teriyaki glaze?
Smoked and Stuffed Chicken Breast
Name a better way to serve chicken breasts than stuffing them with feta and spinach?
Smoked Cod
Why not spoil your mom with seafood. Most people buy pre smoked cod but imagine how much better it would be if you did it yourself/
Spicy Shrimp & Pineapple Aioli 
Shrimp is super simple to cook on the grill, but you need to add something special
What is why we recommend the the pineapple aioli. It gives the shrimp a delicious tang.
Cajun Sweet Potatoes
Maybe your mother is a vegetarian? Then you have to try this cajun-style recipe! 
Mexican Zucchini Boats
Do not limit yourself with recipes if your mother prefers the humble veg diet over carnivore!
Stuffed zucchini on a hot grill is one of my moms favorite recipes.
What will you cook up for your mother this mothers day?
Smoke On!

Charlie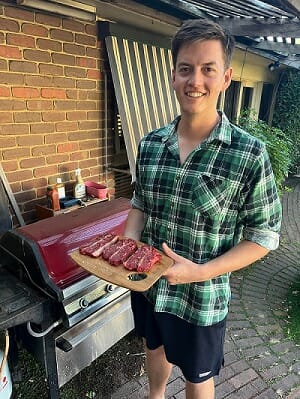 Hi, I'm Charlie, I have been meat-smoking and grilling for the past 15 years. I have an array of different smokers, thermometers, and have a love for finding the right wood and charcoal combo My favourite recipes are my EXTRA CRISPY smoked pork belly, juicy pulled pork, smoked brisket, duck poppers, and ANY SEAFOOD I grill).
I loves sharing his tips with beginners, helping them navigate the world of smoking. I find it's not just about cooking; it's a quest for that perfect smoky flavor.
You will usually find me playing with the kids, perfecting my brisket bark, or sipping beers with boys around the fire. Can't wait to share all my delicious smoking and grilling recipes with you!

You can read more about me on our About Us page.
Hungry For More?