Are you planning to BBQ on your Traeger but there is an error code on the digital display?
Don't want to look through the long instruction manual to find out what's wrong?
Do you just want a quick and simple troubleshooting guide to fix the error code?
Well then you're in the right place!
I am breaking down the Traeger grill LEr code causes and how to fix them
What Is A Traeger Grill LEr Error Code?
LEr error code on your Traeger grill is a low temperature warning.
Low-Temperature Error Code
The LEr stands for a low-temperature error code.
It's more than likely that your Traeger grill has shut off.
This happens if the ambient temperature falls below 125F after 10 mins of the grill being on.
How Do I Know I have a Low Error Reading On My Traeger Grill?
How do you know if you have a low error reading?
Well, firstly you won't smell the beautiful aroma of whatever should be sizzling on the cooking grates.
The cooking chamber will have no heat and the grilling process would have stopped.
This is the time to check the LCD screen or control panel and see if you have an error message.
What Are The Common Causes Of A Low Error Reading On My Traeger Grill?
So what can cause this error?
Below is a list of the typical and common issue(s) for a low error message:
RTD temperature sensor or RTD probe issue / faulty temperature probe
Bad weather conditions or a very cold consistent temperature – However you can use the Traeger in the rain.
Low-grade pellets / unburned pellets
A full firepot 
Induction motor fan issue 
What Are The Steps To Troubleshooting A Low Error Message?
Are you asking yourself now what the steps are for troubleshooting these issues?
Before we begin I want to quickly note that you should check if your Traeger grill is still in warranty and do not start taking it apart, no matter how confident you might feel.
If there is an issue you feel is beyond your capability or you can't figure out then it's better to go with the experts and contact Traeger customer service.
Oh, and don't start troubleshooting if the grill is still warm as 125F will still burn you.
In fact, go ahead and ensure the power cord isn't connected!
With all this being said, let's get into what you can do to resolve the low error message.
Keep in mind that you can find step-by-step maintenance guides on the Traeger grill youtube channel at the below link.
Good luck!
Why Do I Have A Low Error Reading On My Traeger Grill?
Below are some resolutions you can do to resolve a low error message.
RTD Probe Or RTD Temperature Sensor
The RTD probe is a heat sensor that is responsible for communicating the internal temperature to the temperature controller.
If this sensor is damaged or has a loose connection then quite the Traeger will not work if it doesn't have accurate temperature readouts.
Bad Weather Conditions
The ideal conditions would be sunny with no wind and a cold beer.
If you are BBQing in cold weather or when it's very windy then this might counteract the Traeger being able to come to temperature or holding it constantly in the cooking chamber.
Note: I wrote an article about cooking on your Traeger in bad weather conditions here <insert link>
Bad Quality Pellets
Bad pellets can have a lot to do with your grill being too cold.
These are the fundamental heat source as you can't grill without pellets.
If these are wet or poorly made then they will not ignite properly or cause an internal pellet jam.
A Full Fire Pot
If your firepot is full of pellets that haven't been burnt then it may indicate the ignition isn't working properly.
Shut Down Cycle
Did you run the full shut down cycle when you used the grill last?
Induction Motor Fan Issue
The induction fan is responsible for moving oxygen to help ignite the pellets and spread the heated air or smoke into the cooking chamber.
If the fan is faulty then the pellets will have a hard time igniting and there will be no heat which results in the error message.
How Do I Fix A Low Error Reading On My Traeger Pellet Grill?
So how do you fix these potential issues there are causing the error reading code?
I have given some tips below on how to fix the issues previously raised.
I want to echo again that you should not be making any adjustments with power to the grill and always check with Traeger customer support before removing any component.
RTD Probe Or RTD Temperature Sensor
Check there is no visible damage to the sensor which is located in the cooking chamber. Look for bends, cracks, or chips.
If there isn't any damage then with the grill cooled down, you will need to test the ambient temperature.
To test the ambient temperature, make a note of your temperature reading and compare it to the outside temperature with another temperature measuring device.
If the ambient temperature is drastically different on the grill then a new sensor will need to be ordered and replaced.
Bad Weather Conditions
Do not cook when the temperature is the minus or there is extreme wind.
Buy a cover that will insulate when cooking.
Install a fixed awning with a wind guard but ensure you have enough ventilation.
Bad Quality Pellets
Check the pellets are dry and shiny and move freely through the hopper and auger.
Remove any wet or bad pellets.
Prime the grill after replacing the pellets.
A Full Fire Pot
This means the fire may have gone out which sometimes can just happen.
Clean out your fire pot and monitor it when using it again.
Induction Fan Issue
If you don't hear the fan or feel that air is being moved in the cooking chamber then the fan is not working.
If the fan does not turn on then inform Traeger customer service.
Note: The official Traeger website for assistance is https://www.traeger.com/support/
Having Issues With Lid on Your Traeger?
Are you having trouble with the lid on your Traeger closing?
Smoke On!

Charlie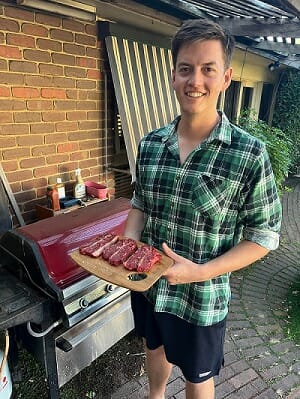 Author: Charlie Reeves
Hi, I'm Charlie, I am head taste tester at Simply Meat Smoking! I love it grilling, smoking, and getting out in the yard with the kids! The family also love to test all my recipes (especially my EXTRA CRISPY pulled pork, smoky pork loin, and ANY SEAFOOD I grill)
You will usually find me playing with the kids, perfecting my brisket bark, or sipping beers with boys around the fire. Can't wait to share all my delicious smoking and grilling adventures with you!

You can read more on our About Us page.
Hungry For More?