Is the lid not closing properly on your Traeger pellet grill?
From time to time mechanisms will get old and need to be fixed.
That's just a fact of life.
I am here to help!
My Traeger Lid Doesn't Close All The Way
The lid on a pellet grill is important.
It keeps a constant and set ambient temperature for cooking.
Protects your food from the elements.
Helps with heat distribution and a constant internal temperature.
Locks in all that super smoke for your tasty racks of pork or beef shanks!
If the lid doesn't close all the way then you are likely to come across a variety of issues like temperature swings.
Can There Be A Slight Gap Or Does It Have To Be Completly Flush?
If you have a slight gap then do not worry.
There can be up to 1/4 inches (0.63cm) between the lid and the smoking chamber housing.
Safety Notes Before Fixing Your Traeger Grill
Just a few little notes of safety before attempting to fix the gap.
Make sure the power cable is completely removed from the power outlet or socket.
Do not fix when the grill grates are hot.
Give yourself appropriate space.
Make sure you have the appropriate tools ready.
Always refer to your instruction manual.
Have a clean and safe designated area for removed parts.
Be aware of pinch points.
Does This Apply To All Of Treager's Grill Models?
Yes, it does.
All of the Traeger models have similar housings, screws and a "one size fits all" with regards to grill lids.
List Of Equipment Before Starting
Before starting the steps, make sure you have the equipment below;
Gloves
Phillips screwdriver
Wire brush (for cleaning)
Soft cloth (for cleaning)
Steps To Troubleshooting Your Traeger Wood Pellet Grill Lid
Below I have highlighted the typical issues that can cause a defective grill lid.
The official Traeger steps can be found here:
https://support.traeger.com/hc/en-us/articles/4407219937947-LID-GAP
Step 1 – Preparation
Make sure there is no power to the device.
Put on the gloves.
Safely move your Traeger to a spacious location to work in.
Gather the rest of the equipment close to you and the Traeger.
Remove your grill cover or grill blanket.
Step 2 – Inspection
Open the lid and inspect the hinges and frame for any paint damage, debris, or grease buildup. 
Move to step 3 when you are certain there is nothing physically preventing the lid from closing.
Loosen Hinges
Take your screwdriver and loosen the screws by around 3 turns.
Check if the lid closes.
Check The Curve On Your Barrel Lid
The Traeger grill's lid curve should match the curve of the barrel.
Step 3 – Contacting Traeger Customer Service
If you have tried all of the above then contact Traeger customer service on 1-800-872-3437.
Warranty Policy Notes
Check your warranty policy and warranty claims.
There is a three-year warranty period for all Traeger models.
Contact Traeger's customer service department if you are unsure.
Be aware of how consequential damages may affect your warranty coverage.
Have trouble with the lid on your Trager grill?
Smoke On!

Charlie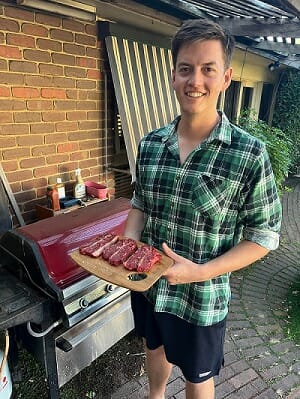 Author: Charlie Reeves
Hi, I'm Charlie, I am head taste tester at Simply Meat Smoking! I love it grilling, smoking, and getting out in the yard with the kids! The family also love to test all my recipes (especially my EXTRA CRISPY pulled pork, smoky pork loin, and ANY SEAFOOD I grill)
You will usually find me playing with the kids, perfecting my brisket bark, or sipping beers with boys around the fire. Can't wait to share all my delicious smoking and grilling adventures with you!

You can read more on our About Us page.
Hungry For More?