Rain, rain I hope you go away!
I'll use my Traeger grill anyway!
Is it looking a little grey outside or has heavy rain already started falling?
Don't be put off by bad weather or a chance of rain when you want to grill!
You can still cook up a storm on your Traeger grill even if there are wet conditions.
However, they are a few preventative steps you need to know.
Can You Use A Traeger Pellet Grill In The Rain?
You can use your Traeger pellet grill in the rain!
I'm going to set a scene. It's a rainy Sunday, and you're watching Shawshank Redemption for the 5th time.
The lust for chicken with a smoky flavor crosses your mind which cannot be resisted as you gaze out the window towards your wet Traeger grill.
A Traeger grill is hardy and made for the outdoors.
However there are always a few techniques to make sure you get the most out of cooking and avoid any hazards.
With this in mind, let's analyze the potential effects that direct rain can have on wood pellet grills.
NOTE: This also goes for non-Traeger pellet grills.
What Is A Traeger Pellet Grill?
What even are these Traeger pellet grills?
The Traeger pellet grill is an electric smoker designed to enhance your cooking experience with a variety of cooking methods.
The Traeger grill is made for the outdoors and utilizes wood pellets for fuel with electrical ignition.
These pellet grill smokers do most of the work so you don't have to and can be left unattended for hours of cooking time.
Below I have broken down the components for one of these mean machines.
So you can expand your know-how preparation when BBQ'ing in rainy weather.
What Effects Do Wet Weather Conditions Have On A Traeger Pellet Grill?
So how do heavy or light rain conditions affect cooking on your pellet smoker?
The Barrel Frame
The frame of the pellet grill is waterproof but very heavy rain can seep in if not covered properly.
The frame of the pellet grill is rustproof but excess water can speed up the effects and get behind the coating.
The Hopper & Hardwood Pellets
The hopper lid needs to be closed so water does not get in but note that heavy rain can still potentially get through the seals.
If water gets into the hopper and on the pellets, they will expand and get wet.
Expanded wet pellets will jam the rotating auger and not ignite rendering your electric smoker useless.
Electrical Components
The most notable issue would be electricity and water. Not only is an electrical current potentially deadly for you but a power surge will damage the components in the electronic control panel.
Heavy water exposure on the LCD screen can short circuit the electrical connections.
Ignition & Cooking Chamber
Slower time to ignite and heat up due to more increased humidity.
Grease Trap & Waste
Excess waste mixed with water will fill up your bucket which is responsible to help keep it clean.
A dirty overflowing bucket will damage the grill and could even cause a grease fire the next time you use it dry.
What Are The Ways To Protect Your Traeger Pellet Grill In Bad Weather?
So what are the ways to protect yourself and the grill when in heavy or light rain?
The Barrel & Pellet Hopper
Put a ventilated awning above your grill which will stop any direct rain.
Buy a waterproof grill cover for when you're not using it.
The Hopper & Hardwood Pellets
Keep the hopper closed and not in direct rain.
Buy good pellet quality.
Remove any unused pellets from the hopper after cooking.
Check for and remove wet pellets before turning on the grill.
Electrical Components
The 120v power plug needs to be safely inserted at a dry PowerPoint with a waterproof extension cord if exposed outside.
Make sure the extension cord is not obstructed.
Do not use the LCD screen with wet hands.
Use a surge protector.
Ignition & Cooking Chamber
Prime your pellet grill.
Set a higher cooking temperature when in the rain.
Grease Trap & Waste
Keep an eye out for overspill.
Key Advice To Note
How to Shut Down Traeger?
When you finish cooking you must run the shut down cycle.
This ensures the longevity of your grill.
Looking for Mothers Day Recipes for Your Traeger?
Why not treat your mom and get the chance to fire up your Traeger!
Here are some of the Traeger recipes to cook for your mom on Mother's day!
Our favorite is the smoked oysters!
Happy Grilling In The Rain
I hope I've helped highlight and troubleshoot some issues that may arise when wanting to use your Traeger grill in bad weather.
Just remember that we BBQers can't be stopped that easily but also remain safety conscious so at least we can continue grilling!
Until next time.
Smoke On!

Charlie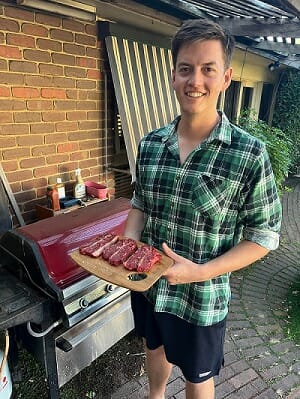 Author: Charlie Reeves
Hi, I'm Charlie, I am head taste tester at Simply Meat Smoking! I love it grilling, smoking, and getting out in the yard with the kids! The family also love to test all my recipes (especially my EXTRA CRISPY pulled pork, smoky pork loin, and ANY SEAFOOD I grill)
You will usually find me playing with the kids, perfecting my brisket bark, or sipping beers with boys around the fire. Can't wait to share all my delicious smoking and grilling adventures with you!

You can read more on our About Us page.
Hungry For More?