There is something so satisfying about owning a good knife.

I'm not too sure if it's the satisfaction of slicing off a piece of brisket with ease. Or if it's the feeling of holding the a great carving knife.

If you are a meat smoker, griller, or bbq-er, then you need a knife different from the rest.

You need a knife that will carve your masterpiece into beautiful little morsels.

Not butcher it to smithereens. Let's see what will work best for you.
What To Look For When Buying A New Knife
Buying a knife is a lot like buying your first car. Often you don't know where to start, you can easily get overwhelmed by all the different terms and slang.
The best advice that I can give you about buying a knife is:
'Set a budget and do your research to find out what kind of knife you need before buying one'
What Do You Need to Keep In Mind When Buying A Knife?
The Right Handle: Having a handle that is comfortable and strong is imperative. The last thing you want is a knife that feels bad in the hand. This will result in you not being able to use the knife to its full potential. You need to make sure that the blade is securely fastened to the handle. I always like to go for a knife that is riveted together, however, nowadays this is becoming less and less common.


Blade Quality: You need a blade that is tough. There is no denying that. There is a tonne of blades made from different materials on the market today. Do your research and make sure that you are buying a knife that has a blade that is constructed from a high-quality material. A knife with a quality blade will last longer, cut better and save you money in the long run.


Knife Weight: The weight of your knife is important. If your knife is too light or too heavy you will not have any control. You are looking for a knife that has a good balance and feels sturdy in hand.


Accuracy When Cutting: A knife needs to be accurate (even for us that don't have good knife skills). An accurate knife can make all the difference and help you increase your knife skills. If possible try the knife before buying. Obviously, you can't bring your own brisket into the shop to cut, however, most shops will let you hold it and simulate cutting. This will give you a good idea of the weight and accuracy.


Set Your Budget: The price spectrum for knives is very wide. You can buy knives for hundreds of dollars and others for under $20. More expensive does not necessarily mean that it is going to be better. Before looking into buying a knife set yourself a price limit of what you are comfortable spending. You can always find a quality knife at any budget.


Do Your Own Research: When buying a knife it pays to do your own research. Research each brand and make sure the knife that you want. Researching the brand also helps find out if the brands morels re inline with your own.
Dalstrong Slicing Carving Knife – 12″
Dalstrong are the self-proclaimed 'new guys on the block'. To be honest, it had me a little concerned. I thought they would not be as good as some of the more established brands out there.

But, at first glance, I was quickly impressed. The first thing that caught my attention was the 2 mm 12 inch long blade. This thing is impressive.

It's handcrafted over 60 days using ultra-premium, Japanese high carbon AUS-10V steel. With 67 alternating layers of SUS410 Damascus cladding.

This gives the knife fantastic durability and stain resistance.

The blade has increased strength, flexibility, and hardness. This is partly thanks to the cryogenic tempering with liquid nitrogen. Impressive.

The Sho Gun series slicer has an ergonomic handle constructed from G-10 Garolite. It is very comfortable and accurate to use.

G-10 Garolite is a military-grade material. It is used for durability. You get good blade control and can carve thin or thick slices with ease.

The incredibly sharp blade worked wonders when carving brisket cutting a tri tip. However, I would assume that it would be just as good on ham, roasts, and turkey.

The blade is sharp right out of the box will continue to give you perfectly cut slices time and time again. A nice touch is that it comes with a sheath to protect the blade.

No more embarrassing carving mistakes at the dinner table with this knife.

Key Features of The 12″ Dalstrong Slicing Carving Knife
Hand polished: Fantastic finish, and from my experience it stays that way.


Stain Resistant: No matter how much meat you slice, this blade will not get stained. I have not used this knife over a long period of time, however, the use it has had, there have been no stains.


Hand Sharpened Edges: The carefully hand sharpened edges will let you slice and dice everything from a pork butt to a thin slice of smoked salmon with ease.


Laminated Pakkawood Handle: Super strong and ergonomic handles made from wood imported from Spain. This allows you to get a comfortable grip allowing you to slice exactly where you want to.


Blade Indentations: The blade indentations ensure that no meat sticks to the knife when cutting.


Triple Riveted: The blade is held in place by three rivets. These are super strong and durable. You get no movement whatsoever.


Flexibility: The blade has a little bit of flex in it, this is designed to aid cutting around bones and smaller cuts of meat. You can flex it with comfort and feel confident that you will not snap or warp the blade.
Pros and Cons of The 12″ Dalstrong
12″ Dalstrong Pros
Tall blade height – no knuckle dragging.
Strong and durable handle.
Ergonomic handle.
Stain resistant.
Very lightweight.
BPA free protective sheath included.
12″ Dalstrong Cons
Some users have advised that the knife dulls easily.
This knife is for anyone who appreciates cutting, slicing or carving with ease.

Dalstrong have blown me away with this knife. It is a knife that straight out of the box will impress you with its beauty, sharpness, and performance.

You can slice through thicker cuts like a rack of ribs, or a pork butt wit ease. but also have enough precision to slice thin slices of smoked salmon.

---
Overall Rating: 4.8 / 5 stars
---
2. Mercer Cutlery Genesis Carving Knife – 8″
The Mercer Cutlery Genesis is my second pick

The forged high carbon stainless steel blade is a blade that you can only dream of.

​The heavy-duty bolster balances the knife out very well. This makes it easier to control the blade. It also adds additional durability without adding on too much extra weight.

However, I did find this knife to be a little heavier than other knives this size.

Being a little on the heavier side it is a great knife for thicker cuts of steak, bigger racks of ribs and whole turkeys.

The handle is constructed from Santoprene. This is a soft material that is comfortable and non-slip.

Even when carving turkey after turkey over Thanksgiving this knife isn't too slippery. I was still able to use with full precision.

But do keep in mind that it is not dishwasher safe, so make sure that you always hand wash with lots of hot soapy water.


Key Features of The Mercer Cutlery Genesis Carving Knife – 8″
Santoprene Handle: The Santoprene handle is amazingly soft and comfortable. However, it's not so soft that it becomes sticky or hard to remove your hand when making those tricky incisions. It is also non slip, perfect for when you have greasy or wet hands.


German Quality Stainless Steel Blade: The blade is made from high quality German stainless. This is very sharp right out of the box and stays sharp. It will never rust, discolor or corrode.


Lifetime Warranty: The peace of mind of the lifetime warranty is good to have, however, with the quality and durability of this knife, I doubt you will need it!


NSF Listed: The M20608 meets the standards set by NSF International. These standards focus on public safety, health, and the environment.
Pros and Cons
8″ Genesis Pros
NSF listed.
Comfortable ergonomic handle.
Easy to clean.
Nonslip grip handle.
Heavy duty bolster.
Quality German steel blade.
8″ Genesis Cons
Not dishwasher safe.
Bulkier than other knives.
The Mercer Culinary is one of the most comfortable knives out there. The ergonomic Santoprene handle is like you are holding onto a cloud.

It is a little bulkier than some of the other knives I have tested. But it still cuts smaller cuts with complete precision. It is more suited to those with bigger hands in my opinion.

The blade is well designed and so far has stayed very sharp. The added bonus of a lifetime warranty gives you peace of mind that this is a quality knife built to last.

This is a great knife and for the price, you are buying into a quality knife that you will be using for many years to come.
---
---
3. Victorinox Fibrox Pro Slicing Knife – 12″
The Victorinox 12 Inch Fibrox Pro Slicing Knife is my third pick. And I tell you what it is going to be your new best friend.

When it comes to carving and slicing bigger cuts of meat it is unstoppable. You will be slicing turkey, ham, whole roasts and ribs with minimal effort.

The first thing you will notice about the blade is the indentations, these are brilliant. These indentations create air pockets while cutting so your meat doesn't stick to the blade.

This ensures you get a clean cut every time. Even on those paper-thin slices of turkey.

The textured Fibrox handle is one of the more basic handles, but, it is very comfortable and non slip. You can cut a whole turkey or ham without any discomfort or slippage.​

Victorinox is manufactured in Switzerland by the same company who manufacturers the original Swiss army knife, so you know that you are buying a quality product. This is backed up by a lifetime warranty.
Key Features
12 Inch Blade: The large 12 inch blade is perfect for larger cuts of meat. I found this particularly good for slicking pork butt, brisket, whole roasts, turkey and even pork belly.


Hollow Ground Depressions: These depressions help to reduce friction and minimize meat sticking to the blade. This feature is a real treat when you are slicing big amounts of meat.


Fibrox Handle: The textured handle is made for a secure hold and has nonslip properties. It is also very durable.


Swiss Quality: Victorinox is made in Switzerland by the same manufacturers who made the Swiss Army Knife.


NSF Listed: The Victorinox 12 Inch Fibrox Pro meets the standards set by NSF International. These standards focus on public safety, health, and the environment.


Dishwasher Safe: This is not such a big concern for me, however, it is nice to load the knife in the dishwasher with all the other cutlery at the end of cooking.
Pros and Cons
Fibrox Pros
Dishwasher Safe.
Made by the same manufacturer as the Swiss Army Knife.
Nonslip handle.
Lifetime warranty.
Blade depressions.
Fibrox Cons
The blade does not stay sharp for long, it is recommended that you sharpen every couple of uses for optimum quality
The Victorinox 12 Inch Fibrox Pro Slicing Knife delivers. This is a Swiss-made knife, and it performs like one. It is an elegant knife which offers a carving experience like no other.

The blade is second to none. The addition of blade depressions means you will never get any meat that sticks to the knife, which is something that I appreciate when slicing bigger cuts. You need this knife if you are cooking bigger cuts of meat such as whole roasts, pigs, turkey, ham or brisket.
---
---
4. Mercer Culinary Millennia -14″
The Mercer Culinary Millennia 14-Inch is a big knife, its the biggest knife in my list. It's a big knife made for larger cuts of meat. Think a whole roast pig, whole turkey roast or ham.

The 14 inch blade is constructed from Japanese stainless steel. It will never corrode, discolor or rust. The blade also features divots which stop any meat from sticking.

The blade is slightly thin, allowing you to manoeuvre around small bones and carcass if you need to.

The handle is made from Santoprene and durable polypropylene. This creates a very durable and comfortable handle that will not slip.

Together all these parts form a very well designed and constructed knife. It will easily cut through any large cut of meat you can throw at it.
Key Features of The Mercer Culinary Millennia -14″
Santoprene Handle: The Santoprene handle is one of the most comfortable ergonomic handles out there. However, its not that soft that it becomes sticky or hard to remove your hand from. It is also nonslip, perfect for when you have greasy or wet hands.


Ergonomic handle: The handle fits perfectly in hand, making cutting large meats very pleasurable.


Longer Length: Comfortable slice, cut and carve those larger meat cuts without needing to apply unnecessary pressure.


Japanese Steel Blade: The blade is crafted from Japanese steel, which means it's extremely durable.
Pros and Cons
Millennia Pros
Lifetime warranty.
Santoprene handle.
Divots in the blade to top sticking.
Longer length.
Japanese quality stainless blade.
Millennia Cons
Hand wash only.
The blade does dull faster than others.
The Mercer Culinary Millennia 14-Inch knife is a serious knife for cutting serious cuts of meat.
We found the Santoprene handle is very comfortable and durable. The durability comes from the polypropylene used in the construction.
The razor-sharp blade is constructed from Japanese stainless. It is resistant to corrosion, rust, and discolouration.
It is a durable and high-quality knife that will exceed your expectations. Particularly when carving larger cuts of meat such as ham, turkey, brisket or whole pig.
---
---
5. Wusthof Carving Knife – 8″
The last one is the Wusthof Carving knife. If you are looking for a knife that was specifically designed for carving meat of the bone, the 8 " Wusthof carving knife is for you.

The new and improved handle is made from a synthetic material called Polyoxymethylene.

This material gives the handle a very tight molecule structure. This gives the knife a darker colour that won't fade or wear, and its also pretty comfortable too.

We found that the pointed tip helps you slice meat away from the bone with pinpoint precision. It has the slightest flex to ensure the end of the blade doesn't slip.

The German-made blade is crafted from a single piece of high carbon stainless. This enhances the blades strength and durability.
Key Features of The Wusthof Carving Knife – 8″
The Blade: The blade is constructed from a single piece of high carbon stainless. This means that the blade is tough, and can even bend a little bit to ensure that you can safely cut anything that you need to. Specifically meat that is on the bone.


Finger Guard: When you have a sharp knife you want to know that you are going to be safe using it. For those of us who don't have the biggest hands in the world the Wusthof carving knife as a finger guard that gives you all the confidence in the world.


Precision Edge Technology: The Petec gives this knife around a 20% sharper blade than the competition. I was skeptical about this, however, when testing this became very clear when the tomato test came out. It is a truly sharp knife that has great longevity.


Thick Bolster: The thick bolster adds to the knife's great feel. It adds the perfect amount of weight and allows you to easily cut everything without any effort.
Pros and Cons of The Wusthof Carving Knife – 8″
Wusthof Pros
Triple riveted.
Long edge retention.
Dishwasher safe.
Finger guard.
One piece stainless blade.
Wusthof Cons
Final Thoughts of The Wusthof Carving Knife – 8″
This is a fantastic little carving knife. It is not the cheapest knife on this list, but, it does slice and carve amazingly.
It was designed to be a knife that you can comfortably and safely carve your favourite meats with. Particularly meats that you need to carve very close to the bone.
If you have a little bit more budget to play with, I would recommend the Wusthof 8 " carving knife.
---
---
A decent carving knife is something that we should all have. It doesn't matter if you are a professional chef or a home cook who enjoys creating meal once a week.

A good knife will help you create the best food you can.

Smoke On!

Charlie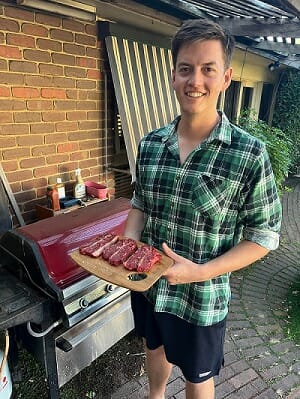 Author: Charlie Reeves
Hi, I'm Charlie, I am head taste tester at Simply Meat Smoking! I love it grilling, smoking, and getting out in the yard with the kids! The family also love to test all my recipes (especially my EXTRA CRISPY pulled pork, smoky pork loin, and ANY SEAFOOD I grill)
You will usually find me playing with the kids, perfecting my brisket bark, or sipping beers with boys around the fire. Can't wait to share all my delicious smoking and grilling adventures with you!

You can read more on our About Us page.
Hungry For More?