You just got your grill and a big chunk of brisket from your favorite butcher. Everything is set for one hell of a BBQ session!
You are about to set your brisket in the grill. But you need to rearrange the coals. It's only then, we realize how essential insulated food-grade bbq gloves are.
When handling hot food, rearranging coals, and grill plates you NEED a heavy-duty pair of insulated bbq gloves.
Looking for a pair of food-grade bbq gloves can get overwhelming. There is a gazillion different styles, lengths, sizes, materials, and price points.

This guide will help you spend more time licking BBQ sauce off your fingers than putting band-aids on them.
Our Favorite BBQ Gloves
Don't have time to read my whole article? Here are my quick top picks for the bbq grilling gloves to keep you safe!
Who Is This BBQ Glove Guide For?
This guide is for EVERYONE! We all need barbecue gloves to protect our hands when smoking meat and barbecuing.

When cleaning grill mold, handling hot coals, grill plates, chimney starters, cooking trays, and other BBQ equipment you need a set of well-insulated grill gloves.

We have all been there, we have all tried to pick up something we know we shouldn't with bare hands or a kitchen towel.

Don't be a hero.

The last thing you want is to drop your prize piece of meat or a trip to the emergency room.
BBQ Gloves for Protecting Your Hands
Ekogrips BBQ Oven Gloves
The Jolly Green Products Ekogrips BBQ oven gloves are one extremely waterproof, grippy pair of silicone oven gloves. The durable silicone construction guarantees rip resistance and a comfortable on-hand feel. 

The grip pads on the outside add additional grip which is perfect for carrying hot trays, hot pans, and grill plates. They are slightly thick but you still get a decent feel when carrying smaller objects or are using thermometers.

They have hook loops at the top of each glove for hanging and are a really bright color so there is no way you can lose them. Don't worry if you have bigger or smaller hands, these gloves are a one size fits all! The Ekogrips
Pros
Long Coverage: The long wrists cover you well from steam, hot coals and smoke. The size is also perfect for cooking on the grill, you can flip burgers all day without getting burned.
100% BPA free.These gloves even come with the peace of mind that they are fully BPA free! This is something you don't see a whole lot
425 Degrees Fahrenheit Heat Resistance: For a set of silicone gloves this is pretty good. This is great for carrying hot trays, hot pans & grill plates. Also perfect for carrying piping hot smoke chicken/ turkey and reaching into hot pots of water/broth.
100% Waterproof: No matter how much water is around, these guys will not get wet.
Fits small and large hand sizes.
Rip Resistant: The silicone used in the construction is really durable and rip resistant. They are long lasting and can handle anything that you throw at them.even when you are cutting or moving fire logs you feel safe
You do not feel the heat from your open fire.
Extra Grippy: Still able to grip food when covered in grease. The silicone material is extremely non slip and perfect for carrying everything from hot grill plates to whole turkeys.
Cons
Bulkier than fabric gloves: They are quite a bulky glove, so you don't get all the dexterity as you would out of a pair of fabric gloves.
Wider fingers: Since the fingers are a little wider and loose it can be hard to grasp smaller items.
Overall they are a decent set of silicone bbq gloves. They have all the grip you could ask for in a set of bbq gloves. Since they are machine washable, cleaning after use is a breeze. Just throw them in the dishwasher with the rest of your gear or the washing machine.

These gloves are a good option for the casual smoker or backyard barbecuer who generally uses their smoker for cooking low and slow and don't often have super high temperatures. You can conformably carry hot grill grates, trays, meat, and other grill parts.

I would have given these gloves 5 stars if they had a higher temperature resistance.
---
---
Grill Heat Aid Extreme Heat Resistant Gloves
If you are all about grilling at high temperatures you will love these grill gloves.

As the name suggests they are extremely heat resistant and boast the highest heat resistance rating out of all the gloves that I have tested.

These gloves are a good looking, comfortable glove that is packed full of awesome features.
Key Features
Heat Resistance Rating: These gloves are heat resistant to an impressive 932°F. They are also EN407 certified. This means you are safe from contact heat, flammability, radiant heat, convective heat and even splashes of molten metal. No matter how much you load your grill up with coals, nothing is going to get through these bad boys, not even flaming logs.
Aramid Fiber Construction: Gloves made with aramid fiber construction are my favorite. This material is a super heat resistant, heavy duty synthetic material that allows you to work in very hot conditions without.
Flexibility: Unlike some of the bulkier silicone gloves, these gloves come feeling like an extension of your hands. You can pick up grill grates, trays, pots and even use a thermometer as normal.
Comfortable Liner: These gloves were made with comfort in mind. They are lined with 100% soft cotton lining. This makes it easy to wear them for a long time when grilling burgers, steak or sausages.
Grippy: The silicone grip strips on the outside are really good. Fresh out of the packet they need a little bit of wearing in, however after the first cook you will notice they have a lot of grip, you can carry everything from hot pots, grill plates, tongs that have been left on the grill and even whole chicken with ease.
Pros
These gloves are extremely comfortable made with cotton material.
You can get plenty of finger feel and movement whilst wearing the gloves.
Great for both larger and smaller hands.
These gloves have an amazing heat resistance.
Working with these gloves on is a breeze, you don't even notice they are on.
Easy to clean – fully machine washable.
Cons
These gloves do have a low water resistance, any more than a few big drops of water and you start to lose the impressive heat resistance. Please note this was also the case when the gloves were exposed to steam and similar hot items.
Overall Thoughts
Overall these gloves are an awesome pick. You really can't ask for more out of a glove for under $30. They are amazingly comfortable, have a tonne of grip, and have an amazing amount of heat resistance.

These gloves are perfect for anyone who is a bit more serious about their grill and loves to grill/smoke/barbecue at high temperatures.

The only downside is that they are not very waterproof, so do be careful if you are working around moisture or steam.
---
---
Simdevanma Heat Resistant Cooking Gloves
The Simdevanma grill gloves come with silicone grips (which are anti-slip) and are extremely heat resistant. They have been crafted using a blend of aramid fiber and silicone.

I liked that these gloves have the added bonus of being able to fit on both left and right hands. Considering this I thought they were amazingly comfortable. The soft cotton material and poly molds to the shape of your hand with ease.

Aside from the impressive heat resistance and multi-hand capabilities they are easily washed in the washing machine and fairly quick to dry.

I found that for a cotton lining glove they are really easy to get on and off and don't have a loose feel like some other models can, you could say the gloves fit like a glove.
Key Features
Heat Resistance Rating: These gloves have a huge heat resistance of 932 Degrees Fahrenheit, this is more than enough to tackle any job you throw at them. Carrying hot grill parts, adjusting your coals, moving hot logs, scrubbing a hot grill or carrying hot items is no match for these guys.
Multi Hand: These gloves are able to be worn on both left and right hands. The gloves fit either hand very comfortably unlike some other gloves that offer the same versatility.
Interior Lining: Your hands will appreciate the quality poly and cotton lining, this lining is sweat absorbing and breathable so that means your hands stay comfortable and dry. Even if you have them on for long periods of time.
CE Level 3 Cut Resistant: Be confident while cutting and chopping with a Level 3 cut resistance rating, this is great peace of mind just in case any accidents.
Textured Grips: Both sides are lined with silicone strips for additional grip. These still kept their grip while greasy and covered in fat.
Pros
The added peace of mind of a high cutting resistance.
The all over non slip textured silicone strips.
Being able to use these on both left and right hands is a huge plus.
Able to grip food when covered in fat and grease.
These gloves are super heat resistant and can tackle any job you.
Machine washable.
Cons
Once wet or exposed to steam they lose much of their heat resistance.
They are only sold as a single glove, so for a set, you need to order two.
Overall Thoughts
The bottom line is these gloves are extremely heat resistant and very easy to use around both the outdoor grill and the kitchen. 

Lifting grill plates, hot pots, racks and cooked meats is a breeze and you get the same I love the added peace of mind of the cut resistance rating and the extremely grippy silicone on the outside.

They are a great glove for general outdoor cooking. Compared to some other gloves they don't have full forearm cover, so consider that if you would prefer more coverage.
---
---
Artisan Griller Insulated Gloves
These insulated gloves are a nice and long pair of neoprene gloves. They have an extended cuff length making them perfect for those with long arms, or those who work on large charcoal grills. Having a neoprene rubber coating they are decently waterproof and have a great fireproof rating.

They are super comfortable and have a little bit of extra room making them breathable. Great for those hot afternoons when you have the gloves on for long periods of time.

They are stain-resistant and are a real breeze to clean. Just wash with soap and water as you would wash your hands, then easily slide them off to dry.
Key Features
Heat Resistance: These gloves are covered in a food grade neoprene coating which is resistant to melting and is fire resistant.
Jersey Cotton lining: These gloves are seriously comfortable, they are lined with a jersey cotton liner which keeps your hands nice and comfortable.
Flexibility: Because of the neoprene coating these gloves are fantastically flexible. You can do all your ordinary tasks while wearing them. Even pulling pork and cutting garlic is possible.
Comfortable Liner: These gloves were made with comfort in mind. They are lined with 100% cotton. This makes it easy to wear them for a long time when grilling burgers, steak or sausages.
Textured palm: The textured palm is a great feature which offers great grip, even when the gloves are slippery and greasy form pulling pork or picking up a whole turkey.
Glove Size: The length of these gloves was perfect for me, at almost elbow length they had my forearms well covered. Great gloves for those with larger hands and arms.
What We Liked
These gloves give off ample coverage.
Great forearm protection. You can not feel the heat from fingers through to your elbow.
Amazing grip from the textured palm.
Machine washable.
These gloves also have an oil resistant material, just incase you get any hot oil splashes.
Super easy to clean and maintain.
Great for handling food.
What We Did'nt Like
If I could find one fault it would be that they are a little bit loose around the arm and the wrist cuff. This was only an issue when spending long periods of time with your hands over the grill, and at an angle where heat could get in.
Overall Thoughts
All in all, these are a very comfortable set of gloves that have a great size and are very easy to complete regular tasks in.

They offer great grip in all conditions and are even super easy to clean with just soap and water while you still have them on.
---
---
Steven Raichlen Barbecue Extra Long Suede Gloves
These gloves are very long, extra durable, and extra durable. They are perfect for holding hot grill plates, moving heavy hot grill parts, coals and logs.

These suede gloves are really tough and surprisingly do not stain easily. They are a larger glove, however, you can still use tongs, knives and other utensils with ease.
Key Features
Extra Long: These gloves are super long and give you amazing protecting right up to the elbow. This is great for covered grills and smokers
Worked Suede: The soft worked suede is surprisingly user friendly and doesn't cause any issues while grasping small objects.
Durable: These gloves are made for the long haul, they have super solid stitching and are well constructed.
Positives
These gloves are very durable.
Your forearms are very well covered.
Even though they are a thick glove you still get plenty of finger movement for handling food.
Great for arm protection for grillers with both large and small hands.
Good gloves heat resistant.
Drawbacks
They don't have a high heat resistance, so using them for longer periods of time in direct heat is not advised.
Overall Thoughts
They are a good glove for those of you who need a heavy-duty, well-made glove. They offer decent heat protection in the short term.

I find they are a good glove for carrying hot items, taking apart a hot used grill, pizza stones, and emptying out hot coals or logs.
---
---
What Do You Want to See in a Good Pair of BBQ Gloves?
The needs of an outdoor BBQ chef are different than those who are cooking indoors. There are totally different conditions, needs, protection and requirements. To narrow down the selection of gloves I need to ask specific questions about the grill gloves design:
Are they easily stained?
Do they have a high heat resistance rating?
Are they water resistant?
Do the gloves offer heat protection?
Are the gloves long enough to cover the wrist?
Can you move and feel with your fingers?
How are they for handling food?
Are they easily stained?
Are they a one size fits all glove for both smaller hands and larger hands?
Can you still use your grilling tools when the cooking gloves are covered in meat juices?
Are they easy to clean?
Do you still get decent movement and finger feel out of them?
Can you easily carry hot items?
Can they replace your welding glove?
Providing most of these questions had a positive answer they have passed my first test of being a good selection for good heat resistant bbq glove.
Why Can't I Just Use My BBQ Tongs?
This is a question that my son asked me when I was unwrapping my new pair of bbq gloves.

Now there is nothing wrong with tongs, don't get me wrong I love my tongs like a third child. However, there are times when you simply just shouldn't use them.

This is for both safety, practicality and personal protection reasons.

Picture this; you have a delicious 15 lb brisket or several pork butts in that have just come to temperature, you get excited and grab the tray with your tongs. There is no chance that you are safely going to get that bad boy from the grill to the table in one piece. The only way to do this is with a set of gloves or a combination of gloves and tongs.

Another instance would be if you have hot cast iron or hot grill plates that you need to move or take out for your cast iron grill plates for their spring cleaning. You could try to take them out with your tongs.

However, this will more than likely end up with you dropping the grill plates, or getting burned. You need a set of insulated gloves to securely hold the grill plate, this ensures you have a strong two handhold on the hot plates.

When selecting a set of gloves you need to make sure you take into account how often you will be using them for transporting purposes, some gloves are very thick and don't give you much feel on what you are gripping. Transporting a cast iron pan, smaller racks, grill grates, trays or pieces of wood can be difficult if the gloves are too thick or stiff.

When transporting grill grates and other hot items you want to know you have a secure hold on them. This is for your safety and the safety of those around you.
What Materials Should You Be Looking for in BBQ Gloves?
When selecting BBQ grilling gloves there are three main design materials you can choose from. Each different glove material and design has its own strengths and weaknesses.
You can break down grilling gloves into fabric gloves, leather gloves and silicone gloves. What are the strengths and weaknesses of these barbecue gloves?
Woven Aramid Fabric Gloves:
Aramid fibers are a class of heat-resistant and extremely strong synthetic fibers. Aramid fibers are primarily used in the firefighting world for the construction of firefighters' gear. It is also used in various military applications and in the aerospace industry. These fibers are also used in the construction of ballistic rated body armor, Kevlar, and can even be used as a substitute for asbestos. Aramid fibers have an extremely high resistance to heat and abrasions.

For these two main reasons, in my eyes, bbq grilling gloves constructed out of woven aramid fibers are the best choice when it comes to heat-resistant gloves. The only downside to aramid fiber is that it is not water-resistant and it has a higher production price tag. But at the end of the day, you pay for a more superior, heat-resistant product.

The bottom line is that wouldn't use a suit constructed head to toe of aramid fibers if it wasn't the best. Those with small hands will appreciate barbecue gloves made from Aramid fabric.
Silicone:
Silicone is a material very similar to rubber. Silicone is very diverse and can be used in everything from computers to wetsuits. Its density & thickness plays a huge roll in how heat resistant it can be. Silicone is relatively cheap, 100% waterproof, very easy to clean and even dishwasher safe. This makes silicone a very popular choice. Silicone is a perfect choice for those who are carrying hot pans, trays, pots and grill plates.

Gloves made from silicone do have a couple of downsides. The first is that silicone gloves are often quite bulky, making it hard to carry smaller objects or performing tasks that require smaller pieces of equipment. Secondly, silicone gloves can be quite loose around the wrist/ arms.

This means that radiant heat can find its way into the gloves and can cause some discomfort, and in some cases defeats the purpose of wearing them in the first place. Lastly, if silicone gets greasy it can become quite slippery. This makes it very difficult to keep a grip on things such as trays, racks, and utensils. This can make for some tense moments when carrying a hot rack with a perfectly cooked beef brisket on board!
Treated Leather Gloves:
Gloves also come made of treated leather, however, leather gloves are not something that I would personally recommend. This is for a couple of main reasons. While treated leather is heat resistant it is not as resistant as the other materials, and some brands even advise staying away from hot coals, logs, cast irons, or your grill or smoker.

To me, that does not sound like a pair of BBQ grilling gloves I want to be spending money on. Treated leather is a 'living material' and requires quite a bit of attention and care. This means you can not clean them in the dishwasher or in with the rest of the BBQ dished for clean up.

I have never experienced myself but I have heard rumors of leather gloves shrinking from exposure to heat. Not a huge problem but if true might require purchase of new gloves. While leather gloves are fine for most barbecue or grilling tasks, you need to be careful not to hold onto a cast iron grill for too long, or when moving around hot pans, coals or logs.
Wrapping it Up
The BBQ gloves market is saturated with different design options, brands, and models.

Brands tend to throw around big, fancy words to make their pair of bbq gloves stand out in the crowd. This can make buying the product far more confusing than it needs to be.

Be sure to pay attention to the warnings and directions of different gloves. Some may look like they are built to withstand the elements, but in reality, they are not going to protect you when you need it the most.
Smoke On!

Charlie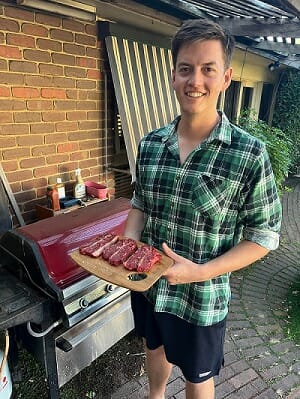 Author: Charlie Reeves
Hi, I'm Charlie, I have been meat-smoking and grilling for the past 15 years. I have an array of different smokers, thermometers, and have a love for finding the right wood and charcoal combo My favourite recipes are my EXTRA CRISPY smoked pork belly, juicy pulled pork, smoked brisket, duck poppers, and ANY SEAFOOD I grill).
I loves sharing his tips with beginners, helping them navigate the world of smoking. I find it's not just about cooking; it's a quest for that perfect smoky flavor.
You will usually find me playing with the kids, perfecting my brisket bark, or sipping beers with boys around the fire. Can't wait to share all my delicious smoking and grilling recipes with you!

You can read more about me on our About Us page.
Hungry For More?