Is there anything better than chicken wings? Well, maybe only smoked chicken wings!
Chicken wings are the perfect finger food for watching the game or hanging out with friends. Nothing quite beats sitting down to a big bowl of wings. They are messy, they are tasty, and most important, they are easy. 

So let's get started and find out how to smoke chicken wings.
How to Smoke Chicken Wings (8 Easy Steps)
Below is my simple recipe for smoked and spicy chicken wings.
Step 1: Prep Your Wings
First, you need to prep your wings, and remove the skin if you don't like it.
If you have time you should brine your chicken wings first.
Step 2: Apply Wing Sauce
Use creamy french dressing to coat your chicken wings. Then apply your rub. You should apply this before cooking.
Step 3: Get Your Charcoal Ready
Light your charcoal chimney and preheat your smoker to 275°F.

Then add your wood chips.
I have found that applewood and cherry wood goes well with chicken wings!
I also like the flavor of pecan with chicken.
Step 4: Seperate Wings and Drumsticks
If you are smoking chicken wings and drumsticks, make sure you separate them. Drumsticks take longer, so you want to be able to pull the wings first
Step 5: Dry Season Your Wings
Here Lawerys seasoning salt with black pepper and cayenne was used.
Step 6: Put Your Wings in the Smoker
Once your smoker reaches 275°F put your racks of chicken wings in it. Leave them for 2 hours, don't spray them or open the door of the smoker.
Step 7: Pull Your Wings
After 2 hours pull your wings from the smoker and check the internal temperature.
Once you at 175 F degrees you are good to go! You have two options here to crispy them.

1. Put them on the grill on medium-high heat and crisp the outside.
2. Or you can put them in your air fryer at 450°F for 10 minutes
Step 8: Eat and Enjoy
After 2 hours pull your wings from the smoker. You have two options here to crispy them. 1.
How Long To Smoke Chicken Wings?
You should smoke your chicken wings until the wings reach an internal temperature of 175 F.
Should You Tenderize Your Wings Before Smoking Them?
Looking for juicy chicken wings? Find out how to tenderize chicken before you smoke your wings. You will have everyone at your cookout asking for your wing recipe if you tenderize them first!
Need a Chicken Wing Alternative
Looking for a substitute for chicken wings? Sometimes the price for wings is outrageous
More Chicken Wings Recipes
Look wings as much as us? Here are some more chicken wing recipes for you to try.
Crispy Pellet Grill Chicken Wings
Delicious Sauces for Chicken Wings
I love my classic buffalo sauce on my wings! However I have been branching out, see some of my favorites sauces below.
Meathead from Amazing Ribs did miso smoked wings! We love Asian cuisine as well as BBQ!
Taco Wings with Spicy Guacamole Dip – We love Mexican!
Whiskey Maple Barbecue Sauce – Who doesn't love whisky and maple!
Honey Garlic Chicken Wings – Can't go wrong with honey and garlic!

Charlies Sweet & Spicy Smoked Chicken Wing Recipe
Print Recipe
Sweet and Spicy Chicken Wings Recipe
This recipe is of my favorite smoked wing recipes. They are juicy, tender, smokey, sweet, and a little spicy full of flavor.
I like this recipe because the wings have a great underlying spice to them. The pecan also gives a delicious flavor. Make sure you have a decent stockpile of wet wipes, this one gets deliciously messy.
Ingredients
1/4

teaspoon

fresh ground black pepper

1 1/2

teaspoons

cayenne pepper

1 1/2

teaspoons

Kosher salt

1

pound

of fresh or frozen wings

.5

cup

creamy french dressing

.5

cup

Lawerys seasoning salt
Hot Sauce Ingredients:
1/4

cup

Sriracha hot sauce

or your hot sauce of choice

1/4

teaspoon

ground cumin

1/2

cup

ketchup

1

small onion minced

around ½ a cup

1

teaspoon

fish sauce

1

tablespoon

vinegar

2

tablespoons

vegetable oil

2

cloves

garlic

finely minced
Instructions
The Hot Sauce
Add the vegetable oil, onion and garlic into a saucepan over a medium heat.

Constantly Stir until golden brown. Be careful not to burn.

Add the Sriracha, ketchup, fish sauce, vinegar and cumin and stir well.

Turn down to a low heat and simmer for 3 – 4 minutes.
The Smoked Chicken Wings
Rinse chicken wings and pat dry with paper towel thoroughly.

In a bowl mix together all the wings and the creamy french dressing

In a bowl mix together all the dry rub ingredients.

Place two or three wings at a time in a large bowl, sprinkle on the dry rub and toss & coat with the dry rub liberally.

Place well-coated wings on a foil-lined baking sheet on top of a wire rack. Make sure to have a nice spacing between each wing. Once all wings are well-coated cover and place in the fridge for at least 8 hours. (This is not essential but helps make the wings burst with flavour and deliciously crispy.

Once your chicken is ready for smoking. Prepare your smoker as per your manufacturer's instructions. I like to use pecan or this recipe, it's a nice mild wood that doesn't overpower the star of this dish which is the dry rub. Preheat your grill to medium heat.

Once the smoker has come to temperature, give your rested wings one last generous coating of the dry rub and pop in the smoker.

Smoke for 2 hours then get out your meat thermometer and check the internal temperature of the wings to check if the wings have reached 165°F. Note don't touch the bone. If they are not yet to temperature placed back in and check again after 5 – 10 minutes.

Once they are done either;

1. Put on grill at medium to high heat. Crisp the outside

2. Put wings in air fryer at 450°F for 10 minutes

Then transfer to a large bowl and toss through a generous amount of the hot sauce. You want these wings to be dripping with this deliciously spicy sauce.
Wrapping It Up
So there you have it, my super easy, delicious, and spicy smoked chicken wings. If your have a Pit Boss grill, I have an EPIC wing recipe for it!

I guarantee you will turn you into the smoked chicken master at your next backyard cooking session.

For those of you who don't like spice, you can always replace the Sriracha with your favorite ketchup.

What is your favorite chicken wing recipe?

Happy smoking

Charlie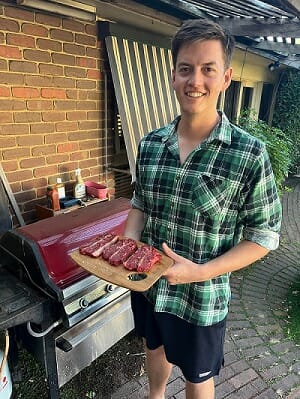 Author: Charlie Reeves
Hi, I'm Charlie, I am head taste tester at Simply Meat Smoking! I love it grilling, smoking, and getting out in the yard with the kids! The family also love to test all my recipes (especially my EXTRA CRISPY pulled pork, smoky pork loin, and ANY SEAFOOD I grill)
You will usually find me playing with the kids, perfecting my brisket bark, or sipping beers with boys around the fire. Can't wait to share all my delicious smoking and grilling adventures with you!

You can read more on our About Us page.
Still Hungry For More?