If you want easy to use a backyard cooker then you should get a pellet grill. It makes smoking, grilling, and cooking a breeze for me. 
You might find that traditional pit masters sometimes snub pellet grills and smokers. However, I think they help me create an outstanding barbecue feast without any hassle.
No more standing outside, tending to a fire all day for me! Especially when it's Thanksgiving, it's too cold to be tending to my grill and smoked turkey outside. I'd rather be inside with my family.
So are you hungry thinking about juicy brisket or tender ribs for your next cookout? This guide will help you get those juicy ribs on your plate fast!
In a rush? I've put together a quick summary below of my favs.
| Pellet Smoker Award | Image | Cooking Space |
| --- | --- | --- |
| The Top Pellet Smoker | | 875 square inches |
| Cheapest Pellet Smoker | | 429 square inches |
| Highest Quality Pellet Smoker | | 527 square inches |
| Great Value Pellet Smoker | | 219 square inches |
| High Tech Pick | | 458 square inches |
"In Texas barbecue, you're taking one of the worst pieces of the animal and converting it into one of the best is a miracle itself."

Aaron Franklin – Franklin Barbecue: A Meat-Smoking Manifesto.


1. My Pick: All-Round Pellet Smoker
The Camp Chef SmokePro LUX Pellet Grill
When I say that this smoker is the top pellet smoker, I mean it. Not only does the Smokepro LUX gets a 5/5 for everything from the initial set up to its features list and construction quality, it's very very reasonably priced.
I think the SmokePro Lux strikes the perfect balance between value and quality. It does have a large cooking capacity OF over 900 square inches, it worked well when I was cooking for a group of 20 people.
Usually, with the bigger units I am a little let down by the additional features and the overall craftsmanship. However, the Lux seals perfectly and is great at smoke production and holding a consistent cooking temperature throughout my cooks.
If you are looking for a unit to cook for a crowd you shouldn't look past the LUX, I tested this unit for a graduation party. I had no issues keeping up with my starving guests. I comfortably fed around 20 hungry adults & kids! I just wish that I had the sear box.
What We Like:
It had an accurate built in meat probe: This smoker came with 2 meat thermometers. These two thermometers can be plugged into the digital controller and fed through the hole on the right side of the grill. Checking the internal temperature of your meat is as easy as pressing the 'probe select' button on the digital pid controller. The thermometers seem to be very accurate when tested against my Thermowand
Has a good warranty. You get 3 year warranty, this always gave me a piece of mind, especially when I'm spending a decent chuck of money
Super simple electronic start ignition: The ignition is painless, all I needed to do was make sure the unit is full and at the press of a button it is all go. Camp Chef have made a pellet grill that essentially runs itself!
Well designed ash clean out system
Brilliant temperature control. I got a good temperature range of 160 to 500 degrees°F. We found it was perfect for cooking everything from our favourite rack of ribs to getting a nice char on my smoked chicken.
Power failure reset: Another great feature of this smoker is the power failure reset. Fortunately, this was not a feature that I had first-hand experience using but can see it coming in handy and saving some disappointment in the morning.
What We Didn't Like
Awkward positioning of safety grate: The safety grate in the hopper can make it a little awkward to get access pellets out
Lid wasn't lining up. The lid doesn't always line up first time, with a bit of jigging about we sorted it quickly
Camp Chef has included everything in this unit to make it the ultimate outdoor catering beast for me. It is big enough for me to feed a small army without compromising on flavor.

Overall the unit is a little more expensive than some in this list. However, I take into account the size, features, and the general quality of construction you are buying a unit that will last forever and will feed a lot of people.

The Bottom Line: I think it is the perfect smoker for the casual smoker who still wants a high-quality unit but doesn't want to go spend a fortune
I think that pellet grills excel at holding a low, precise temperature for long periods of time. Perfect for that hunk of brisket that needs some low & slow TLC.

They are also incredible at holding a very high heat, and we all know what that means… getting the perfect sear on a steak! These have gained a reputation to be very low maintenance and have acquired the nickname 'the auto grill'.

Note: Don't be worry if you see the terms "pellet smoker" ,"pellet grill" or "pellet grill and smoker" used, they refer to the same thing.
---
2. Camp Chef SmokePro SE Pellet Grill
I know what your thinking, the cheapest pellet grill is not going to be the best.

Well, I have news for you, this is a fantastic smoker.

It is an entry level unit that has all the basic features to cook like a pitmaster without breaking the bank.
The SmokePro SE has a low price point but it is still built with Camp Chefs quality and craftsmanship. When I was moving this smoker around the backyard it was super sturdy as well as being smoke tight.

It is big enough for when I put several a big rack of ribs and a huge brisket. It has a nice large grilling area of 19.5 x 22 inches and total cooking space of 429 inches, which is big for the price point.

This is perfect for the smoker who doesn't quite have the budget for a more expensive unit. But wants to get something that will stand the test of time! I was able to smoke great-tasting food at a very affordable price.
What We Liked
Easy Temperature Control: I like the built-in temperature control unit of the Smoke Pro. It's super easy to use and has a simple 'low' or 'high' setting. All you need to worry about is setting the temperature and the smoker will maintain the heat for the duration of the cook.

Large Automatic Auger: This bad boy will feed the exact amount of pellets for the duration of your cook. Trust me, you won't need to check how the fire is going at all. I just loaded up the hopper and you was good to go for hours.

Electronic auto-ignition: push start and it worked each and every time for us.

Huge Temperature Range: I found that the Smoke Pro has an outstanding temperature range from 60 F up to 500 F. This is a perfect temperature range for everything, from low and slow for brisket to getting a good sear on your steak.

Bottom Storage Rack: At the bottom of the grill you will find a handy storage rack. This comes in handy for storing cooking tools, covers, unused pans/racks or beer.

Great mobility: Comes with strong sturdy wheels

Ash Cup: The clean up is one of the easiest we have come across on any smoker. The removable ash cup is something that I think is brilliant! Instead of dismantling and cleaning your grill after every use, you can simply pull a lever and empty the ash of out the firepot. It's so easy you can do it on the fly so you are not left with any nasty surprises when you start gearing up for your next cook.
What We Didn't Like
The hopper can get clogged: Its best to keep an eye on it every hour or so
Add on Features
Ash Cup: The clean up is one of the easiest we have come across on any smoker. The removable ash cup is something that I think is brilliant! Instead of dismantling and cleaning your grill after every use, you can simply pull a lever and empty the ash out of the fire pot. It's so easy you can do it on the fly so you are not left with any nasty surprises when you start gearing up for your next cook.
Jerky Racks: Additional jerky racks are not included with this model, however, they can be purchased or are included in the other models. These are great for anyone who smokes smaller items such as jerky, bacon, sausage or chicken wings. The racks are designed with smaller gaps between the wires so no food drops down into the smoker.
The Bottom Line: Don't have the cash to purchase the top-of-the-line pellet grill?

I think this is a fantastic entry level smoker. It was built to the highest standard but doesn't come with all the expensive features and add-ons.

It is compatible with all Camp Chef accessories. So as you grow in your smoking career you can purchase more parts and accessories.
---
3. Pit Boss Pellet Grill
The Pit Boss 71700 is going to be your next backyard best friend.
It was super easy for us to fire up and cook some incredible BBQ on it, last 4th of July. If your like me, and enjoy entertaining more than slaving over the grill then this unit is for you!
Do you want a pellet grill that is extremely user-friendly? The Pit Boss 700 should be on your shortlist.

The hopper on the Pit Boss 700 is the largest on this list, which is means it perfect for when I wanted to do a set-and-forget type of cook.

When I tested it the automatic auger feed pellets into the firebox as needed so there is no need to keep checking it, which I love! Using the P setting can take some practice, as it's especially useful when controlling your temps.

Love steak? We used the added flame broiler to give our steak a good sear. From the unboxing to your first smoke the Pit Boss is really simple to. use. It is a large unit, however, I managed to set it up by myself within an hour or so.
What We Liked
Huge cooking space: The 700 square inches I had plenty of cooking space for my 10 guests at our 4th of July party. I got easily got two boston butts in it and a whole bunch of sides. My friend told me he managed to get a whole turkey inside when I was cooking for Thanksgiving.

Innovative flame broiler: We also like having a flame boiler to finished off our steaks with a steak.

It has great temperature versatility: With temperatures ranging from 180 – 500 degrees Fahrenheit you can smoke, sear, bake, braise, char-grill, roast, grill and BBQ until your heart's content.

Super quick to heat up: Considering its size, preheating it takes very little time. Within a couple of minutes you have a decent amount of smoke and within 5 minutes. It usually takes around 10 – 15 minutes to come up to temperature.

Different options for power source: Another great feature of the Pit Boss is unlike most other pellet grills you do not require an outlet for power. This bad boy can comfortably run off a converter from your car battery, perfect for camping trips, tailgating or afternoons at the park.


User-friendly: The Pit Boss is great for those just starting off smoking. You can just load the hopper, set the temperature on the easy to use digital control board and you are set to go.
What We Didn't Like
The steel wheels rattle and shake a lot when moving
Pellets can get stuck when removing
FAQ From Our BBQ and Smoker Community
This is a question I have been asked many times by folk in our BBQ community.

Question: Does the pit boss pellet smoker give as much smoked flavor as a traditional smoker.
Answer: My answer is 100% yes!! From my testing I have found that pellet smokers produce the same amount of smoke as charcoal smokers. You also get the same amount of smoke peneration in a pellet smoker as a charcoal smoker.
The Bottom Line: The 71700 FB is perfect for those backyard cooks who love entertaining and want lots of cooking space.
---
4. Traeger Pro Series 22 Pellet Grill Smoker
Being one of the first brand in pellet smoking. You would expect Traeger to know a thing or two about pellet smoking!

I think that this pellet grill is for the serious backyard smoker who values quality over anything else.
When you are the pioneer of something you have a responsibility to stay above your competition. Traeger has done exactly that with the Pro Series 22.

I found that this pellet grill created EPIC BBQ when we used it for my 40th birthday. It felt like it was constructed with quality materials and felt super sturdy and airtight.

I like the sturdy sawhorse frame. Plus the temperature gauge seemed correct when I tested it against my thermometer. I would recommend it to someone willing to pay a little more but get something that will last a lifetime.

The Bottom Line: This is a smoker for the true lovers of quality
---
5. Green Mountain Davy Crockett Pellet Smoker –
If you don't want to spend much money but want a quality smoker for on the go, I think this for YOU!
The Davy well built and easy to use. We took it camping and managed to feed 10 hungry adults with a huge pork butt it did on it!

When I talk about value for money you have to think about a few different things. Construction, features and taste of the food. The Green Mountain Davey Crockett ticks those boxes.
This little guy has enough space to for me to cook for 10 people. But still small enough to throw in the truck for camping trips and tailgating sessions.

Its legs even fold into a convenient carry handle. I also loved that I can control it with my smartphone! While we were camping I was able to leave it for a few hours and lay by the river, and check on the temp with my phone!
What We Liked:
Wifi Enabled: The app allowed us to easily monitor & control the temperature. It also sends you an error and low fuel notifications, so I didnt have to worry about loading the hopper again. We have found that the wifi feature is as a way the retailer can jack up on some units. But the price but this grill is still reasonable.
Portability: This grill is made for those who like to cook delicious smoky meals anywhere. This grill smoker is small enough to fit in the back of my truck as well as my wife's Prius. Plus I liked the removable legs.
Multiple Power Options: In the box, I found three different power options. You have the AC adapter, 12-volt plug and battery alligator clips. These options are extremely handy for when you are taking the grill from a trip and don't have a traditional power socket nearby.
What We Didn't Like
You can't feed more than 12 people with smoker in one go
With the convenience of WiFi, portability and durability I think it is worth every penny. This grill is something that every camping enthusiast should have in their arsenal. I recommend it to everyone at the camping grounds
The Bottom Line: If you like cooking away from home, you need this smoker!
---
6. Green Mountain Daniel Boone Pellet Smoker
My Pick For The High Tech Pellet Grill
The Daniel Boone had 458 square inches of cooking space, perfect when I get asked to cook for parties! I also like that it has a hood, which allowed me to get whole chickens or large cuts of brisket in for parties.
I was able to easily adjust and maintain temperatures between 150°F to 500°F. The unit came with a thermometer probe that I could place through the little hole in the side of the smoker – no more jamming the lid closed on my cord!

You can either buy the unit WIFI ready or not. (I got the WIFI model) I will tell you right now the only model you should be considering is the WIFI model, it made my cooking way easier!!

Although it might be one of the smaller units on this list, at my sister's 40th birthday we were able to fit 7 racks of ribs and a small chicken.
What We Liked
Fantastic temperature control with the digital remote
A turbo heat-up system. It came up to temperature in no time for me,
Large cooking space. Heaps of space for when I have cookouts or birthday parties to cook for.
Helpful customer care – I had a problem with the WIFI but they had me sort it fast.
Very versatile, use it as a bbq, grill, smoker. I even used it as a pizza oven, I couldn't believe how crispy the base came out!
What We Didn't Like
You need to reload the hopper every 5 – 6 hours on long smokes
The hole for the thermometer is very small and only suited to the standard thermometer that comes wit the unit
The Bottom Line:
I found that this is a very versatile pellet grill that can double as your grill/ BBQ. I liked having something that did it all, rather than pulling out my grill and smoker. It is a little bit pricey, however, with the features, build quality, and ease of use I think it is worth it!
Looking to kept it more natural? I have also reviewed my favorite natural gas smokers. I think its awesome that natural gas is not only cheaper but you NEVER have to worry about running out of gas!
---
7. Traeger Tailgater 20 (Perfect for Camping)
Our Traeger Tailgater 20 is what we take when we go camping or tailgating at the game. At only 62 pounds it was easy enough for us to put in the back of the pickup

It has a cooking surface of 300 square inches. That's enough for our family of 5! We managed to fit on it 12 burgers, a whole chicken, 10 hot dogs on it when we were camping.
What I Liked About it
Lightweight and portable: Easy to throw in my pick or in my wife's station wagon.
Foldable legs felt strong: I have that units that have foldable legs to be a bit flimsy but these felt strong.
Durable and long-lasting: Considering how much this unit gets moved around I am surprised how well it has lasted!
Easy to clean: This is handy especially when we are camping and we don't have all our regular grilling cleaning tools.
Easy for everyone to use: Even my wife is happy to fire up this smoker
What I Didn't Like
Literally yet to find a fault with it, when I do I put it here!
The Tailgater is perfect for anyone who loves taking their smoker with them (just like our family). If that's on a camping trip, to a tailgate or a friends backyard, we take it everywhere (well maybe not the shopping center)
The Bottom Line: Want to take your smoker with you? This is absolutely perfect!
---
---
8. Z Grills 700 (A solid mid- sized option)
I found the the Z Grill to be an American-built beauty. I loved the large cooking area of 512 square inches and a huuuuuge cooking temperature range of 160 to 450°F. I found the convection-based heat source reliable. This was helpful when I was doing my smoked turkey in it as I need to keep a constant temperature for our whole cook.
Set up was super easy and we were smoking within an hour of opening the box!
What We Did Like
Heaps of cooking space: Could easily fit a turkey in it with room for sides as well.
Found it versatile: it can be hard work getting out a different unit to grill or smoke. I liked that I could use this for my steak as well as the smoked turkey. Plus with the rotisserie, we have done a chook, which was delicious.
Good sized hopper: I didn't have to watch over it all day and add more pellets to the hopper, I was able to enjoy our Thanksgiving and just pop my head outside sometimes to check on the turkey.
Internal temperature sensor: I liked this but still used my thermometer as a back up
American built: I like supporting local business, so it was great to hear they are American built
What We Didn't Like
Slightly lower temperature range high temperature
Bottom Line: Reliable, tough built all American grill perfect for cooking delicious food for a crowd.
Bottom Line: Reliable, tough-built,all-American grill. I found it perfect when I had to smoked our turkey as well as grill the steaks
---
---
9. Yoder Smoker YS640 Grill – A great high end option
Need a smoker which a huge cooking space? We love the Yoder's 640 square inches of cooking room.
This is more than enough room when we did 3 racks of pork ribs and some sides.

It felt like it was built extremely solid. After checking it closer I found it was constructed from heavy gauge steel. It doesn't yet have any signs of wear and tear after a year of having it. The downside is it weighs around 330 lbs so it's not the easiest unit for us to move around.
What We Liked
Lots of cooking space: easy to fit my racks of ribs and a few sides!
Made in the USA: |I like supporting local jobs
Lifetime guarantee: I always feel more confident in a uni been a brand is confident to give it a lifetime guarantee!
Found the digital controller easy: some digital controller can be tough t navigate, this one was easy.
Sturdy powder-coated steel construction
What We Didn't Like
The cover that is included is thin, so we recommend picking up one

Made in The USA
Yoder smokers are made here in the USA. It is always nice to support local manufacturers.
See the full list of pellet grills made in the USA here.


The Bottom Line: I found it to be the highest of high quality made smoker. Plus I like that it is that is backed up by a lifetime warranty. I had enough room in it to cook for the whole extended family this 4th of July.
---
---
Pellet grills are versatile. You can barbecue, smoke, roast, grill and even bake or braise in a pellet grill. Plus You don't normally over-smoke food on a pellet grill.

Steve Raichlen from Barbecue Bible taking pellet grills
Who Are Pellet Smokers For?
The pellet smoker is for those backyard cooks out there who would rather spend time with family and friends than watching over a fire all day.

Charlie Reeves
By now it should be fairly obvious who should invest in a pellet smoker… those who loves the beautiful flavor of smoked meats & vegetables. But still wants the convenience of set and forget.

The world of smoking can be tricky to get the hang of with some smokers, however, the pellet smoker took all the hard work out for me.


I think Pellet grills are perfect for:

The Working Professional:
Being a working professional in a lot of places means that you work long hours and you don't have the time to set up the BBQ or smoker when you get home.

The pellet smoker takes minimal effort to set up and once it is fired up you have all the time in the word to get the rest of your chores done. The set & forget functionality of the pellet smoker is a huge advantage in this case!


Weekend Travellers/Campers:
Because some models of pellet grills are quite small these are perfect to tuck away in the back of your camper or car.

It's perfect quick and easy dinner while enjoying your lakeside view, or for when you catch that surprise fish at the riverside camp! You will be the envy of your campsite and that smell will be sure to lour in some new friends!


Tech Heads:
The tech side of things in the smoking world is always on the move, nowadays there is a tonne of different tech advancements that are quite cool. You can now get smokers that have WiFi. I know what you are thinking and no this is not so you can scroll Facebook while you smoke.

This genius little idea is so you have perfect temperature control and even the from your phone! This is great for setting up when I set the smoker in the morning then turning it on when I was had to go to the supermarket or just sitting on the couch inside.


First-Time Smokers:
If you are just starting in the smoking world a pellet setup is perfect for you. The set it and forget method lets you concentrate on getting the right combination of ingredients, flavors, and your recipe down.

Without the added stress of concentrating on keeping your smoker at the right temperature or keeping the fire stoked.


Competition Smokers: 
When entering smoking competitions, in most cases you are fairly limited to what you can use.

Both gas smokers and electric smokers are considered to be 'automated' so are not allowed. The pellet smoker is not automated, only controlled so you are good to go!
How Does The Pellet Smoker Work?
Pellet smokers have different types of controls, those controls decide when to feed pellets into a burn pot.
An igniter rod sits in the bottom of the pot which heats like a stove element. As the pellets light, a fan blows and feeds them oxygen which starts the smoke production.
Since the entire process is automatic, you're not required to mess around with things like you would do with a wood or charcoal smoker grill, nor do you need to play around with temperature settings. 

This means you're free to do a whole lot of other chores without having to constantly worry about what's happening to your food.
And what's more, this kind of smoker doesn't require much maintenance, unlike the conventional wood smokers or even the a good charcoal smoker.

Pellet smokers work with the convection process. Put simply this means that the smoke is circulated through the cooking chamber by an induction fan. This method provides an intense smoke flavor that is evenly distributed throughout your meat

It is amazing how simple it is to create good-tasting food in one of these bad boys!
Pellet smokers have several key components that can be broken down into the following:
The Hopper:
The process all starts at the hopper. The hopper is where you load up your wood pellets, load this right up to the top and you will have hours of smoking
The Auger:
The auger takes the wood pellets from the hopper into the firepot. The auger's speed will change according to how hot you set your smoker, if you are after a hot intense heat, the auger will feed more wood pellets into the fire pit.

Whereas if you are after a low and slow heat the auger will feed the firebox slowly.


The Fire Pot:
The fire pot is where the magic happens. At the bottom of the fire, pot is a hotrod that lights the wood pellets. The hot rod does all the hard work and makes sure the fire is alight at all times.


The Induction Fan:
The induction fan takes the smoke from the fire pot and circulates the smoke throughout the cooking chamber. This is what gives your meat that deep smoky flavor.

The Shutdown:
The shutdown is where the pellet smoker stays on for a further 5 minutes after cooking. This allows the smoker to get rid of any additional ash & smoke after cooking so you are left with a cleaner smoker.

Combine all these components and you get one very easy-to-use and efficient smoker. Perfect for everyone from a complete beginner to a well-seasoned smoking master

Central to all pellet cookers is a digital controller similar to the controllers on modern indoor ovens. You select a temp you want, and there is an LED display that tells you the actual temp

Meathead Galdwyns on Amazing Ribs
8 Factors to Consider When Buying A Smoker
Some other elements come into play when defining a good pellet smoker. These factors can differ from person to person and do depend on exactly what you want to get out of it.
The Size, Cooking Area & Portability:
In the smoking world, bigger is not necessarily better. One of the first things that you should consider when buying a pellet smoker is the unit size.

What exactly do you need it for? Will you be taking it away in the camper, over to the neighbors, or at an event? Or will it spend most of its life out on the Veranda?


Secondly, you should decide how many people will regularly be cooking for. It's not going to be essential for you to get a large unit if you only plan to cook up for the family.


The Smokers Temperature Range: 
The temperature range is a very important part of your smoker. This will be a little different for everyone depending on what you like to smoke, how long you like to smoke for and the style of cooking you generally do.

In general, most pellet smokers will comfortably sit at temperatures between 180° F and 450° F. This range is perfect for grilling, baking, roasting, and of course smoking.

For those of you who like a good sear on your meat, you will want to go for something that will comfortably reach 550° F and beyond. You might even see some high-end pellet grills which can reach 500° F – 700° F which is hot enough to sear and fire-roasted pizza.

Another thing to think about when buying is the quality of the built-in thermometer, without a decent thermometer your smoker will not give great results.


The Controller Type: 
We all want to open our smokers and have the perfect piece of meat. The easiest way to achieve this is by having a smoker that can hold a constant temperature. This allows you to perfect your cook times and take your meat out at the perfect time.

The control board is the part of the smoker that looks after cook time, this is an essential part of a good smoker. All pellet smokers will have one of the four controllers. These four are set out below from the most basic to the most sophisticated.

As you look at more high-quality smokers, they should include one of the more high-quality controllers. As a general rule of thumb, the more expensive smokers should have a one-touch non-PID controller or a PID controller.


Position Controller:
3 position controllers, also called LMH, only have 3 temp settings—low, medium, and high—roughly 225°F, 325°F, and 425°F.

Pellets are released in fixed cycles that are determined by which setting you choose. You have little control over the cooking temperature and smoke, this is usually found on smokers on the lower end of the scale.


Multi-Position Controller:
Multi-position controllers feature a knob with temperature settings that go from 180°F to 420°F it could have an LCD display.

However, they also run on fixed cycles and can only maintain a range of about +/-20°F depending on conditions e.g wind.


One-Touch Non-PID Controller:
You will see a screen display and one-touch buttons for setting the cooking temperature in 5° or 10° increments, these controllers allow you to more accurately set your desired cooking temps.

You will most likely find these types of controllers have an input for a meat probe, so you will be able to monitor the internal temps.


PID Controllers:
This is the most sophisticated type of pellet grill controller on the market at the moment, PID controllers are coded to be able to get to and stay at your set temp within only a few degrees,

All will feature an LCD screen with the ability to set the temp in 5F increments. Unlike the previous controllers that have a fixed cycle, a PID.


The Quality Of Construction:
Quality is something to think about when buying. You don't want to buy too cheaply and have it fall to pieces on you in 1 year. You want to do some research and see what smokers will suit your needs.

Some of the important things to think about when looking at the constructions of the smoker are: The weight of the lid, you want it to feel heavy, not flimsy. You don't want to have any gaps so it should sit flush ensuring a good seal.

Ensuring it's snug, means you're not losing any heat or smoke. Also, check out the joins such as the welding.

Also, find out what material the smoker is made from. Most pellets grills are made of painted steel, however, you will want to find the quality of the steel and paint as it can vary. A good thing to look for is a powder coat that withstands a high, precise temperature.


Additional features and Add-ons:
In the world of pellet smokers, there have been some real technical advancements in the past few years. Now some people might cringe at the thought of mixing new technology with cooking, while others will want all the latest bells and whistles, again this comes down to personal preference and if you are willing to spend more money to get the latest and 'greatest.


A few additional features and add-ons that you can get nowadays include:

Wifi:
That's right you can get a grill that has wifi capabilities.
Programmable Probes:
You can now get probes that let you know when your food has reached a certain temperature!
Control Boards with Built-in Meat Probe:
Combine your meat probe and control board to truly automate your cooking.
The Power Cord Length:
Unfortunately, pellet smokers need power, and the only way to get power to them is from a power lead. Depending on your backyard setup at home this can be a little bit difficult. In some situations, you might need an extension lead.
To extend the cord you need a large capacity cable as measured in amps. Here's how to figure out what you need: Watts ÷ Voltage = Amps. If your smoker needs 500 watts, and typical household voltage is 110 to 120 volts:

500 ÷ 110 = 4.5, so you need a cable that has a capacity of 4.5 amps.

Read more about extension leads on Meathead Galdwyns article on Amazing Ribs
What are The Pellets That Pellet Smokers Use?
Wood pellets were first designed back in 1982 by Traeger Heating. They are little grill pellets made up of compressed sawdust.

Originally they were just a by-product of timber yards. This is great for us smokers that like to be as chemical-free as possible, as the pellets contain no added chemicals or fillers.

Pellets also produce very little as, which means less cleanup and also less chance of nasty ash making its way into your food.
How to Clean and Maintain A Pellet Smoker
It's a lot of fun sharing my thoughts & knowledge about pellet smokers.

Being around the BBQ is something that I thoroughly enjoy, I love writing about what I have learned over the past few years. Helping others get into the BBQ, Grill & smoking scene is something that I feel will enrich others' lives for years to come. That is of course, if you clean and maintain your smoker.

Once you have finally bought your smoker, you need to learn how to store it, clean it and generally maintain it. Learning these little tricks and putting a little bit of elbow grease in will prolong your new smoker's lifespan dramatically. To be honest I take a lot of pride in my smoker and keeping it clean and maintained.

At least once a year you should have a thorough 'spring clean' of your smoker. If you use your smokers several times a week you should have a proper thorough clean at least 2 or three times a year. It is amazing how much more life you get out of a clean and well-maintained smoker.
The biggest cleanup issue with pellet grills is the buildup on the heat deflector under the cooking grates.

You'll need good gloves and an apron. On most models, a thorough cleanup means a 30 minute process of taking out the greasy grates and the gooey deflector plate, scraping them and washing them. You should ONLY do this when the carbon and grease cover the deflector plate

Meathead Galdwyn from Amazing Ribs
6 Simple Steps to Maintaining Your Smoker
Read Your Instruction Manual:
Now I know as a man by nature we don't like instructions manuals. However, it's important to read over them before you clean. Nowadays with all the added features in your pellet grill, there are a lot of parts, and a lot of those parts cannot come into contact with water.

You should never hose down your pellet grill. Your pellet grill igniter rod, digital controllers, fans, and auger are not too water-friendly.

With these parts you should take great caution and only clean by genially scrubbing at the dirt, any moisture or hard knocks can cause damages. When cleaning makes sure to take extra care around the thermostat, the thermostat is very delicate and if jolted can cause it to take false readings.


Checking and Replacing The Gaskets:
Some parts of your smoker will wear out a lot faster than other parts. One of these parts is the gaskets. It is important to check them annually for cracks, splits, and corrosion.

If you do notice anything, don't stress this is a quick fix with a repair kit or a new gasket. Again your instruction manual will be your best friend when it comes to replacing or tending to the gaskets.


What To Clean Before You Cook:
This one might seem a little obvious. However, not everybody feels the same way about cleaning the smoker before cooking. Some will even tell you that letting the 'old flavor's build-up will enhance the flavors of your cooking. I disagree, you should always clean your smoker before you put anything In there.

This is to prevent any nasty flavors from tainting your next meal and for health reasons, you don't want old grease or leftovers getting into your food, which can cause some serious issues.

Before smoking you want to check all the racks, internal walls and roofs are clean of any build-up, check all the grease/drip pans. The last thing you want is a full drip pan at the start of a cook, which can end two ways: Either very messy or in the worst case in a fire.

If your smoker has a grease chute make sure you thoroughly rinse that out and get rid of any build-up. Also, check the hopper and auger for any stuck grill pellet.


Before Turning On Inspect The Burners:
Inspecting the burners on your smoker (or any cooking utility) is very important. If you spot any signs of any blockages, leaks or corrosion be sure to hold off using until you know it is safe.

Any of the above can cause a fire in the worst case, so if you do notice anything please refer to your instruction manual.


Maintaining The Exterior: 
Keeping your smoker looking good on the outside is something many of us take great price in. The best way to keep the exterior of your smoker gleaming is to use a little bit of dish soap in warm water.

Always use a nice soft sponge and stay away from any steel wool or brushes, these can damage the exterior and leave marks. For more stubborn stains you will need to use a little bit more elbow grease mixed with a little bit of vinegar or diluted ammonia.

Be sure to stay well away from kitchen sprays and other chemicals as this can also damage the exteriors finish. If you are left with water spots, the easiest way to get rid of those is with a little bit of unsweetened club soda.


The Internal Components:
Keeping your internals running smoothly is an essential part of having a healthy running smoker. Make sure you keep your fans, motor, and belts well lubricated and tuned.

Your instruction manual will be the best place to turn to for the best advice on your particular model. This is especially important when your smoker has not been used for a long period.
Every summer thousands of people discover the joy of smoking, grilling, and BBQ-ing, and I think that this is awesome!!!

Every year I see every manufacturer coming up with new and exciting technology to make smoking easier and more appealing and accessible to everyone
Hopefully, this guide will help you to pick out the right model for your budget and needs.
Smoke On!

Charlie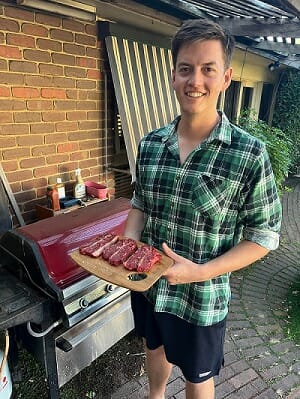 Author: Charlie Reeves
Hi, I'm Charlie, I am head taste tester at Simply Meat Smoking! I love it grilling, smoking, and getting out in the yard with the kids! The family also love to test all my recipes (especially my EXTRA CRISPY pulled pork, smoky pork loin, and ANY SEAFOOD I grill)
You will usually find me playing with the kids, perfecting my brisket bark, or sipping beers with boys around the fire. Can't wait to share all my delicious smoking and grilling adventures with you!

You can read more on our About Us page.
Hungry For More?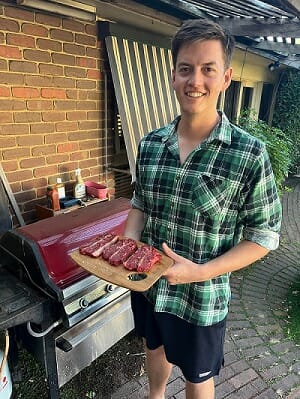 Author: Charlie Reeves
Hi, I'm Charlie, I am head taste tester at Simply Meat Smoking! I love it grilling, smoking, and getting out in the yard with the kids! The family also love to test all my recipes (especially my EXTRA CRISPY pulled pork, smoky pork loin, and ANY SEAFOOD I grill)
You will usually find me playing with the kids, perfecting my brisket bark, or sipping beers with boys around the fire. Can't wait to share all my delicious smoking and grilling adventures with you!

You can read more on our About Us page.