Wondering what to serve with your oysters?
Sometimes you want more than just a lemon wedge with them
Out of ideas?
We've put together some tasty recipes that are incredible alongside oysters.
These dishes are super versatile so you can find one (or several) that work for your night.
Have a read of the guide below to discover what to serve with oysters.
Wakame Seaweed Salad
This salad nicely leans into the salty flavor of the oysters.
Not to mention it's healthy, vegan and gluten-free.
The dressing is also super simple, consisting of just rice vinegar and sesame oil.
Find the recipe on Pinterest:
Grilled Thai Shrimp Skewers With Watermelon and Avocado
This dish is fresh, fun and packed full of incredible flavor.
This recipe is perfect for Summer alongside your oysters.
The marinade for this recipe also works well with chicken if you want to swap the shrimp out.
Green Salad
Sometimes you just want something easy, simple and full of leafy greens.
Feel free to experiment with the ingredients of this salad.
For extra toppings, we recommend adding spring onions and bacon slices.
Find the recipe on Pinterest:
Grilled Mussels
Oysters can often be expensive to purchase.
So, if you're looking for a cheap seafood side, then this dish is for you!
Serve your mussels with crusty bread for a showstopping appetizer before dinner.
Find the recipe here – Grilled Mussels
Snap Pea Salad With Zesty Lemon Vinaigrette
Looking to add more vegetables to your meal?
We love how nutritious and flavorful this dish is.
The fresh lemon juices of the vinaigrette are great alongside the oysters.
Find the recipe on Pinterest:
Smoked Tri-Tip
For a surf and turf theme, this recipe ticks all the boxes.
The texture of the steak goes really well with the oyster meat.
Go light on the sauce, so that the oysters don't get overwhelmed.
Find the recipe here: Smoked Tri-Tip
Cold Seafood Platter
Why stick with just oysters when you could have a whole platter?
This recipe is a stunning addition to any meal.
Put the WOW into your dinner with this incredible side dish.
Find the recipe on Pinterest:
Smoked Macaroni and Cheese
Sure, you might not automatically pair oysters with a bowl of macaroni…
But the smokiness of this recipe makes it a fantastic pairing with the briny flavor of oysters.
This dish is kid-friendly and perfect for catering to large groups.
Find the recipe here: Smoked Macaroni and Cheese
Smoked Baked Beans
Baked beans work as a nice contrast to the flavor and texture of oysters.
We love this smoked baked beans recipe which really takes things to the next level.
For a hearty, filling and comforting dish- try smoked baked beans today.
Find the recipe here: Smoked Baked Beans
Tomato Salad
If a green salad is not your thing, then this simple salad might be for you.
This is of our favorite recipes because of how simple it is!
Serve your salad with white wine vinegar or balsamic vinegar.
Find the recipe on Pinterest:
Side Dishes
After something a bit smaller?
Compliment your oysters with one dish or several.
Have a read of the recipes below to find something small but tasty.
Shrimp Cocktail
Shrimp cocktail is one of the most popular side dishes.
And, we can certainly see why!
Serve your shrimp cocktail with fresh lemon to finish it off.
Find the recipe on Pinterest:
Cedar Planked Brie With Gin Infused Caramelized Onions
This dish is classy and stunning alongside an oyster platter.
This brie recipe will melt in your mouth and have you coming back for more.
Serve it with warm crusty bread or crackers.
Find the recipe here: Cedar Planked Brie
Cucumber Mignonette
This beautiful mignonette is an amazing accompaniment to oysters.
It's also a great spin on the traditional French sauce.
If the cucumber is too much stick to a classic mignonette sauce recipe.
Find the recipe on Pinterest:
Lamb Koftas
This tasty side dish is great if you want something small (but mighty).
They come with a delightfully crispy exterior that workers wonders with oysters.
Serve them with hot sauce or a cocktail sauce for extra flavor.
Find the recipe here: Lamb Koftas
Bloody Mary
Looking for the perfect drink to compliment your fresh oysters?
These bloody marys are perfect for a dinner party and alongside seafood dishes.
With an incredibly rich flavor, these drinks are the ultimate classic side dish.
Find the recipe on Pinterest:
Cedar Plank Scallops
Feeling a bit fancy?
These cedar plank scallops are just as good as any restaurant.
Keep a close eye on your scallops so that they come out tender and succulent.
Find the recipe here: Cedar Plank Scallops
Ground Beef Lettuce Wraps
These beef lettuce wraps are great for a balanced meal and an excellent side dish.
They also come with a subtle taste so won't overwhelm your main.
Top your wraps with a spicy sauce to give them an extra hit.
Find the recipe on Pinterest:
Corn on the Cob
Smoky, fresh and buttery.
This corn can be smoked, grilled, baked or steamed.
For maximum flavor we recommend smoking your corn and giving it plenty of seasoning.
Find the recipe here:
Zesty Saltine Crackers
If you're serving raw oysters, then these crackers are perfect.
In terms of taste, this dish is tangy, spicy and crunchy.
These crackers are the perfect appetizer to serve before your actual meal.
Find the recipe on Pinterest:
Desserts
Was it truly a complete meal if there wasn't dessert?
These desserts are not just tasty, their flavors work really well with seafood.
Be sure to save space for dessert so you can fit in these amazing dishes.
Smoked Peaches
For something sweet and smoky, we love this smoked peaches recipe.
It combines some insane flavors to create a simple but delicious dessert.
Not only does it taste good, but this dish is also highly affordable.
Find the recipe here: Smoked Peaches
Peach Cobbler
Much like the previous recipe, peaches are fantastic when contrasted with seafood.
Make this dish with canned, fresh or frozen peaches.
Serve your delicious cobbler with ice cream for the full experience.
Find the recipe on Pinterest:
It can be challenging to think of sides for oysters.
But not to worry, there are plenty of options out there.
You no longer have to rely on a squeeze of lemon.
These recipes will give you an incredible complete meal.
What do you like to serve with oysters?
Smoke On!

Charlie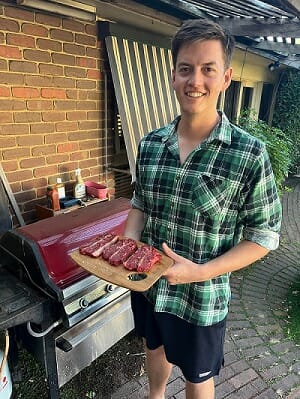 Author: Charlie Reeves
Hi, I'm Charlie, I am head taste tester at Simply Meat Smoking! I love it grilling, smoking, and getting out in the yard with the kids! The family also love to test all my recipes (especially my EXTRA CRISPY pulled pork, smoky pork loin, and ANY SEAFOOD I grill)
You will usually find me playing with the kids, perfecting my brisket bark, or sipping beers with boys around the fire. Can't wait to share all my delicious smoking and grilling adventures with you!

You can read more on our About Us page.
Hungry For More?