Juicy and flavorful chicken wings are the best finger foods!
However, you want to ensure you serve them right!
So the question is, should you apply your dry rub before, or after, cooking your chicken wings? 
You don't want to ruin your favorite appetizer!
So keep reading to ensure you cook your chicken wings to perfection every time! 
When to Apply Your Dry Rub on Chicken Wings?
The best time to apply your dry chicken wings would be at least 8 hours before cooking.
If you have the time its best to prepare the wings 24 hours before you intent to cook them
After applying the rub allow the wings to rest without plastic wrap in the refrigerator.
Be sure to spread your wings out in a single layer on a baking tray with a lip, elevated on a baking rack.
Stash your tray on the bottom shelf to prevent any accidental dripping and potential cross-contamination of other foods
What Is A Dry Rub?
A dry rub is a mixture of salt, herbs, and spices in combination with other ingredients such as onion powder, garlic powder, cayenne pepper, chili powder, black pepper
While it is possible to find pre-made spice mixtures in your local supermarket.
However, it is just as easy to prepare your special blend of spices and herbs to customize the flavors exactly to your liking. 
You can play with your wing recipes by adding some of your favorite seasonings to the mix, such as brown sugar or coconut sugar, your favorite seasoned salt, or granulated garlic.
Whatever your favorite secret ingredients, such as freshly ground black pepper or a dash of your favorite dried chili pepper. 
Feel free to make up your own special dry rub recipe to add to your homemade chicken wings repertoire.
What's The Benefit of a Dry Rub
Your dry rub mixture should contain some salt (preferably kosher salt), black pepper, as well as a variety of additional seasonings, depending on your chosen flavor profile. 
This seasoning mix will serve as a type of dry brine, helping the meat on your wings hold onto their internal moisture during the cooking process.
That means that, as well as adding an extra wallop of spicy heat or that boost of tangy zing to your dish, it will also help them stay juicy, too.
In addition to adding flavor, your dry rub can also add a lovely texture to your wings.
Some commercial dry rubs contain ingredients like brown sugar as well as salt.
This can caramelize during the cooking process, adding crispy skin to your chicken wings.
The combination of your dry rub with the rendered fat enhances the flavors developed during the browning of the chicken skin, known as the Maillard reaction.
The Best Way to Cook Chicken Wings?
Smoking chicken wings is the best way to cook them!
Then drench them in your favorite sauce and serve with a lot of napkins
See the recipe for smoked wings here.
How to Apply Your Dry Rub
Begin by separating your flats from the drumettes. Then dry chicken pieces with a paper towel.
Then sprinkle your rub on wings in an even coating on all sides.
If it doesn't seem to want to stick, rub a little vegetable oil or olive oil on the chicken pieces before applying your dry rub ingredients.
Starting with frozen wings? Ensure you defrost them completely.
Then blot dry with a paper towel before coating them with your dry spices.
This will help ensure that the final dry rub wings turn a beautiful golden brown.
Can You Apply Your Dry Rub Later?
So, what happens if you're running a little short on time?
Is it possible to add your flavor-filled dry rub to your naked wings at the last minute? Or even after cooking?
The short answer is, YES!
It's best to apply your dry rub to the skin of your chicken wings well in advance of your intended cooking time.
Even just a 25-30 minute rest before you begin cooking can help your poultry begin to reap the benefits of flavor and moisture retention.
Simply season your meat, spread in a single layer on your baking sheet, and then prepare your preheated oven or your air fryer cooking method while the seasonings soak in.
What if You Forgot to Season the Chicken Before You Started Cooking It?
While it won't be as deeply flavorful, you can add a dusting of your dry rub to the wings even after they've finished cooking to boost their flavor.
Season with your special mixture before and after to maximize the mouthwatering flavors.
Feel like throwing caution to the wind and getting your hands a little messy after all?
You can amp up the flavors of your wings by adding some of your dry rub to the dipping sauce, too!
It doesn't matter whether your sauce is mayonnaise-based, ketchup, or mustard, includes a dash of your favorite hot sauce, or even your favorite blue cheese dressing or ranch dressing!
Simply add your dry rub seasoning by the spoonful and mix it up until the flavor is to your liking. Then grab your seasoned chicken wings and dip away!
Now You Know How to Season Your Chicken Wings
Let's face it. Whether you choose to make baked wings or grilled, deep-fried, or cooked in an air fryer, dry rub-seasoned chicken wings are lip-smackingly delicious!
By following the instructions above, you can be sure to infuse your next batch of wings with the most succulent, finger-licking flavor around.
Use this method on your chicken legs, chicken thighs, chicken breasts, or another type of chicken part, and have your friends and family begging for more!
Smoke On!

Charlie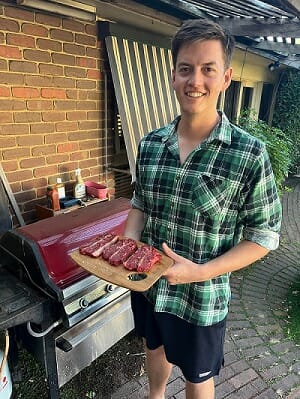 Author: Charlie Reeves
Hi, I'm Charlie, I am head taste tester at Simply Meat Smoking! I love it grilling, smoking, and getting out in the yard with the kids! The family also love to test all my recipes (especially my EXTRA CRISPY pulled pork, smoky pork loin, and ANY SEAFOOD I grill)
You will usually find me playing with the kids, perfecting my brisket bark, or sipping beers with boys around the fire. Can't wait to share all my delicious smoking and grilling adventures with you!

You can read more on our About Us page.
Hungry For More?