Who doesn't want crispy smoked chicken wings? We certainly do. 
But, as with all meat, it can be difficult to know what type of wood to use. We've found the perfect wood for you to get delicious chicken wings. 
So, fire up the pellet smoker, grab a chicken wing rub and get ready with your favorite barbecue sauce.
It's time to cook some amazing wings.
Have a read of the guide below to discover the best wood for smoked chicken wings. 
Apple Wood
Apple wood is the most popular type of wood for smoking chicken.
It has a hint of sweetness and is fruity and mild.
This wood is perfect if you're a beginner Pitmaster or new to smoking chicken.
You can also get applewood pellets if you're using a pellet smoker.
This is the perfect pellet to use if you smoking your wings on one!
Maple Wood
Maple wood chips are generally used with pork but they are also perfect for chicken.
Maple is a fruit wood that's a bit stronger and sweeter than apple wood.
It will result in a natural taste, juicy meat and a mild flavor.
Cherry Wood
Cherry wood will give your smoked chicken a sweet taste and a wonderful red color.
It also goes well when mixed with other heavier hardwood.
Try combining it with hickory for a sweet smoke flavor and crispy skin.
Pecan Wood
Pecan is one of the stronger woods and comes with a signature taste.
It is also a favorite wood to use for smoking turkey.
Avoid mixing pecan with other woods as it will significantly alter the flavor.
Hickory
Hickory has an earthy, nutty flavor that goes with nearly every type of meat.
It works well with chicken, but be cautious if you haven't smoked with it before.
Too much hickory will result in a bitter taste to your chicken.
Pimento Wood
Pimento wood is a game changer when it comes to smoked chicken wings.
It may be more difficult to find, but it also results in authentic smoked jerk chicken.
Pimento wood will give your meat a savoury flavor and a unique aroma.
Mesquite Wood
Mesquite has a very strong, smoky flavor.
If you do choose to go with this wood be very cautious.
Additional wood chips can easily overwhelm the meat and you'll lose the chicken taste.
Oak
Oak is perfect for smoking beef but what about poultry?
If you want a bold, intense smoke flavor then oak is the way to go.
Similarly to mesquite, be careful with how many wood chunks you use.
Peach
Peach is great if you're after a mild wood with a southern barbecue flavor.
This wood will result in a chicken that has a fruity flavor and subtle sweetness.
It will also give your meat a nice pale golden color.
Cedar
We recommend avoiding cedar for smoking chicken.
While the wood has adequate flavor, it simply doesn't go well with traditional chicken wings.
If you do have cedar on hand, save it for fatty fish like salmon.
Our Favorite Chicken Wing Recipes
Chicken wings are one of our favorite cuts of meat to smoke.
Crispy Smoked Chicken Wings on a Pit Boss
Ultimately, it will depend upon flavor preference, what's available and your smoking process.
These woods will give your meat incredible flavor and make the skin nice and crispy.
What flavored wood do you use for smoking chicken wings?
Smoke On!

Charlie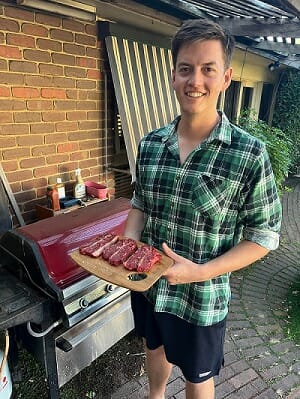 Author: Charlie Reeves
Hi, I'm Charlie, I am head taste tester at Simply Meat Smoking! I love it grilling, smoking, and getting out in the yard with the kids! The family also love to test all my recipes (especially my EXTRA CRISPY pulled pork, smoky pork loin, and ANY SEAFOOD I grill)
You will usually find me playing with the kids, perfecting my brisket bark, or sipping beers with boys around the fire. Can't wait to share all my delicious smoking and grilling adventures with you!

You can read more on our About Us page.
Hungry For More?